Commentary
The Main Event: Preetsmas Comes to AwfulPAC
by
/ Apr. 19, 2017 8am EST
Tuesday morning, the Buffalo News reported that three members of a disgraced faction of nominal Democrats would be facing felony election law charges to be announced in a Buffalo courtroom today.
G. Stephen Pigeon is already facing state charges alleging he bribed a state Supreme Court Justice—the judge pled guilty and is awaiting sentencing. Kristy Mazurek is a former journalist who hosted WGRZ's 2Sides program with various Republicans. She has managed or otherwise participated in a string of failed races for elective office, including her brother's race for Assembly in 2014, and her own Assembly bid last year. David Pfaff has hopped around political jobs, most recently working in the office of former State Senator Marc Panepinto. Pfaff has a reputation for being rather competent when working in government, but his ties to Pigeon have led him to be involved in more than a few controversial races. 
When Pigeon and former Supreme Court Justice John Michalek were placed under arrest, I wrote, "There has to be more. I suspect that the Michalek bribery case is just the amuse bouche — the low-hanging, easy to reach fruit that can be pushed through quickly to reassure an impatient public that progress is being made. All the while, law enforcement continues to build its other cases against Pigeon and others. Pass the popcorn, because we're just watching the trailers." 
Well, take your seats and silence your cell phones, because it looks like the feature's just starting. 
One source familiar with the charges say they will revolve around the County Legislature candidacies of Richard A. Zydel and Wes Moore, as well as the Amherst supervisor candidacy of Council Member Mark A. Manna.
That means the Pigeon troika are being charged with crimes arising out of the 2013 handling of the WNY Progressive Caucus, which I contemporaneously referred to as "AwfulPAC". I also coined the word "Pigeoning" as shorthand to describe the sorts of shenanigans in which Steve Pigeon and his associates would engage in races that mosty served only to harass and disrupt the electoral efforts of other Democrats. 
Pigeoning: pi·geon·ing \ˈpi-jən-iŋ\: (n) the action of using money and influence, oftentimes pushing the election law envelope, to actively sabotage and undermine the Erie County Democratic Committee.
The Pigeon crew would often secure the assistance—tacit and overt—of Republicans, but more frequently the execrable and obsequious fusion parties — "Independence" and "Conservative" alike — to conspire with Pigeon to advance not just candidates, but their committees' access to patronage jobs.
Blindside the party's endorsed candidate with a sudden and unexpected influx of expensive mailers, robocalls, and ads that defame them, or worse. Fund it through various and sundry LLCs set up for no other reason than to legally flaunt campaign finance rules. Set up PACs or independent committees whose funding and organization is sketchy, at best, or criminal, at worst. Conspire fusion party bosses, for whom influence over patronage hires regularly trumps any manufactured, elastic ideological tenets. 
Nothing that the Pigeon crew ever did brought about real reform or good government. Nothing they touched had anything to do with policy, or helping the community — it was all about enriching Pigeon and the pilot fish who clung to him. Western New Yorkers of every party, of every race, of every nationality, of every class deserve so much better than what Pigeon and his cult offered. 
AwfulPAC was only active for a very short period of time—most of what it did took place between July and September of 2013. In May 2015, state and federal agents executed three nearly simultaneous raids on the homes of Pigeon, former Chris Collins chief of staff Chris Grant, and former Buffalo deputy mayor Steve Casey. I dubbed this law enforcement action and investigation "Preetsmas," after the former US Attorney for the Southern District of New York, Preet Bharara. Bharara had famously taken over the investigation of political corruption cases abandoned by the Moreland Commission when Governor Cuomo abruptly shut it down. 
AwfulPAC wasn't even properly constituted; it filed its CF-02 in February 2014 to transform it — retroactively — into a multi-candidate committee participating and spending on candidates' behalf in the 2013 primaries. AwfulPAC declared — nunc pro tunc — that it was an unauthorized committee for Dick Dobson in the primary and general elections, and in the primary for Joyce Wilson Nixon, Barbara Miller-Williams, Rick Zydel, and Wes Moore. They also claimed to be an unauthorized committee for Mark Manna for Amherst Town Board in 2013's general election. Had AwfulPAC done that at its founding, it could have spent money on behalf of those candidates without coordination; however, as it was originally constituted, it was legally only allowed to raise and donate money to campaigns, and not to promote or oppose specific candidates. We're meant to believe that it broke the law at the time, but a retroactive "oops" filing of a piece of paper retroactively rendered all its activities legal. 
Part of my antipathy for electoral fusion stems from Pigeon's deft manipulation and marshalling of minor party lines.  He has conspired with Ralph Lorigo to steer the Conservative fusion Party line to his various candidates, and enjoys a close relationship with Tom Golisano, the founder of New York's especially corrupt Independence fusion Party.
One way to think about all of this is political racketeering.
For instance, Pigeon associate David Pfaff shows up as a vendor for the "Real Conservatives" PAC, which Lorigo controls and is based out of a funeral home in Hamburg that has contributed to Lorigo's committee and also to Mickey Kearns. That's why a flush pro-Byron Brown PAC controlled by Steve Casey and based out of Casey's home contributed to only one candidate—Conservative fusion Party candidate Joe Lorigo—in 2014 and 2013. So query why it took in $6,000 from Byron Brown's campaign fund in the 11-day pre-General 2013 and another $6,000 from Brown in October 2013, while it only supported one Conservative fusion Party candidate. 
None of this was new in 2013, but there was one major difference that tripped up Pigeon's usual M.O. It was late August and early September that anonynous, no-attribution literature blasting then-incumbent county legislators Betty Jean Grant and Tim Hogues hit mailboxes throughout Buffalo. The mailers risibly accused Grant and Hogues of being right-wing Republicans, and praised their challengers, Joyce Wilson Nixon and Barbara Miller-Williams. I wrote at the time, "so long as people aligned with the breakaway Steve Pigeon faction of disgruntled nominal Democrats exist, there will be nonsense. It is ever thus."
What is often lost in the AwfulPAC narrative is what it actually did. It mostly produced direct mail and other advertisements, some of which were practically defamatory in their rank falsehoods. Here is a sampler of mailers that AwfulPAC sent out to Democrats during the 2013 county legislature primaries.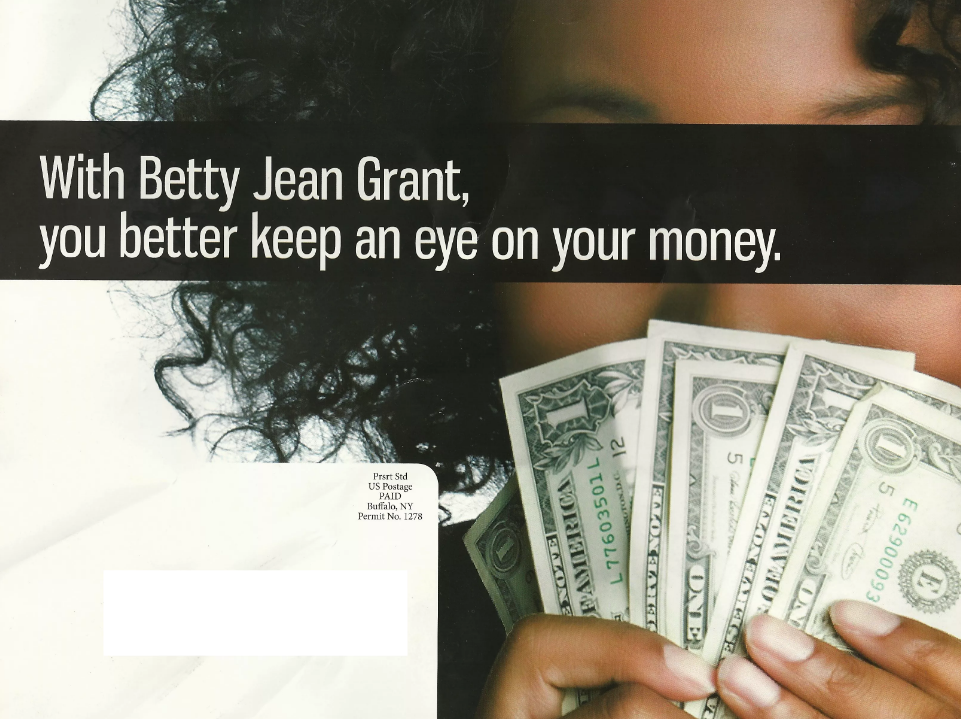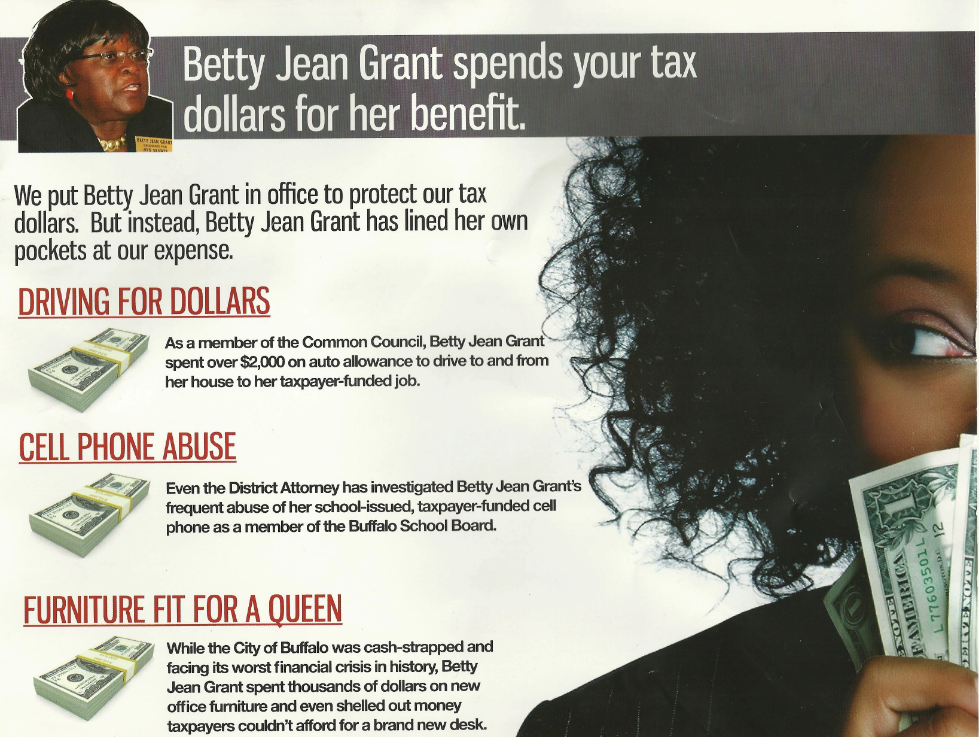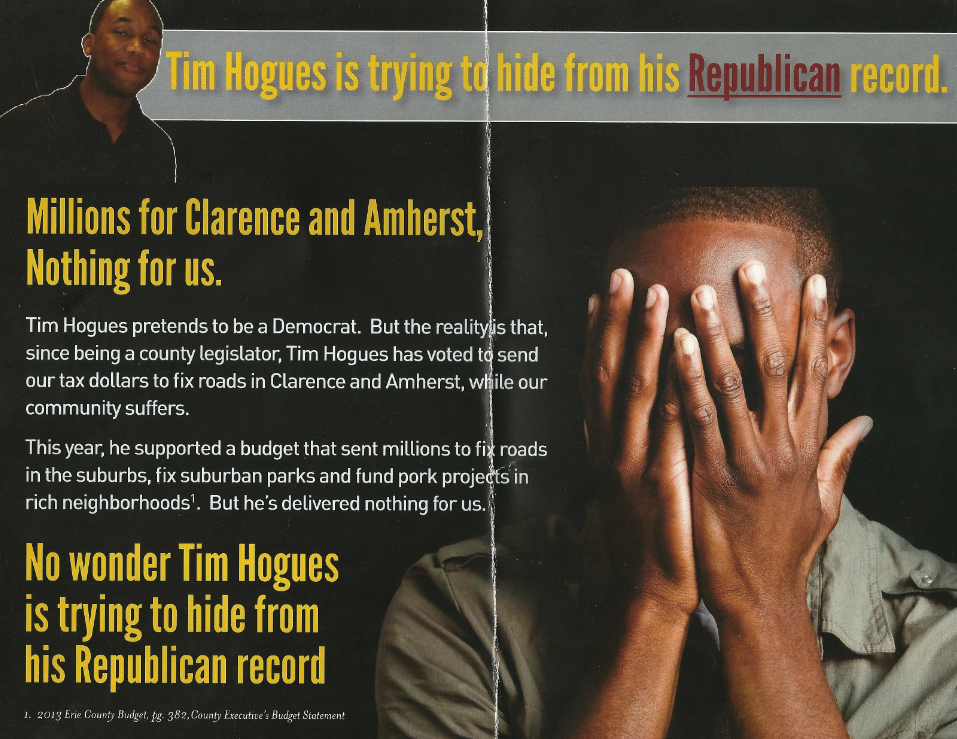 They attacked other candidates similarly, including Lynn Dearmyer. The language and imagery used and sent to predominately white households is pretty blatantly racist. Betty Jean Grant is "radical" and "extremist." "They" are "dead set" on "raising our taxes"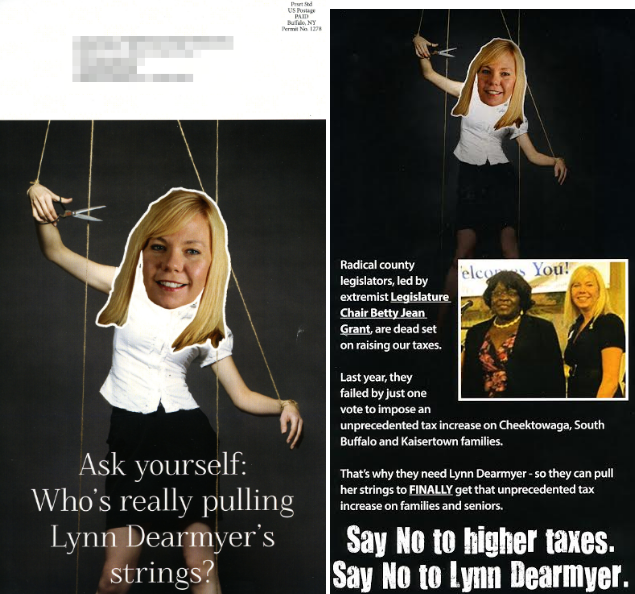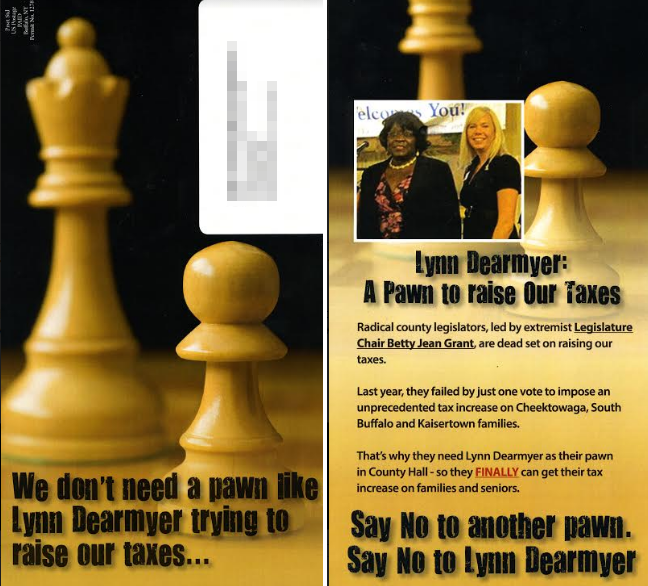 In addition to their defamation of Wynnie Fisher being a lunatic,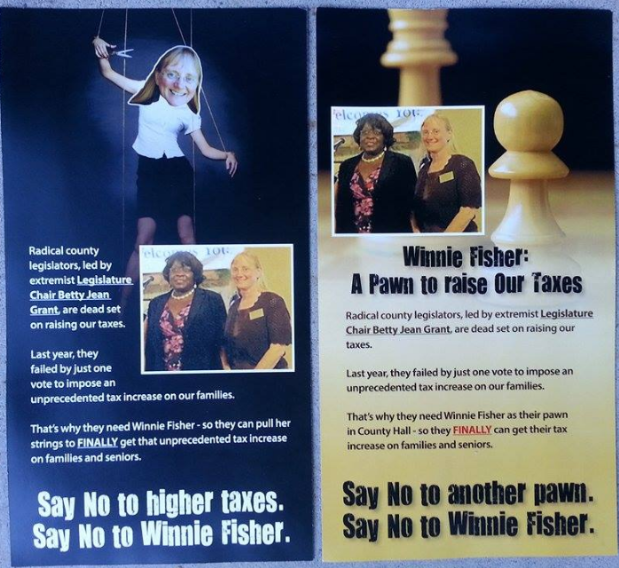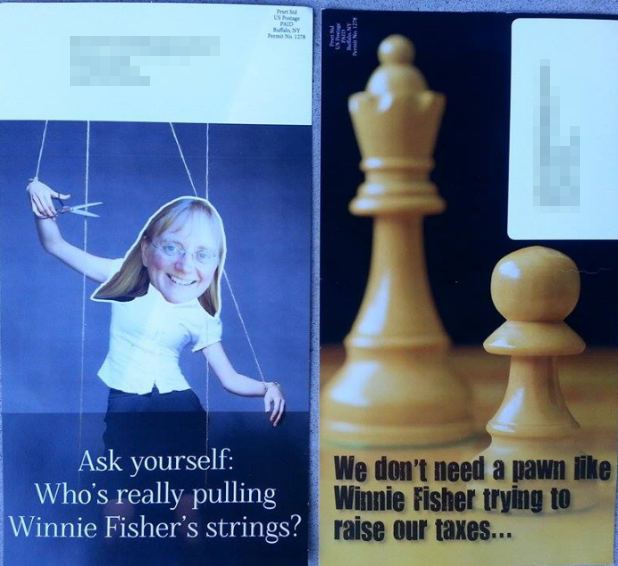 I wrote about this in some detail in June of 2015 as "The Story of Preetsmas". 
Grant and Hogues were understandably outraged.  Mazurek was typically flippant. At bare minimum, Mazurek cut and signed the checks that paid for those inflammatory and racist mailers. 
Under New York's weak and hitherto habitually unenforced election law, there is no requirement that the groups sending these sorts of mailers out reveal their identity or funding. "Paid for by" isn't a requirement, and it protects the racketeers instead of informing the voting public. 
Generally, a PAC like the "WNY Progressive Caucus" would need to disclose to the Board of Elections where its money—almost $300,000 came in and went out practically overnight—was coming from. But when these mailers hit in late August 2013, it hadn't yet filed anything. The reason why anyone found out about it was a FOIL request: 
[Betty Jean] Grant on Friday charged that a rival wing of the local Democratic party is behind the anonymous ads. A request made under the Freedom of Information Act to the Postal Service has identified the permit holder on the mailings as the Western New York Progressive Caucus, headquartered on Doris Avenue in Lancaster.
That was Kristy Mazurek's home, and she was listed as the group's treasurer. Mazurek, at the time, had been a co-host of WGRZ's "2Sides", had helped direct the campaign of failed Comptroller candidate David Shenk, and then turned against Jeremy Zellner's Democratic Committee and began running Moore's and Zydel's campaigns. In August 2013, I called them the "emoDems", 
It should be noted that WGRZ 2Sides co-host Kristy Mazurek is [Wes] Moore's and [Rick] Zydel's campaign manager. Query why [her former co-host Stefan] Mychajliw would have felt the need to abandon the show when he ran for public office, yet the Democrat on the show feels no similar ethical obligation to do so, going so far as to attempt to ridicule an opponent on Facebook who wasn't interested in going on the show. 
Mazurek had taken to Facebook to ridicule Moore's opponent Wynnie Fisher for refusing to appear on 2Sides. Yet why on Earth would a candidate appear on a show to be interrogated by her opponent's campaign manager? It's an insane proposition. Mazurek left 2Sides just days later. (There's David Pfaff again, BTW): 
And so, Mazurek Palinistically took to Facebook to issue a non-denial denial about the WNY Progressive Caucus' literature: 
Translation: After Shenk lost, Zellner didn't hire/get me hired for something-or-other, and so I'm going to align myself with the people who are working to undermine and unseat him. Note that Mazurek doesn't deny that she or her PAC sent out the anti-Hogues and anti-Grant mailings. She simply says the complaints "don't have merit". So, I replied: 
Reply, (right under one from Erick Mullen, who did all of Jack Davis' ads that relentlessly went after endorsed Democrat Jon Powers in '08): 
I have no idea what that means. So, 
There was no reply, natch; I don't think Ms. Mazurek knew what "meritless" means. Ditto her apparently erstwhile ally Pigeon, who said that the charges against him related to Mazurek's PAC were "frivolous". 
These types of anonymous mailers come out all the time, and when anonymous, you can bet that the people behind it want to keep you in the dark. You should be insulted by them – they figure you're an idiot; an ignoramus. Yet there's no law that says they have to disclose who they are. So, if you're outraged when your candidate gets anonymously and unfairly slammed by anonyms, you're going to have to lobby Albany to demand that the Election Law be amended to (a) require that all campaign advertisements and literature clearly disclose who paid for them; and (b) institute a hefty penalty for any violations – penalties that are confiscatory deterrents. 
Nasty people with unclean hands legally get to make electoral politics dirtier than it has to be. If Mazurek and the people behind the group for which she is treasurer think that Tim Hogues is a closet Clarence Republican and that Barbara Miller-Williams is the reincarnation of Franklin Delano Roosevelt, then they should disclose who they are. 
The disgruntled nominal Democrats in league with Steve Pigeon might consider this, for instance: instead of working with Republicans and the fusion parties actively to undermine endorsed Democrats, why not convince the various and sundry committee members why they should vote for Frank Max or Mark Manna over Jeremy Zellner for party chair next time around? If you're in league with the Conservative Party, why even pretend to be a Democrat? 
But in 2013, the Pigeoning was discovered far earlier than Pigeon and Mazurek had expected, on August 30th. Because they were outed via FOIL request, they were forced to file disclosures just 11 days before the primary, and the disclosure was, at best, packed with fiction. Think about it—they clearly didn't want to disclose who they were on the reams of literature they produced, and so long as people didn't know who was behind it, they could defame opponents with impunity. This time, however, they were outed and came under a media microscope. Hogues and Grant filed complaints with the Board of Election, bolstered by former Assistant District Attorney Mark Sacha, and that complaint was referred to the state, which then referred it to state investigators, and it came before the Moreland Commission and into the hands of Preet Bharara. 
AwfulPAC supported a small handful of candidates; Nixon, Zydel and Moore lost their September primaries, but Dick Dobson won his for Sheriff and Barbara Miller-Williams defeated Tim Hogues. Only Miller-Williams won in November. Dick Dobson embarrassed Bert Dunn on primary night, so Dunn decided to waste his money and run on a tailor-made third party line, unsuccessfully. AwfulPAC, meanwhile, abandoned Dobson during the general election. Wynnie Fisher had defeated AwfulPAC candidate Wes Moore, so in October, Mazurek evidently used Michael Caputo's PoliticsWNY.com to smear Fisher. Apparently, Fisher and her neighbors don't get along, so a story was planted accusing Fisher of being crazy.
The problem was that the published letter was sent to Wes Moore at an address in Lancaster. But Moore's campaign committee was based out of the Clarence office of longtime Pigeon associate Anthony Nanula. The Lancaster address was a house on Doris Avenue where Mazurek was living, and which also served as the mailing address for WNYPC. There was, on its face, a smoking gun of coordination. How and why would Wynnie Fisher's neighbors decide to send a letter to an address for Wes Moore that didn't exist in nature?
Mazurek once literally called the Shredd & Ragan show in 2014 to try and intimidate them into keeping me off their air. Almost four years ago, Steve Pigeon, Kristy Mazurek, and David Pfaff used a corrupt slush fund to defame their opponents with false and racist mailers, then called them crybabies for complaining. Now, they're reportedly facing criminal charges for it all.  
By the way—rumor has it that Mazurek and her crew are sniffing around at least two legislative races this year specifically to exact revenge against or otherwise thwart their opponents. 
And that's the story of Preetsmas. 
The First day of Preetsmas (5/28/15): The raids & an introduction
The Second day of Preetsmas (6/4/15): All about AwfulPAC
The Third Day of Preetsmas (6/2/15): Seneca cigarette bootlegger Aaron Pierce & Mickey Kearns.
The Fourth Day of Preetsmas (6/3/15): Steve Pigeon, PAPI, and Gene Caccamise
The Fifth Day of Preetsmas (6/3/15): Pigeon's Tax Liens
The Sixth Day of Preetsmas  (6/4/15): Analyzing tax returns, and litigation surrounding the sale of the Front Page/South Buffalo News
The Story of Preetsmas (6/4/15): Background on AwfulPAC
The Seventh Day of Preetsmas (6/5/15): Financial Shenanigans with Pigeon-connected PACs
The Eighth Day of Preetsmas (6/7/15): The Money Orders and AwfulPAC
The Ninth Day of Preetsmas (6/9/15): Pigeon's addresses and Ganjapreneurs
The Tenth day of Preetsmas (6/11/15): The Pigeoning
The Eleventh Day of Preetsmas (6/12/15): AwfulPAC FOIL
Preetsmas: In their Own Words (6/14/15): A trip down memory lane
A Preetsmas Recap and Update (6/16/15): Updates on the investigation
The Preetsmas Mysteries (6/22/15): More about the AwfulPAC money orders
Let's Talk About "Mistakes Were Made" in Campaign Finance Law (7/14/15): On the question of intent.
Preetsmas in September (9/14/15): Big money in Cheektowaga politics. 
Preetsmas: Pigeon's New Liens (12/28/15): The total reaches $270,000 in tax and condo liens. 
It's Beginning to Look a Lot Like Preetsmas (⅚/16): Pigeon rumors heat up
Preetsmas: Grand Jury and Speculation (5/9/16): Rumors of imminent grand jury action
Mazurek's Unlikely Candidacy (5/31/16): Kristy Mazurek runs for Assembly while named as key witness in criminal investigation
On the 12th Day of Preetsmas (6/29/16): Charges announced against Pigeon and Michalek
12th Day of Preetsmas: Pigeon Arraigned (6/30/16): Details of the bribery charges
12th Day of Preetsmas: Schneiderman's Remarks (6/30/16): The investigation is ongoing
How Pigeonism Ends (7/1/16): Analyzing what the charges mean
Mazurek's Financial: A Sloppy, Illegal Mess (7/22/16): Exactly how it sounds
Unraveling the Mazurek Campaign (7/22/16): Rules exist for a reason
The Tables Turn on Crybaby Mazurek (9/12/16): LOL Karma
Campaign Workers: Frank Max Stiffed Us! (1½/16): Frank Max Pops Up Again
Frank Max Pleads Guilty (½5/17): Max busted for false campaign finance filings
Preetsmas: Niagara Edition (3/23/17): The Ortt and Maziarz indictments