Commentary
Unraveling the Mazurek Campaign
by
/ Sep. 7, 2016 5am EST
This isn't about Democratic factionalism anymore. Every responsible candidate with a (D) after her name wants nothing to do with Steve Pigeon and his ragtag band of upturned palmed ne'er-do-wells. In the race for District Attorney, someone has the chutzpah to accuse John Flynn of Pigeon ties, while Michael Flaherty's campaign is literally run by Pigeon stalwarts. Time will tell whether this is all Pigeonism's last gasp, but it goes to show you that it's all fun and games until the indictments start rolling in. 
There is, however, one candidate — irresponsible though she may be — who doesn't shy away from her Pigeon ties at all. Steve's Power of Attorney, Kristy Mazurek, is running for Assembly, and her campaign finances have already been exposed as an illegal, sloppy mess. Today, she reports a negative balance of $1,545. This is not something that is allowed to happen. Campaigns can't spend more money than they have. 

It may be at least partly attributable to the fact that Mazurek's campaign had to refund $1,100 in illegal cash donations. 

For a candidate who brags about how much support she has from the community, her money seems to come from a small number of donors with predictable Pigeon affiliations.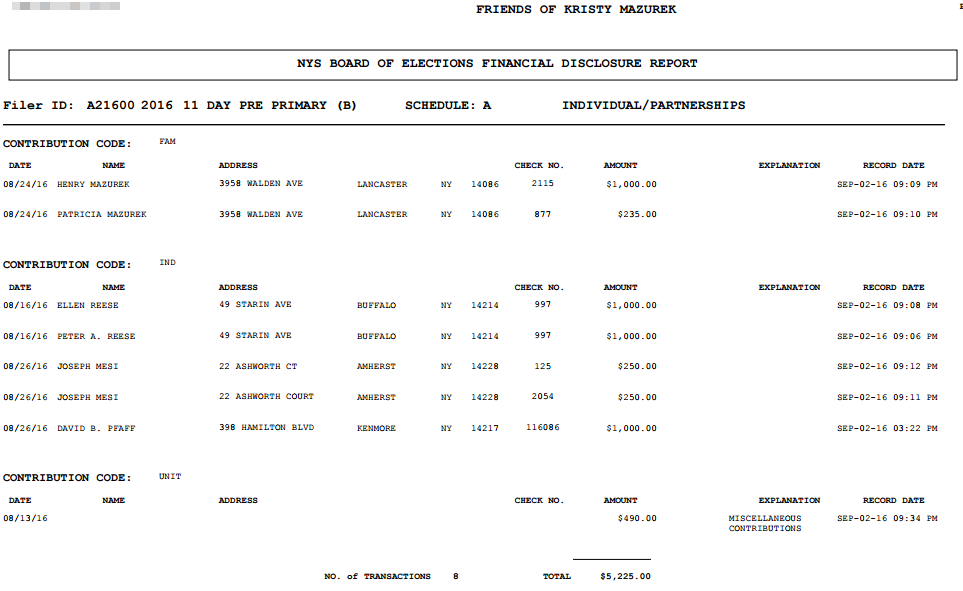 Mazurek has spent upwards of $11,000 on printing services for palm cards and direct mail, but one donation should raise eyebrows. Mazurek's campaign manager dipped into a Republican-funded Steve Pigeon slush fund that he controls. 

The shadowy "WNY Freedom" PAC, using Mazurek campaign manager and Marc Panepinto staffer / Pigeon insider David Pfaff's home address, transferred $2,000 to Mazurek in late August. This particular Pigeon-connected political action committee reports that it was funded entirely by Republican money, including Carl Paladino's. 
Steve Pigeon set up "WNY Freedom" in late 2013, around the same time that the Preetsmas target WNY Progressive Caucus (a/k/a "AwfulPAC") was winding its activities down. Its first donations, as the News reported, came from Carl Paladino. 
Buffalo developer Carl P. Paladino, who also is not suspected of any wrongdoing, said Pigeon asked him to donate $1,000 in October 2013 – immediately after the WNY Progressive Caucus raised $267,000 for opponents of candidates backed by Pigeon adversaries in Democratic headquarters.
For some reason, Carl didn't just send a check for $1,000, but instead broke it down into five separate $200 donations made by five separate Carl-controlled LLCs, making good use of New York's execrable LLC loophole. So, Steve says "jump", and Carl spits, "how high?" 
WNY Freedom later raised an additional $4,700 from the Buffalo Republican Committee. 

To be clear — the only money ever used to fund the WNY Freedom PAC came from Republicans — the Buffalo committee and Carl Paladino. In fact, the Buffalo Republican Committee went broke in part thanks to its funding of a Pigeon PAC. Until now, the PAC itself has reported giving money only to a few local charitable organizations, but to no political campaign. This is false, misleading, and illegal. Firstly, if Mazurek's 11 day pre-primary disclosure duly noted the $2,000 inflow from WNY Freedom, why hasn't the PAC itself disclosed this amount? 
In fact, the WNY Freedom PAC has a habit of not disclosing donations it makes on its own books, while they appear on the books of other campaigns. Again: WNY Freedom reports only ever having raised $5,700 from any source, ever. So, explain this: 
How is it that a Steve Pigeon PAC that has only ever raised $5,700 has the wherewithal to make contributions in excess of $10,500 over the years — including $8,000 reported by the Dick Dobson for Sheriff campaign, which was the centerpiece of the AwfulPAC effort in 2013? 
And where is the Board of Elections on this? Where is the District Attorney or Attorney General on this? These aren't some newish pikers — this PAC is run by people with decades' worth of experience as party and campaign insiders. There is no accident here. This is not "mistakes" being "made".  This is a deliberate scheme to circumvent the law and exploit its inherent weaknesses. Check 1003 to the Lancaster committee; Check 1004 to Mychajliw's committee on 10/22/13. The Dobson donation was originally reported as being made from AwfulPAC itself; witness this incredible explanation: 

Who funded this? Where did it come from? Why won't these people just follow the rules? To this day, we have no idea how WNY Freedom came up with $8,000 to give to Dick Dobson, nor has it disclosed any such contribution, or how it might have conceivably been financed. 
It's just one of several Steve Pigeon-connected political slush funds. There are so many, even their principals have probably lost track of them all. 
By contrast, Mazurek's opponent Monica Wallace's campaign committee is $50,000 in the black. Wallace pledges to go to Albany to fight the sort of corruption and campaign finance irregularities that Mazurek embodies. This past weekend, County Executive Mark Poloncarz endorsed Wallace. Underscoring the import of that endorsement, Mazurek exploded, 
Kristy Mazurek today dismissed Mark Poloncarz's endorsement of her opponent as predictable and irrelevant. "It is hard to believe that this is newsworthy," stated Mazurek. "This guy is a career politician, a Democratic Party Boss and he doesn't even live in the district. Why would anyone in Cheektowaga, Depew, Lancaster or Sloan care who he supports," noted Mazurek.
*Whom. If it's irrelevant, why comment on it? If not newsworthy, why issue a press release? Is Poloncarz a "career politician"? Hm, not really. He was a lawyer before he sought elected office. Is he a "party boss"? No. Why would people in the 143rd care whom he supports? Because he is the County Executive; they are all his constituents, and he enjoys widespread support in those communities. 
"The only endorsement I want is from voters," declared Mazurek. "I find it comical the County Executive claims he cares about the people of the 143rd based on his recent actions," said Mazurek. "He just slashed ALL funding to Polish Arts and Cultural organizations in the 2016 budget and battled over plans with a local landmark in Lancanster —- the dam at Como Lake Park.
The issues at the dam at Como Lake Park are aesthetic in nature; silt has built up behind the dam, and Republican County Legislator Tim Morton has been very vocal in demanding that the county clean it up. To do so, however, would cost $1.5 million out of a $1.6 million parks budget, and there exists no need or political will to spend that kind of money on an issue having nothing to do with health or safety. As for the alleged slashing of "ALL funding" to Polish arts and cultural organizations in 2016, that's a lie. Poloncarz's administration recommended that the Polish Arts Club receive a County grant of $6,800. No one knows what Mazurek is talking about with her capitalized, "Polish Arts and Cultural" organizations. 
"Furthermore, this is the same crew that endorsed the previous Assembly member time and time again after knowing of his harassing behavior in Albany. They sent him back to Albany, with their seal of approval, to prey on more victims! They should be ashamed," declared Mazurek
Mark Poloncarz isn't a "crew", and never endorsed Dennis Gabryszak. In fact, when Gabryszak's behavior came to light, Poloncarz was among the first to demand his resignation. 
"Voters should know that after announcing my candidacy; I opted not to solicit any endorsements from elected officials, labor unions or special interest groups," explained Mazurek. "For the record I'm a member of several unions, will work with all elected officials to improve our area and am looking forward to telling Albany special interest groups that my only special interest is the people who live in Cheektowaga, Depew, Lancaster and Sloan," concluded Kristy.
She rejects endorsements from electeds, unions, and "special interest groups".  She has only accepted the endorsement of shady, non-transparent PACs created by indictee Steve Pigeon with Republican money. 
When you look at Monica Wallace's disclosure, they're doing everything by the book. When you look at Mazurek's, it's clear that they don't have the book, and even if they did, it's doubtful they could read it. 
Primary Day is September 13th. Every vote counts.