Commentary
On the Ninth Day of Preetsmas
by
/ Jun. 9, 2015 6am EST
101 REO AVENUE
On the Seventh Day of Preetsmas, we reported that Pigeon had used an address of 101 Reo Street in Cheektowaga for some of his personal political contributions, as well as the address of record for at least one of his LLCs and two of his PACs. 101 Reo is the home of Sandi Schmidt, Pigeon's long-time personal assistant and bookkeeper. Pigeon used Schmidt's address to contribute $50,000 to Andrew Cuomo's campaign in 2013. It's believed that Schmidt helped Pigeon handle his money and pay his bills. She would be a critical person for investigators to question, as she would have knowledge about Pigeon's activities since day one. 
ADMIRAL'S WALK
Who lives where? In some filings, Pigeon says he lives at 101 Reo. In some, he uses 703 or 704 Admiral's Walk. In others, he uses 1003 Admiral's Walk. That's odd, right?
Steve Pigeon bought 703 Admiral's Walk in 1997, and sold it in May 2009, but not before taking out a $58,000 mortgage through GSDP, LLC at 1900 Main Place, (but has also used 101 Reo—remember this disclosure?) which was then the location of Pigeon's law firm. 
Pigeon bought 704 Admiral's Walk on October 5, 2007, and still owns it. 
1003 Admiral's Walk is owned by Tanning Bed founder and current ganjapreneur Dan Humiston, who is applying to transform the Tyson chicken plant into a medical marijuana growing facility. Back in 2012, Humiston was running for Assembly (Pigeon donated), primarying David DiPietro on the Republican line and Christina Abt on the Independence fusion line. A lawsuit alleged that Humiston didn't live in the district, and DiPietro's campaign sent out literature alleging that Pigeon and Humiston were living together.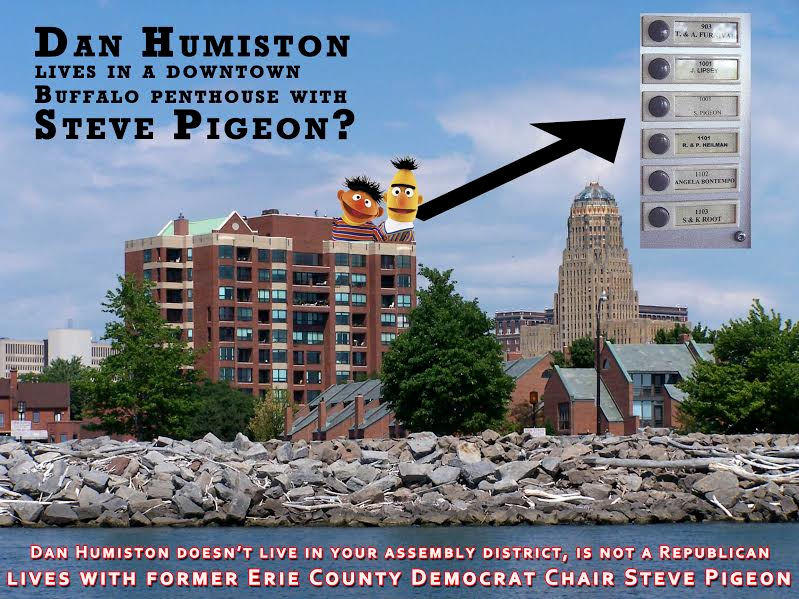 and the doorbell: 

As it turns out, Humiston had claimed that his residence was out in the district, but that he also had a second home at 1003 Admiral's Walk, which has recently been on the market. Or was it 703? 
But more significantly, there are currently two condominium liens against 1003 Admiral's Walk on file with the Erie County Clerk's Office for unpaid common fees and assessments; one for $1,122 from October 2013, and one for $9,264 from August 2014. This is separate and distinct from the federal tax liens filed against Pigeon.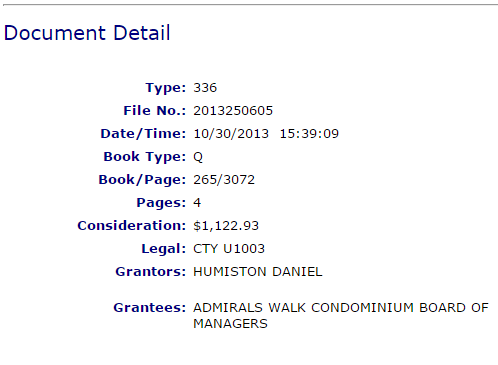 and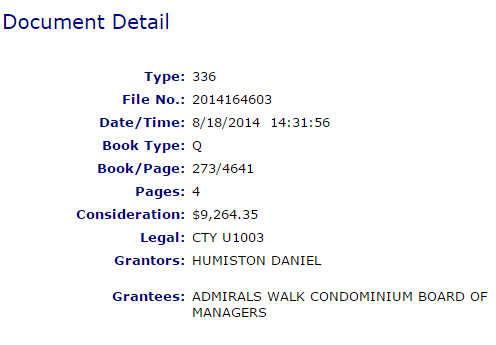 Why is Pigeon not living in 704, and instead occupying a 10th floor apartment owned by Dan Humiston?  We know this to be true because look at this image from the Buffalo News regarding the raid of Pigeon's home on May 28th. See the floor number on the elevator?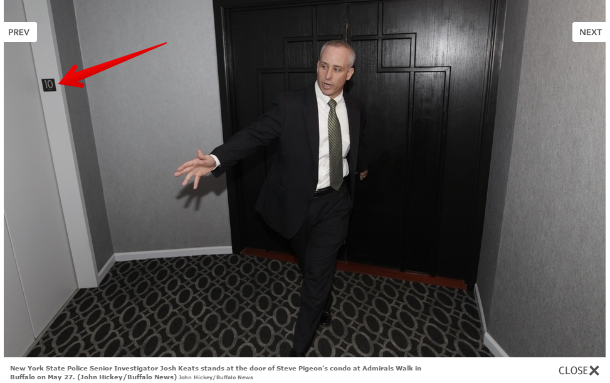 Is Pigeon paying for someone to live there? Why aren't the condo fees being paid? We know that Humiston owes the duty to pay the condo fees, but who is really responsible for the arrearage—the guy who just put down over $200,000 to grow medical marijuana or the guy who has over $200,000 in pending tax liens going back to 2008? 
BARTOLOMEI
Another oft-used Pigeon address is that of lawyer John Bartolomei in Niagara Falls. Bartolomei's associate Bill Berard represented Aaron Pierce's AJ's Wholesale in this lawsuit, and his office has been known to represent people in connection with inquiries from boards of election. For instance, Berard represented Kristy Mazurek when the Erie County Board of Elections subpoenaed the records of the WNY Progressive Caucus (AwfulPAC) and she resisted turning them over. That matter was litigated before Judge Troutman. Bartolomei is also representing some of the plaintiffs (including Mazurek) in the sexual harassment suit that led to Dennis Gabryszak's resignation in disgrace, and paved the way for Mazurek's brother to first defeat Camille Brandon in the Democratic Primary before losing in the general election to Conservative fusion Party member Angela Wozniak for A-143. 
FAILED FOIL TO THE ERIE COUNTY BOE?
When the state Attorney General's office took over the Erie County BOE's investigation into AwfulPAC, it took every file and directed the board to cease all activities. That's why this Buffalo News article about Pigeon attorney Dennis Vacco serving a FOIL on the Erie County BOE for AwfulPAC records is so funny. There likely are not any substantive files at the BOE. 
PAPI CONSULTING'S LOBBYING
Way back on the first day of Preetsmas, we speculated as to why a bigshot Syracuse developer like Scott Congel would need to associate himself with every political malcontent in Western New York just to build a glorified shopping center in West Seneca. Our conclusion was that this may have been an effort to move the Seneca Creek Casino from Buffalo to a more prominent location off the Thruway in West Seneca. It bears mentioning, then, that the NYS Joint Commission on Public Ethics lists Steve Pigeon's PAPI Consulting, LLC as an approved lobbyist for S&R Company of West Seneca, LLC., which is the owner of the Seneca Mall location of Congel's project in The JCOPE record is here. Also note this: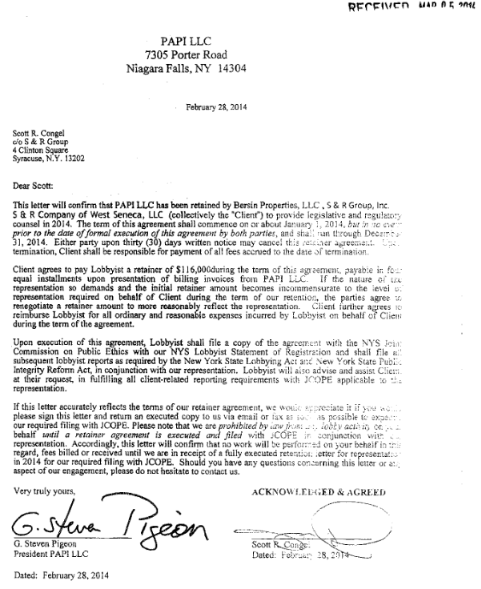 and this: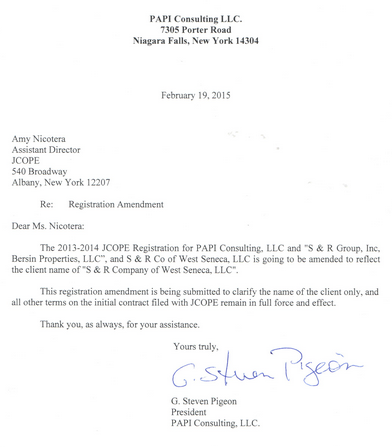 Interesting, then, that the Senecas also retained PAPI Consulting, including Pigeon, Gary Parenti, and Grassroots' Maurice Garner to lobby the state. The Senecas have since fired Pigeon's group. Pigeon's GSDP, LLC also engaged in lobbying, based on this document, but there appears to be nothing else on file with JCOPE right now. 
That's because GSDP was the subject of a JCOPE enforcement action, settling for a fine of $500. 
GSDP Settlement by Alan Bedenko
STEVIE GOES TO HOLLYWOOD
Back in January 2014, Bob McCarthy and Pigeon's other stenographer, Frank Parlato, reported on how Buffalo's own G. Steven helped sponsor a big-ticket Hollywood fundraiser for Governor Andrew Cuomo. Where's the donation? Who made it? Pigeon is shown to have paid $50,000 in January 2013 and Landen paid $5,000 in December 2013. But where was this supposed $25,000 ticket for the LA fundraiser in January? It doesn't show up under PAPI or GSDP or Landen, either. Very odd.