Commentary
by
/ Jun. 2, 2015 4am EST
The Buffalo News reports that one of the top donors to Steve Pigeon's and Kristy Mazurek's "WNY Progressive Caucus" has been in big trouble lately. 
Aaron J. Pierce, a Seneca owner of an online cigarette business and a munitions factory, 
• In August 2013, a Pierce company called AJ's Candy & Tobacco was charged – with 17 other defendants – with conspiracy to commit wire fraud and contraband cigarette trafficking. Federal prosecutors said AJ's Candy was one of several Native American tobacco companies from Western New York that saved hundreds of thousands of dollars by illegally buying and reselling "unstamped" cigarettes.

AJ's Candy and other companies saved themselves $4.35 a pack by illegally buying cigarettes from a Missouri company that had not paid New York state excise taxes, prosecutors charged.

Court papers show that, last August, AJ's Candy & Tobacco was sentenced after taking a corporate guilty plea, admitting to felony charges of conspiracy to commit wire fraud and contraband cigarette trafficking. The company agreed to pay just over $1 million in fines, judgments and restitution. The company was put on probation for two years. Pierce – who signed the plea agreement on the company's behalf – agreed that the company would not sell any cigarettes except those made by his own companies for two years.

The charges against AJ's Candy & Tobacco and 17 other defendants followed a lengthy undercover investigation by the U.S. Bureau of Alcohol, Tobacco, Firearms & Explosives. The defendants in the case purchased a total of $17 million in illegally untaxed cigarettes during the undercover probe, said U.S. Attorney Tammy Dickenson, in Kansas City, Mo.

• In April of this year, Pierce and another of his companies – AJ's Wholesale LLC of Irving – agreed to pay $400,000 to federal prosecutors in Buffalo to settle a non-criminal forfeiture case.

Federal prosecutors filed the forfeiture action against Pierce and AJ's Wholesale in February, after ATF agents determined that AJ's unlawfully bought and resold more than 403,000 cartons of untaxed cigarettes between September 2012 and January 2013, Assistant U.S. Attorney Richard D. Kaufman said in court papers.

A court order directing Pierce and AJ's Wholesale to pay $400,000 to the federal government was signed by District Judge Richard J. Arcara on April 19. Another document, called a "stipulation for settlement and forfeiture," was signed by Pierce and Pigeon – acting as an attorney for Pierce – on March 24.

AJ's Wholesale, the company involved in the $400,000 forfeiture action, is the same Pierce company that donated $30,000 to Pigeon's PAC in September 2013, government documents show.
Pierce is also a big donor to Assemblyman Mickey Kearns — so much so that Kearns had a ballpark named after Pierce.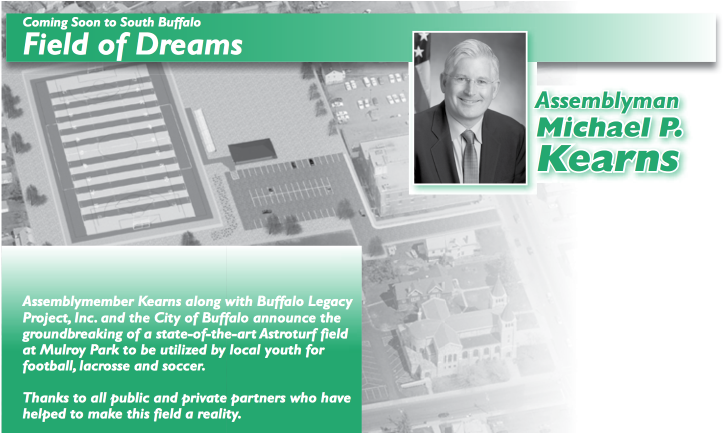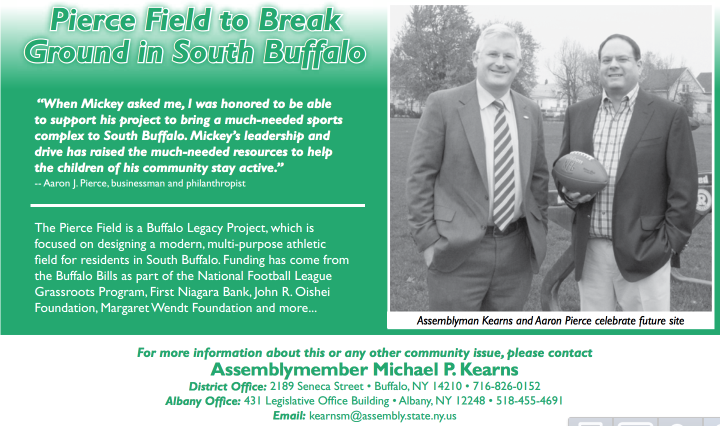 When this all gets written up and we know all the ins and outs, remember that the question is where the money came from to fund the WNYPC. It was rumored to be Seneca money, and the evidence is mounting that this is true. Pierce's quoted lawyer — Ed Betz — is a close associate of Pigeon protege Jack O'Donnell, and was hired as counsel for the Erie County Water Authority when O'Donnell was a commissioner.
Also, in case you missed it, Ken Kruly's blog has a list of the lawyers all the targets of the Preetsmas probe have retained, 
Steve Pigeon – represented by Dennis Vacco and Paul Cambria
Steve Casey – represented by Rod Personius
Chris Grant – represented by Thomas Eoannou
Tim Kennedy – represented by Terry Connors
Kristi Mazurek – represented by Joel Daniels
That reads like a who's who of local lawyers you hire when you're accused of really, really serious stuff. Also — Tim Kennedy?!
So far, the only thing missing is how the Albany-based accused cult NXIVM fits into all of this. Because I'm convinced that this investigation's scope and timeframe is much wider than is being reported.