Commentary
The Tables Turn on Crybaby Mazurek
by
/ Sep. 12, 2016 5am EST
Tomorrow — Tuesday September 13th — is primary day. If you're a Democrat in the 143rd Assembly District, it is your responsibility to vote for endorsed candidate Monica Wallace.  Why? Because Wallace is uniquely qualified to serve as your legislator in Albany, and will — once and for all — allow the district to move past its recent history of scandal and embarrassment. Polls are open from 6am to 9pm.
By contrast, Wallace's opponent is wholly unfit and unqualified for public office. 
In 2013, Kristy Mazurek was the treasurer of the WNY Progressive Caucus, or "AwfulPAC". This entity was a Steve Pigeon front organization that raised and spent close to $300,000 within a matter of weeks, in order to sabotage the Erie County Democratic Committee and its slate of endorsed candidates. No surprise, then, that Mazurek enjoys current funding from a shady, probably illegal, Republican-financed PAC. For its part, Mazurek's own AwfulPAC is now the epicenter of a state and federal investigation into widespread fraud and corruption. It's already seen a Supreme Court Justice resign in disgrace and its mastermind indicted on nine felony counts. Mazurek herself reportedly cooperated with investigators, but has not yet been charged with any crime. 
Mazurek is now running for the State Assembly to replace disgraced incumbent Conservative Angela Wozniak who, in turn, replaced the disgraced Dennis Gabryszak. Mazurek had worked for Gabryszak and claims to have been a victim of his harassment. She brought a lawsuit that has since been dismissed because she waited five years to bring it, and the statute of limitations is three. She is appealing the dismissal. 
What is often lost in the AwfulPAC narrative is what it actually did. It mostly produced direct mail and other advertisements, some of which were practically defamatory in their rank falsehoods. Here is a sampler of mailers that AwfulPAC sent out to Democrats in 2013 to attack County Legislator Betty Jean Grant and former County Legislator Tim Hogues.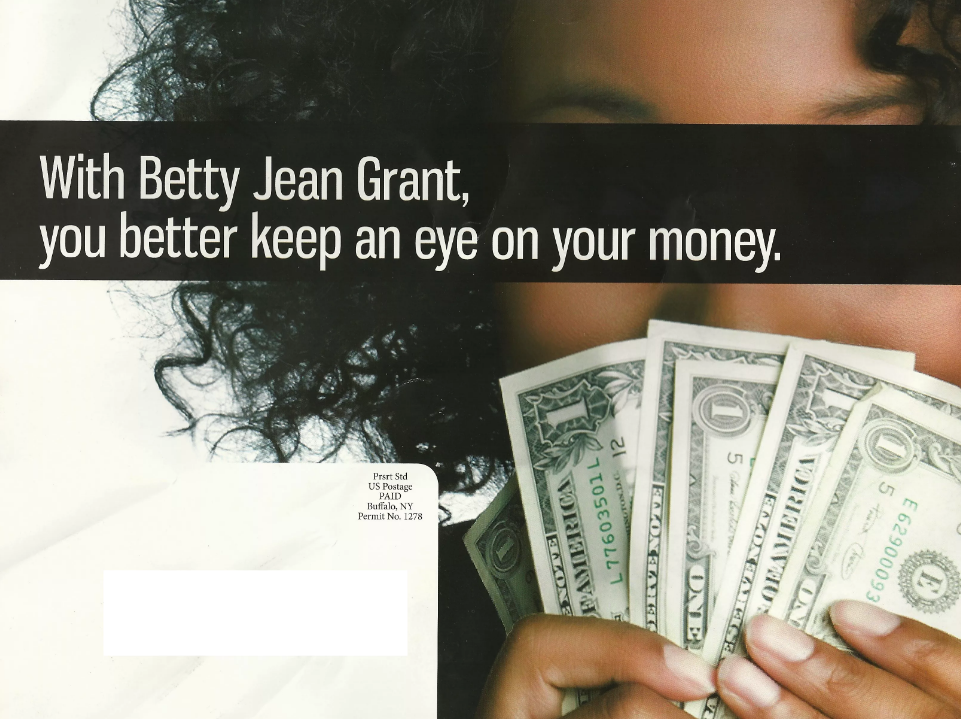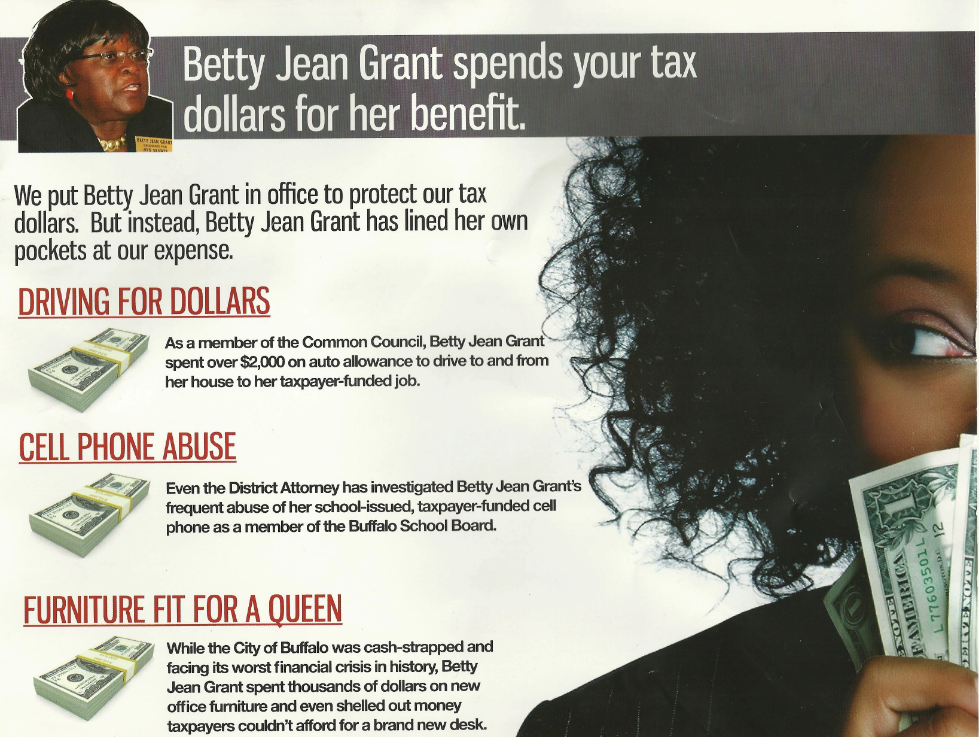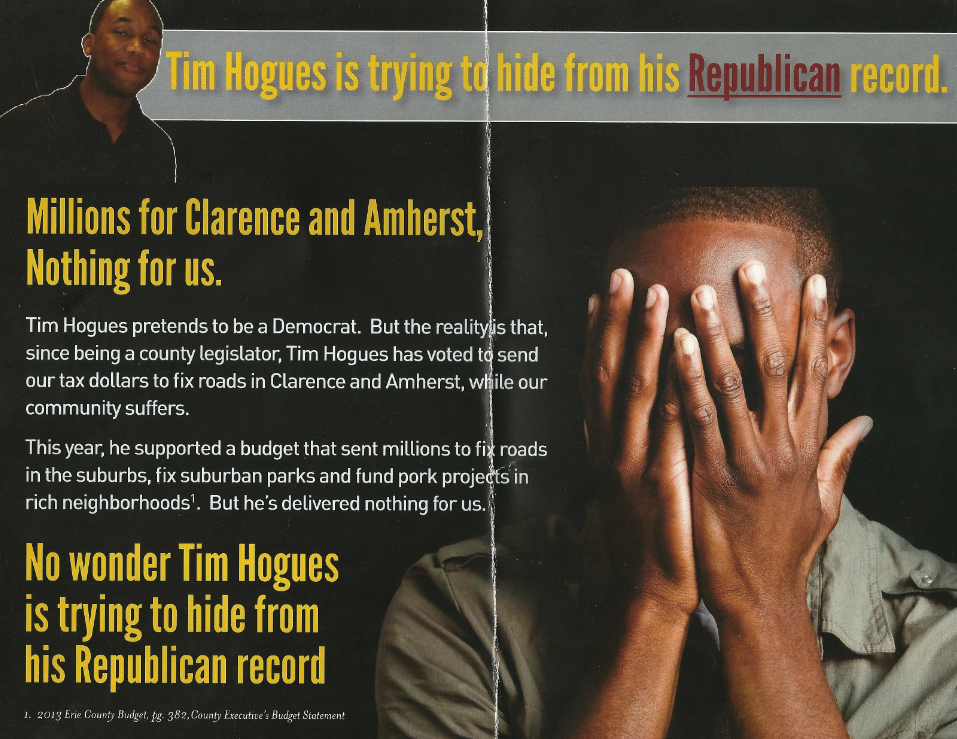 They attacked other candidates similarly, including Lynn Dearmyer. The language and imagery used and sent to predominately white households is pretty blatantly racist. Betty Jean Grant is "radical" and "extremist". "They" are "dead set" on "raising our taxes".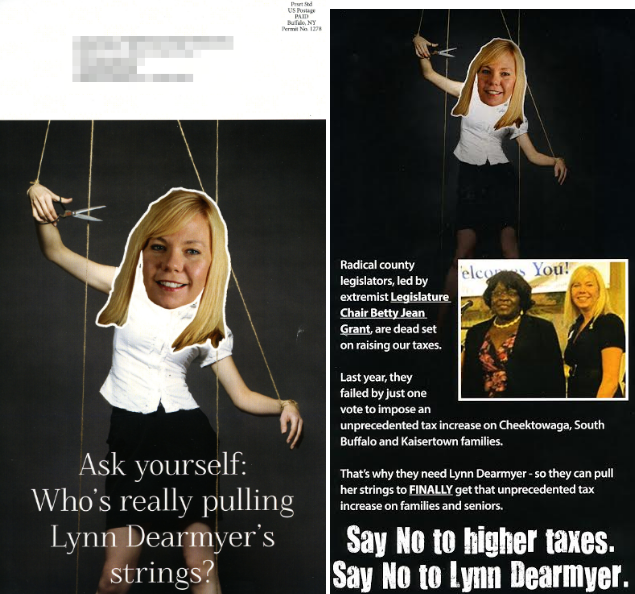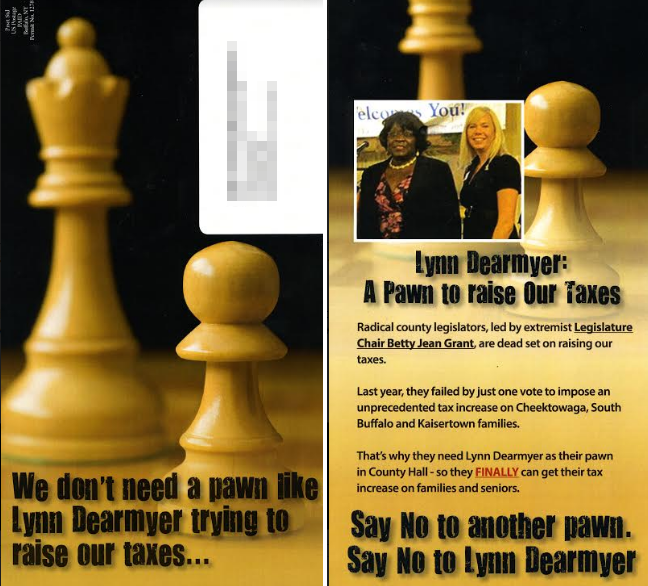 They leaked a false and defamatory story to PoliticsNY.net, accusing Wynnie Fisher of being a lunatic. Also,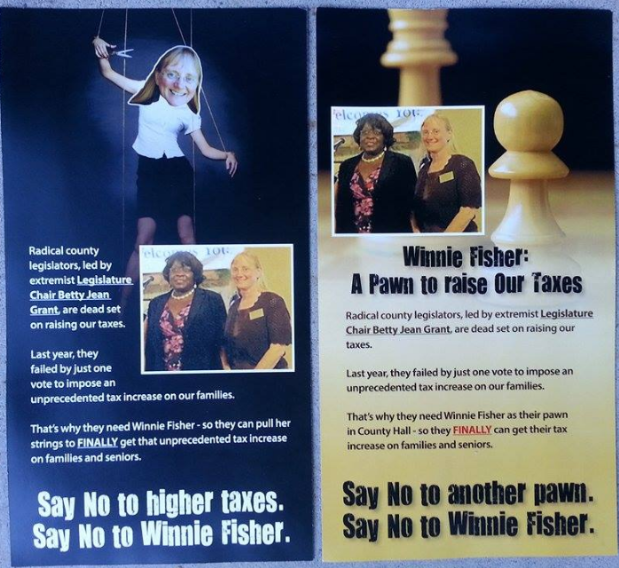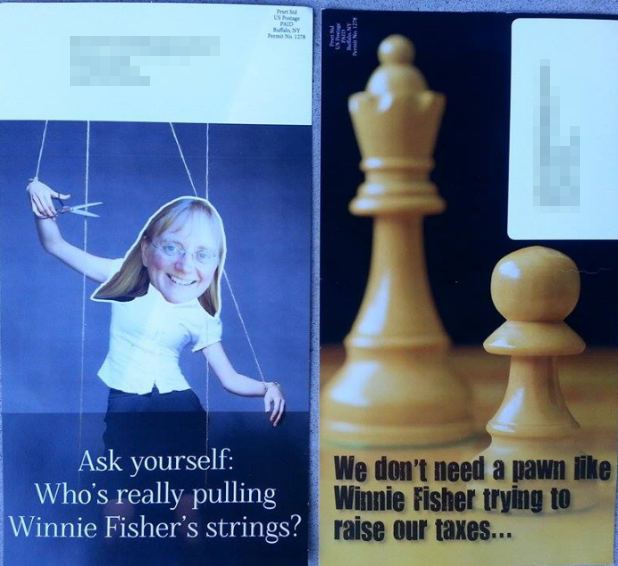 I wrote about this in some detail in June of 2015 as "The Story of Preetsmas". 
Grant and Hogues were understandably outraged. 
Mazurek was typically flippant. At bare minimum, Mazurek cut and signed the checks that paid for those inflammatory and racist mailers. 
Hoges and Grant made a formal complaint to the Board of Elections, which turned it over to the Attorney General, and the Feds got involved, too. Mazurek dismissed all her critics, detractors, and complainants as "crybabies". 
Just three short years later, the tables have turned. Factually accurate negative mailers slamming Mazurek have hit mailboxes in the 143rd in recent days. The Monica Wallace campaign is only producing or sending a couple of them; most are being put out by NYSUT as an independent expenditure. 
Who's the crybaby now?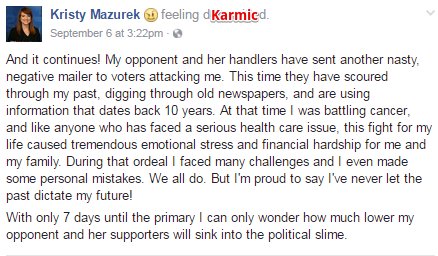 Too funny! This is a woman who literally called the Shredd & Ragan show in 2014 to try and intimidate them into keeping me off their air. Why is she now so aggrieved?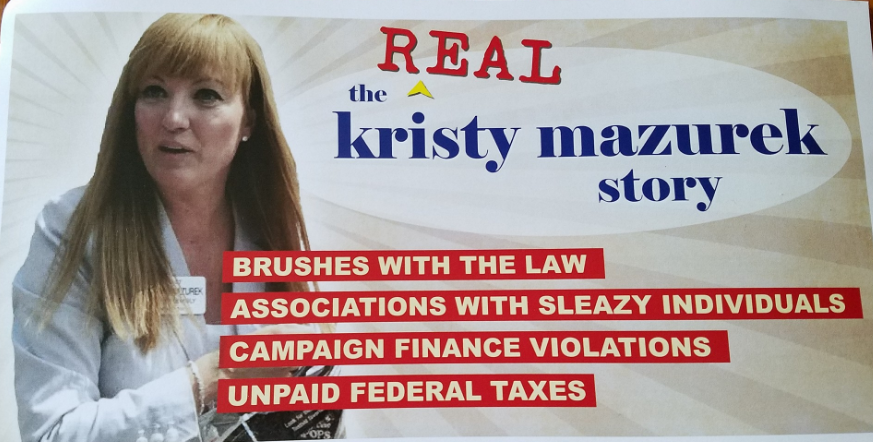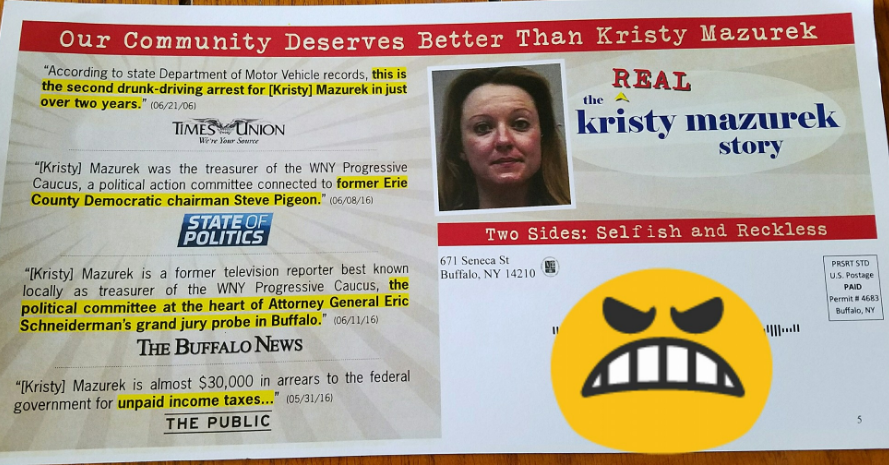 Would you look at that? Finally, someone used Mazurek's Georgia mugshot in a piece of campaign lit. Mazurek has been arrested for two (2) DWIs, one in Georgia (which she pled down), and one near Albany, where she was convicted in 2008 of a misdemeanor, but failed to pay the associated fines. The DMV suspended her license in September 2014 and issued a scofflaw summons. In 2015, Mazurek was pulled over and later found responsible for operating without a license in Clarence Town Court, and paid a fine. 
There's no real excuse for driving drunk; certainly not cancer. I'm not sure how cancer is to blame for her ongoing close association with indicted felon Steve Pigeon, or her inept and illegal handling of the AwfulPAC treasury, or her unpaid taxes, or attempts to intimidate radio shows or bloggers or candidates whom she hates, or defaming candidates for office. I know lots of people who have suffered from cancer, yet the disease never compelled any of them to behave in such a manner. 
I've joked a lot in the past about how everyone in WNY politics is awful in their own way; myself included. But some are far more awful than others. Some confuse vice with virtue, bullying with oppression, friendship with conspiracy, lies with honesty. Kristy Mazurek is a convicted criminal; power of attorney to a man indicted of nine felonies. She is wholly unfit for public office. Indeed, based on her current and past misdeeds, had she already been elected to office, responsible Democrats would feel the need to disavow her; to demand her resignation. Albany itself is already a cesspit of horrible, corrupt people, and dysfunctional beyond reason. Albany already serves to empower the powerful, enrich the wealthy, and screw over hardworking New Yorkers. It is not structured in a way adequately to answer to the electorate. The power of incumbency is so strong that most legislators vacate their Albany offices in disgrace, if not in handcuffs. Albany should be made better, not worse. 
So, given a choice between someone so wrapped up in western New York's own provincial brand of corruption, and Monica Wallace, who is a wife, a mom, a lawyer, a former clerk to a well-respected Federal Judge, and a law professor, who do you think would do a better job of doing the people's business in Albany? Of bringing your concerns to downstate leadership in order to give families and working western New Yorkers a fair shot?
Three years ago, Kristy Mazurek used a corrupt slush fund to defame her opponents with false and racist mailers, then called them crybabies for complaining. Now, she wails when her own misdeeds — her alleged and real criminality — are raised as issues against her. Call it hypocrisy, call it chutzpah, call it karma, but the people in the 143rd know better, and Mazurek's former victims hopefully have champagne at the ready.