Commentary
Preetsmas: Grand Jury and Speculation
by
/ May. 9, 2016 5am EST
What's a Grand Jury, Anyway? 
According to multiple sources, and as reported in the Buffalo News, Attorney General Eric Schneiderman is expected to convene a "special grand jury" in connection with the allegations of criminality arising out of the raids that took place on May 28, 2015. 
Unless a defendant executes a waiver, any felony accusation must be presented to a grand jury for consideration. The grand jury, made up of 23 regular WNYers (16 are needed for a quorum), hear witnesses, consider evidence, and decide whether or not to indict, or may issue a "grand jury report". A prosecutor oversees the proceeding — there's no judge, and no defense attorney unless an accused is giving testimony.
An indictment means the grand jury has determined that (a) there is sufficient evidence — corroborated, if required by law - that the defendant committed the offense; and (b) through the review of competent and admissible evidence, the grand jury concludes that probable cause exists that a crime has been committed. The proceeding is generally held in secret, and a grand jury's duties are purely investigatory; they do not determine guilt or innocence, but who shall be charged.
A special grand jury is convened to hear evidence regarding a variety of cases involving allegations of widespread illegality and misconduct, such as organized crime, drug activity, or corruption. It is unclear whether the special grand jury being contemplated for the Preetsmas incidents will be asked to indict, or to issue a report. If it issues a report alleging misconduct, nonfeasance or neglect in public office, the court may only accept it for filing if it is based upon facts "supported by a preponderance of credible and legally admissible evidence", and only if everyone named had an opportunity to testify. 
Since the Attorney General is expected to convene a special grand jury, this will likely take a long time as the grand jury hears witness testimony and reviews reams of other evidence developed over the past year, and possibly more. This entire investigation has been a joint state/federal affair throughout, so query whether there may be some announcement from Bharara's office. Although western New York is within Hochul's purview, Bharara's office has been handling all of the matters arising out of the defunct Moreland Commission. 
Rumor & Speculation
Former Deputy Mayor Steve Casey, one of the targets of the May 28, 2015 Preetsmas Day raids, is allegedly cooperating with law enforcement. Casey left his job at City Hall to head up the Scott Congel megaproject in West Seneca, and rumor has it that his attorney recently, abruptly stopped participating in coordination conference calls with the other lawyers involved in the case. 
It's also being floated that anywhere from two to as many as five Supreme Court and Buffalo City Court judges may become entangled in this Preetsmas mess. 
Finally, a spy forwards these images of Steve Pigeon's personal assistant, Kristy Mazurek, checking out of the Buffalo Hyatt this past week.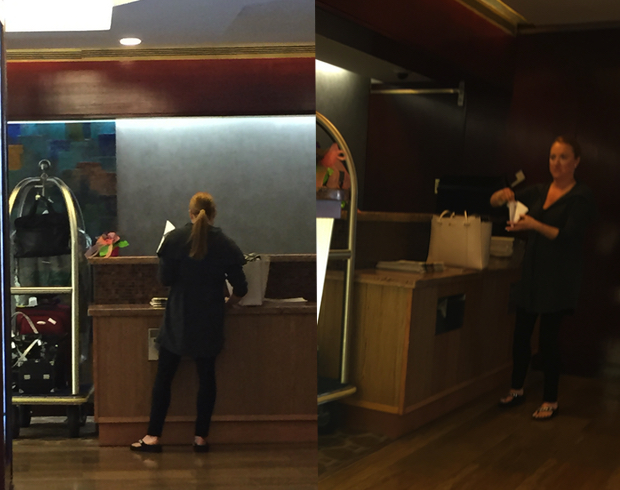 Mazurek was the former treasurer for the "WNY Progressive Caucus", or AwfulPAC, whose allegedly improper activities and campaign finance irregularities brought the entire Preetsmas investigation about.
More recently, she accepted service of process of a lawsuit against Pigeon at the Humiston-owned apartment he was using at 1003 Admiral's Walk.
Caputi v. Pigeon: Affidavit of Service by Alan Bedenko
That lawsuit arose out of Pigeon's unwillingness or inability to consummate a deal to sell his own apartment in the complex at 704 Admiral's Walk. Humiston has since sold 1003. 
Take a look at the Complaint, as well as the relevant Exhibits (A, B, C, D, E) and the Notice of Appearance of the U.S. Attorney to protect its interests regarding the almost $300,000 in federal tax liens filed against Mr. Pigeon for unpaid taxes. 
What's up at the Hyatt? New post-Admiral Walk digs for the Pigeonistas?