Commentary
Campaign Workers: Frank Max Stiffed Us!
by
/ Nov. 2, 2016 12pm EST
Dan Jones, a political footsoldier with a decade's worth of experience, and who enjoyed close ties to former Cheektowaga Democratic Committee Chairman Frank Max and Democratic gadfly/indictee Steve Pigeon, alleges that Max owes him and members of his team of petition gatherers hundreds of dollars, and refuses to pay. On top of this, Jones alleges that Max is attempting to assert influence over the post-Max Cheektowaga Democratic Committee by pushing for Deputy Town Attorney Jeff Whiting to become chairman. 
I've critically reported on Max's various and sundry political clubs' disclosures as incomplete or late on several occasions. Max lost his chairmanship of the Cheektowaga committee in 2014 under a cloud of accusations about his handling of its financials. Also in 2014, the current town Supervisor accused Max of falsifying overtime as town sanitation supervisor order to pad his pension. Max was a bit player in the "WNY Progressive Caucus" (aka "AwfulPAC") scandal (the Preetsmas Day Massacre) that has now morphed into a widespread state and federal investigation, resulting in the bribery conviction — and removal — of a State Supreme Court Justice and a 9-count indictment of Steve Pigeon. 
Jones claims to have been involved with the planning sessions for the Max/Whiting effort, and was on board to assist when Max abruptly refused to pay for petition gathering efforts in 2016 for Max supported candidates, including Kristy Mazurek for Assembly, certain town committee races, and Alice Magierski's primary for town council.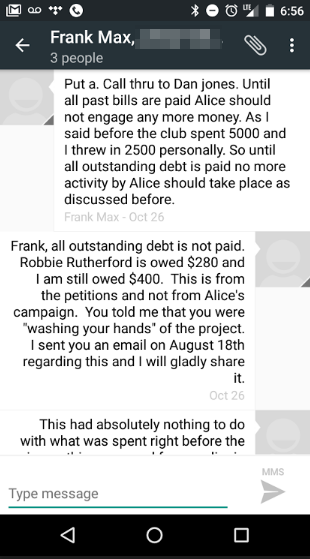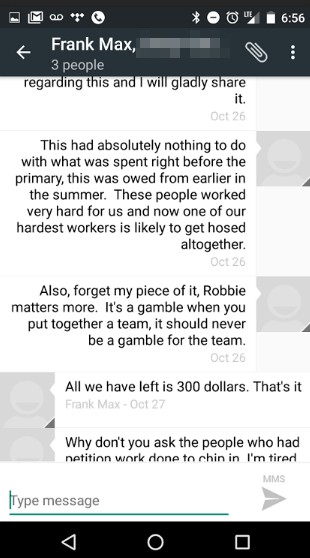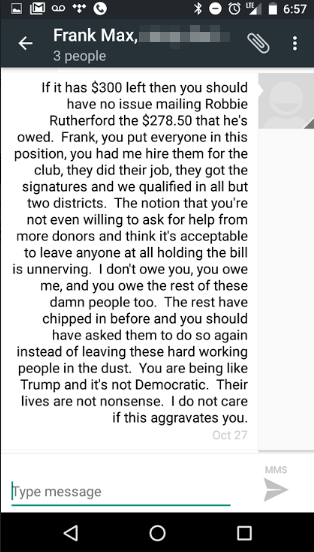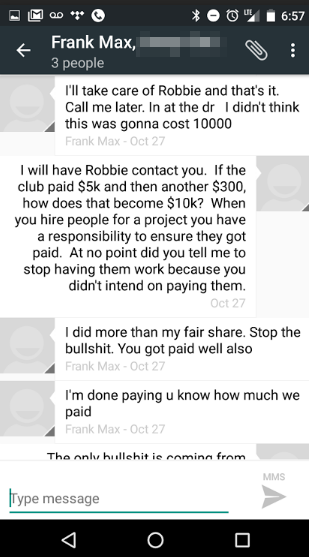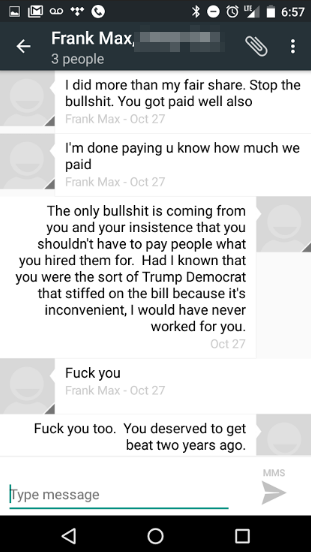 Jones' last dig specifically references Max's effort to unseat Erie County Democratic Committee Chairman Jeremy Zellner through a reorganization process that saw members of the Max/Pigeon faction don red armbands reminiscent of some extremist paramilitary group from the 1920s. 
What these text messages reveal is that Max's committee — the Progressive Democrats of WNY — participated in the 2016 primaries, yet he has failed and refused to file the requisite financial disclosures under the Election Law.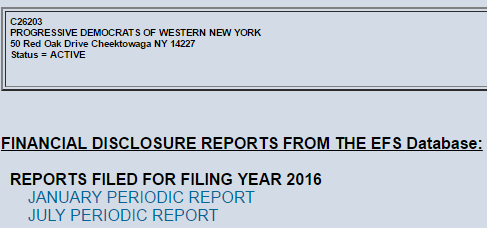 Jones sent the following letter to members of the Cheektowaga Democratic Committee: 
That July 2016 report reveals that Max did, indeed, spend a little over $5,000 since January, mostly on petitioning, but that left him with a balance of just over $1,000. Yet in the messages to Jones, he now claims to have only $300 left. How much was spent and raised between July and October, and for what? 
The text of Jones' letter follows: 
Dear Cheektowaga Committeemen,

I am writing this open letter today to encourage you to defeat what I created. I was the person who ran the petition effort for Progressive Democrats of WNY Committee races. I led an effort that qualified committee candidates in all but two districts. I am very proud of the employees we hired for these efforts. At the end, there were unpaid balances. After several months of haranguing, emails and text messages, he told me that the remaining balances (including mine, the person who ran the efforts) would not be paid because he feel like he 'did his part'. He also had the funds to pay one of our employees their complete balance and never disclosed so. Please read the text messages and make up your own mind. In my view, he has a character flaw like Donald Trump, he thinks it's acceptable to stiff people on the bill because he thinks he's done enough. He then blames everyone else for this predicament.

I mean, come on everyone, he even tried to throw his own Council candidate, Alice Magierski, under the bus, who has been nothing but above board about paying her bills.

Where does this tie in to your re-organizational meeting, though? Frank isn't running, instead, he and his group are promoting another candidate. A person named Jeff Whiting. Jeff isn't a bad guy, but having been directly involved in their efforts from running their petition and primary operations, and having been in the planning meetings for his re-organizational meetings, Frank Max is most certainly in control of them. Mr. Whiting will be an extension of Frank Max. He's his hand-picked choice and will be answering to him. If you vote for Jeff Whiting, you're voting for the candidate of someone who thinks that the lives of hard working petition gatherers are 'nonsense', will stiff them on what he owes them despite having the funds to pay them. The inability to give a response shows that whether Mr. Max is on the slate or not, he's pulling the strings.

If Mr. Whiting wins, whom I have no grudge with personally, Frank Max will end up being your shadow Chairman by default and has bragged to me about this. I also am likewise disturbed about the mantra Mr. Max carries, which is exclusively revenge on those whom he thinks wronged them. It's a cavalier, self-centered attitude and it will be the driving force in a Whiting Chairmanship.

I am someone who got it wrong on Mr. Max and I'm hoping you all won't do the same. Please vote for the better choice, Matt Janiszewski, an aide to Town Supervisor Diane Benczekowski, for Chairman. I happen to have known Matt for years, and I know that at the very least he would not rest until anyone who did work for a campaign he was managing was paid. He will be an inclusive Chairman. Again, this is not personal with Mr. Whiting, but a vote for Jeff Whiting is a vote for Frank Max, take it from someone who knows how the other side operates. Do not give this man back any power. He will just repeat his behavior.

Sincerely,

Dan Jones
 
Jones' accuses Max of the Donald Trump M.O.: retaining people to do work, and then refusing to pay. 
All's fair in politics, I suppose, but if you're going to make some effort to wield political power, you'll need allies to assist you. If you refuse to pay them for their labor, they're going to turn on you and shame you publicly. So, the moral of the story is: be careful whom you stiff.