Commentary
Cheektowaga: Wrong Democratic Team
by
/ Sep. 15, 2015 6am EST
We talked about it during Episode 2 of the Public Record podcast, and I wrote about it here and here. 
Sometime during this past summer, a political committee suddenly popped up in Cheektowaga calling itself the "Right Democratic Team." It filed its first and only financial disclosure on or around September 7th — an 11-day pre-primary report. It appears that the "Right Democratic Team" is a Frank Max-aligned subsidiary of Preetsmas Industries.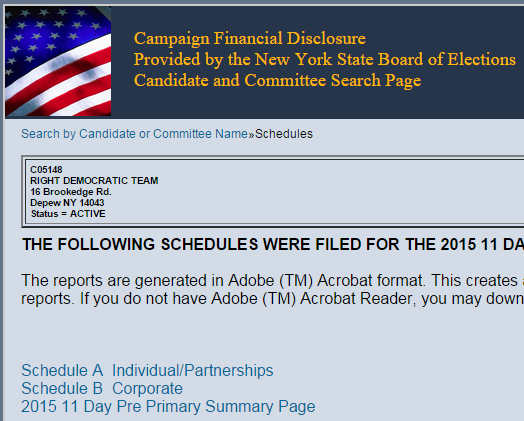 Here's what its reports purport to reveal: 
1. The "Right Democratic Team" claims to have been created on August 14, 2015, and Kathleen Hannel is listed as treasurer at a Depew address.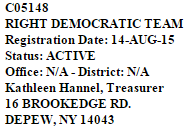 Hannel is a supporter of Supervisor Mary Holtz, has been hired in the past as a seasonal worker in the town clerk's office, and Holtz co-owns the 16 Brookedge Road property with Hannel, according to the Cheektowaga town assessor: 



2. In its September filing, the Right Democratic Team says it took in $50 in unitemized contributions from individuals or partnerships on August 26th. The election law allows contributions of under $100 to be unitemized. 

3. The Right Democratic Team says it took in $75 in unitemized corporate contributions on July 30th, two weeks before its creation. 

So, according to the "Right Democratic Team", from a date prior to its creation until the September 7th date of this report, it took in only $125 in unitemized contributions, and spent no money whatsoever. 
This, however, is not possible. It is a lie. These people are lying. 
How do we know?
1. Here is a ticket for a picnic fundraiser that the "Right Democratic Team" held at Fontana's on July 30th.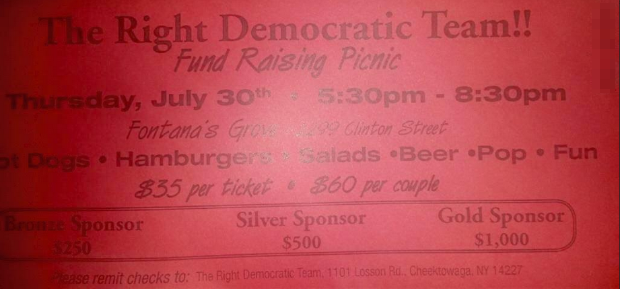 Unless that event was canceled, this committee (a) made much more than the reported $75 in corporate contributions on July 30th; (b) had expenditures relating to the holding of the picnic event; and (c) it is missing — at the very least — one required financial report, the 32-day pre-primary report. 
Although the official address for this shadowy committee is that of Cheektowaga Supervisor Mary Holtz, the "remit checks to" address is that of town councilmember Jerry Kaminski. If you go look at Kaminski's own filings, he reports a $500 contribution to the Right Democratic Team on July 17, 2015. So, why hasn't the committee that received it reported that?  

Let's try something different - a search for all contributions to the "Right Democratic Team" that other committees reported. Here's the result: 

So, add to Councilman Kaminski's $500 an additional $500 from Supervisor candidate Alice Magierski's committee, Two $500 listings for "literature" to the Right Democratic Team, and a ticket to the July picnic bought by Republican Family Court candidate Brenda Freedman. 
That is $2,035 unaccounted-for dollars that the "Right Democratic Team" received starting in mid-July, through September. It had a legal duty to file a 32-day pre-primary report accounting for these payments, but failed and refused to do so. Even if it claimed mistake or ignorance in doing so then, certainly it had a duty to make these disclosures in its 11-day pre-primary report of September 7th. Its failure and refusal to do so is a blatant violation of not only the letter but the spirit of the election law and its flimsy disclosure requirements. 
I don't understand why a group of experienced political operatives feels the need to create a secret, shadowy little political committee to help the Frank Max-backed candidates get elected. Would they be less effective if they obeyed the law? The law requires that they be transparent and up-front about it, yet they refused and failed to do so. Why lie about it? This isn't an accident — this is deliberate .
Why do people in Cheektowaga tolerate this sort of thing? When will this illegality be prosecuted? Who will prosecute it?