Commentary
Transparency and Election Law: Cheektowaga
by
/ Sep. 8, 2015 5pm EST
A couple of years ago, Cheektowaga's Democratic Committee ousted Frank Max, the head of the Progressive Democrats of WNY committee, as its chairman. Until now, no one thought Max's group was at all involved in this year's primary race for town supervisor. 
Several Democrats in the town are vying for the supervisor job, including Councilmember Diane Benczkowski and Town Clerk Alice Magierski. The former is aligned with current committee chairman and Highway Superintendent Mark Wegner; the latter is aligned with Max, the town's former head of sanitation. 
On Tuesday, Cheektowaga Democrats found in their mailboxes a mailer slamming Benczkowski and Wegner, and the direct mail piece was marked as paid for by the Progressive Democrats of Western New York—Max's group.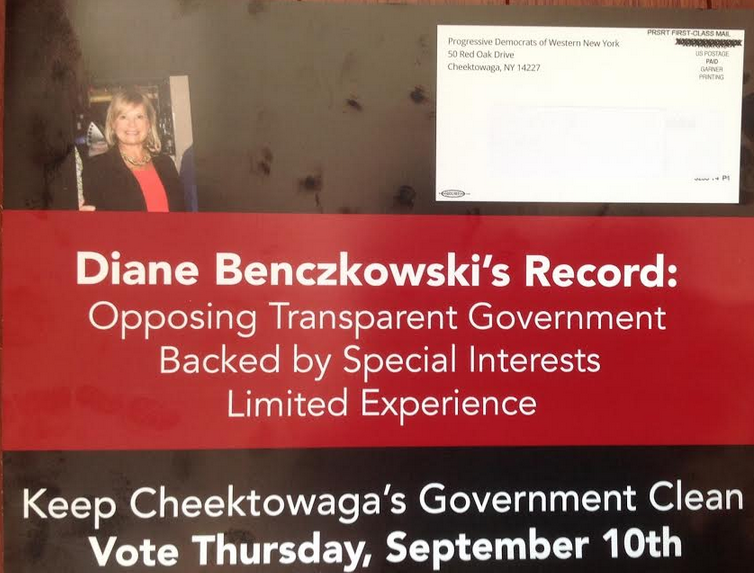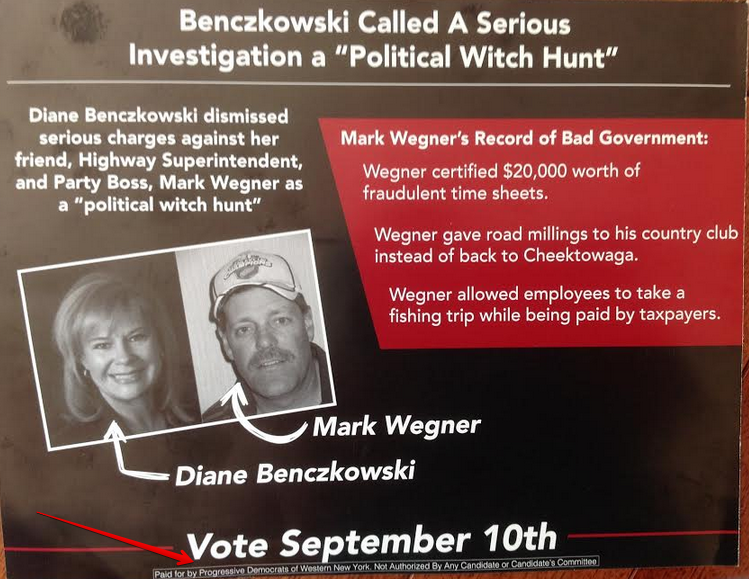 The problem is that the Progressive Democrats of WNY hasn't filed the requisite financial disclosures with the Board of Elections.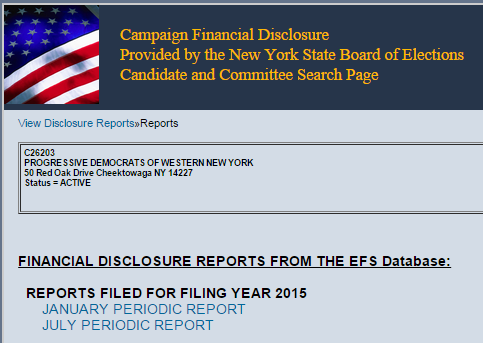 Max's political committee would have to declare its support for Magierski or against Benczkowski in order to make independent expenditures on their behalf. Otherwise, a PAC is only allowed to raise and contribute money. Furthermore, a PAC is presumed to be participating in a primary election unless it expressly files a document with the BOE indicating that it is sitting this one out. 
By spending money on a mailer involving a primary race, Max's group has run afoul of the law, and is late in filing its 32-day pre-primary report, and its 11-day pre-primary report. No one knows how much money they've spent, how much they've raised, or whom they're supporting. When you slam your opponent for lack of transparency, it would behoove you to be transparent yourself. When you call for "clean" government, do it with clean hands. 
Any candidate that will not, in any way, support or oppose a candidate or issue on the ballot for a particular election will not have to file any reports for that election. If you are a registered PAC, Party or Constituted Committee, you must, however, inform the Board by filing a Notice of Non-Participation in Election(s) by a Registered PAC, Party or Constituted Committee (CF-20 ). Failure to file a CF-20, when applicable, may result in penalties being assessed against the treasurer of a committee.
The committee is no newcomer to this, and has known to make these disclosures in the past.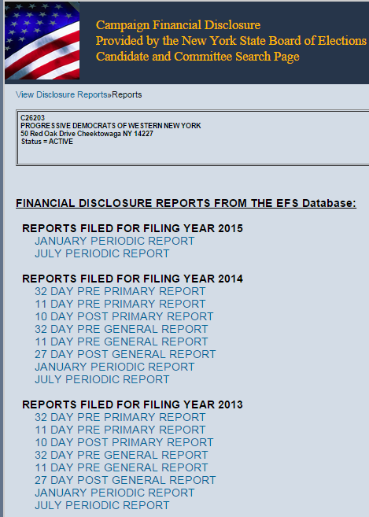 As a possibly related matter, Ken Kruly's excellent article dated September 8 reveals the identity of a political committee called the "Right Democratic Team."  Kruly writes, 
On July 21st Magierski's committee cut a check for $500 to something called the "Right Democratic Team" committee. Such a committee does in fact exist on the State Board of Elections website, with a Cheektowaga address, but it has not filed any disclosure reports. So where did that $500 check go and for what purpose? Perhaps it is nothing much, or perhaps it is the 2015 version of the WNY Progressive Caucus or WNY Freedom, which have had Pigeon-related problems in reporting all their financial activities.
Donations to the Right Democratic Team also came from the Committee to elect Steven Specyal, who is seeking a seat on the Cheektowaga Town Board; Freedman for Families, supporting Barbara Freedman's bid for Erie County Family Court; and Friends of Jerry Kaminski, who is seeking reelection to the Town Board.
The Right Democratic Team is registered to an address that, according to the Cheektowaga town assessment, belongs to current Cheektowaga Supervisor Mary Holtz. (Holtz announced in March that she would not seek re-election.) That address, 18 Brookedge Road in Depew, is listed on the record of Kaminski's donation to the Right Democratic Team. Curiously, the donations from the other committees to the Right Democratic Team were directed to 1101 Losson Road in Cheektowaga—a property that belongs to Kaminski. Bear that in mind if, in the aftermath of Thursday's primary, there are allegations of coordination between the Right Democratic Team and the candidates it supports.
In any case, as Kruly points out, if money was exchanged between the Right Democratic Team and any of these committees, then the Right Democratic Team is also dramatically late in filing its 32-day and 11-day pre-primary disclosures. 
It's almost like AwfulPAC became a primer, rather than a cautionary tale.