Commentary
Mascia and Paladino: BFFs
by
/ Jul. 30, 2015 6am EST
On Twitter, someone commented that Mascia must have, "missed the thing about integrity is what you do in private."
Generally speaking, you can get away with saying you're not racist so long as you're not, I dunno, caught on tape calling black political leaders "fucking nigger" multiple times, "camel jockey" once, and "tizzun" once. Rod Watson's column in the Buffalo News, however, posits a very important question about racism and the perception of racism. 
On the one hand, Mascia has spent time fighting for BMHA tenants of all races, but is caught on tape blurting out horrible racist things. On the other hand you have Carl Paladino, who has forwarded emails just as racist and disgusting, and who has used subtle codes to express his feelings about people not like he, but…
One's racial slur draws immediate condemnation and calls for his political exile, from both black and white members of the political establishment, as well as other members of his own board. The other's racist rants and forwarding of emails depicting the black president and first lady in despicable terms drew silence from those same elected officials.
Watson concludes that it's easy to condemn Mascia because he's a nobody; a little-known, essentially powerless gadfly. Yet few people stand up to Paladino,
…a wealthy developer and political power broker whose money and influence seem to have neutered the principles that other leaders apply so easily against Mascia.
This is true. Mascia has no business, at this point, being anywhere near elected public office because he has disqualified himself from it. His casual, repeated use of hateful racial slurs are, frankly, inexcusable. In all of his public pronouncements, he's expressed remorse over those words, but he's much more upset over having been caught. 
I have no idea, thankfully, how Carl Paladino privately refers to people who don't look, act, or think like he, but he's at least never been caught using race-hate on tape. A few weeks ago, he told reporters with mics and cameras about how those "damn Asians" were coming to take slots at UB away from real American kids. When challenged, Paladino made a fauxpology, as the Buffalo News reported, 
Paladino said he does not take issue with the fact that foreign students attend UB, but thinks their education should not be subsidized by taxpayers. He said he selected Asians as an example of out-of-state students because it is easy to assume they are not from the area, an assumption for which he apologized.
UB made it clear that Paladino's feeble "point" about foreign students being subsidized is false and inaccurate; they pay their full ride, and they pay it in cash. They can't claim New York domicile by attending school because they're here on student visas that automatically disqualify them from doing so. But the real racism here is the notion that Paladino reckons that Asians probably "are not from the area", which is just fundamentally inaccurate (New York is a big state, by the way, and it's got Asians in it), and picking on a racial group because of their non-Caucasian appearance — there's a word for that and the word is "racist". 
Yet while Mascia is pilloried in the media and community for calling the Mayor a horrible racist epithet, Paladino skates. Where's Sandy Beach to viciously cross-examine Carl Paladino about not only his anti-Asian animus, but the falsity of his underlying charge about "subsidizing" foreign students? 
Hulk Hogan gets caught on tape using the word, "nigger", and he apologizes and the WWE scrubs all evidence of his very existence. Joe Mascia gets caught on tape using the word, "nigger", and he's running for public office, and now being defended by…
You cannot make this stuff up.
Oh, yeah. Carl's not a racist — he'll laughably threaten to sue you for defamation if you think that of him and express it. He just supports the racist guy. Carl's not a racist, he just thinks it's cool to say that Dr. Pamela Brown and Dr. James Williams were hired simply because they were black. Carl's not a racist, he just sends around emails showing the President and First Lady dressed as a pimp and 'ho in full blaxploitation garb. Carl's not a racist, he just sends his buddies emails with links to videos of African tribesmen dancing, calling it the rehearsal for the Obama inauguration. Carl's not a racist, he just selects people who look different from him, calls them "damn Asians" and accuses them of stealing opportunities and tax dollars from real Americans. 
Wednesday afternoon, Mascia defiantly refused to leave the race for the Fillmore District. Forget the racism for a second — this guy still owes about $10,000 to people for his past runs for County Legislature and Assembly. Every penny he takes in for his city race should go to pay off his creditors. He's unelectable because he can't handle money, and he's a racist dummy. Here is his statement (obviously [sic])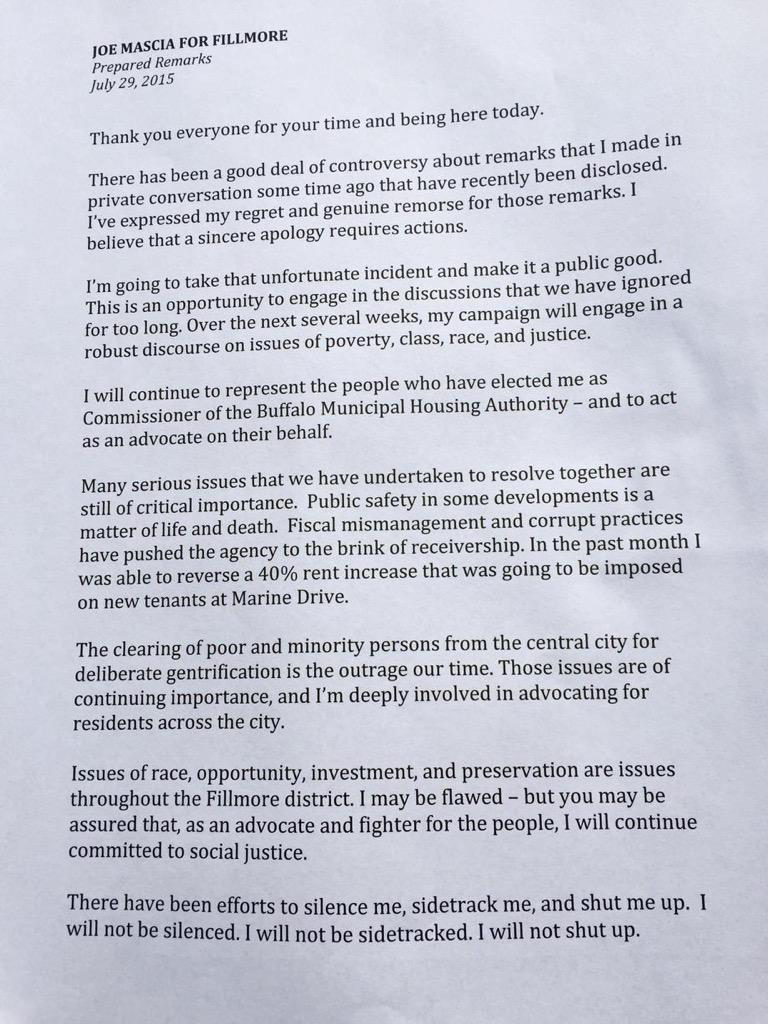 Mascia is now in full victim mode, and oblivious when it comes to crisis management. You don't double down and become Mr. Self-Righteous. You bow out and re-examine what you've become. This behavior is, alas, some sort of oddball narcissism. At this point, you have to assume that Mascia is digging the attention. 
But in the end, here is the real insanity with respect to all of this: Paladino's support and defense of the guy who called black political leaders "fucking niggers": 
Carl P. Paladino, the 2010 Republican candidate for governor and member of the Buffalo School Board, said Wednesday that Mascia represents the only "balance against corruption in the Buffalo Municipal Housing Authority." He added that tapes of Mascia's recent "N-word" characterization of several African-American politicians result from a "purposeful attack on him."
See? Carl agrees — Mascia is the real victim because that audiotape viciously recorded Mascia's words, verbatim. Carl, too, has been a victim of that insidious practice when the media recorded his thoughts about students foreign and Asian.
"They're going after a guy who keeps going out on a limb about corruption," he said. "He should be respected, and I don't see anybody buying into this racist stuff."
Carl Paladino, the Italian-American multi-millionaire developer and forwarder of racist emails isn't offended, so it's no big deal — not a fundamental character flaw, just a conspiracy to smear the guy who called Mayor Byron Brown a "tizzun"! 
Paladino – Mascia's major financial supporter in past elections and again this year in the Fillmore District campaign – called him an "honest guy."

"He is sorry," Paladino continued, claiming Mascia was tricked into using racial slurs in the tape.

"Now all the politically correct people want to get up and say 'Oh my God' about this," Paladino said.
Wait — why is Mascia sorry if this is all just political correctness run amok? Mascia isn't honest — he lied, at first, when confronted about using "nigger" before the tape came out. Mascia may say he's sorry, but his media blitz reveals that he's much sorrier about having been caught. The news flash for Paladino is that it's not just the "politically correct" who find fault with calling the Rev. Darius Pridgen a "fucking nigger" who, with his "nigger" cohorts just wants all the power. Mascia's words were reprehensible and ugly — Paladino's apologia is, amazing as it seems, even more so. 
But while Paladino is being ignorant and tone-deaf, Conservative fusion Party head Ralph Lorigo sees the real deal: 
"He has told me it's a conspiracy and that it will all come out," said Chairman Ralph C. Lorigo. "Unfortunately, no other person put those words in his mouth."
Exactly. No one's interested in excuses — the tape speaks for itself. Paladino probably feels a need to defend Mascia because he's heavily invested in that person. As the News reports, Paladino has contributed over $20,000 in money and things to Mascia's various efforts to get elected to something. 
Paladino said Wednesday he realizes he has been criticized for racial views, pointing to controversial emails that figured in his unsuccessful campaign for governor. His recent remarks in Olean about "damn Asians" and other "foreigners" attending the University at Buffalo on discounted tuition also provoked criticism.

"I have never made racial remarks," Paladino said, adding his recent comments pointed only to observations that out-of-state students – whether foreign born or not – are taking advantage of New York's heavily subsidized university system at the cost of taxpayers.

"They were legitimate statements and did not have racist intent," he said.
Two deluded guys strutting around Buffalo spitting racist crap and getting away with it. We can do better than this, can't we, Buffalo?
Look at the pattern: Paladino denigrates "damn Asians" because they look different and "aren't from this area", and he thinks that's not racist? He claims no racist intent? That's sort of the definition of racism. Ignorant. Base. Unbecoming of a public servant. Disgusting. He pretended to apologize, but now continues to defend what he said as a "legitimate point", but UB explained in detail how it was a completely illegitimate point. So, it was, at best, racially insensitive and factually false. Yet he continues to defend it, and his loopy gang of groupies holds a rally for him. 
For his part, Mascia thinks that getting caught repeatedly using racial epithets on tape now qualifies him to be a social justice warrior. No, that's not how this works. Although he has apologized for what he said, he's claiming to be the victim now, blaming the guy who taped him for doing so without his knowledge, for waiting to release the tape, and for somehow tricking Mascia into saying what he did. No, that's not how this works. 
Mascia doesn't deserve public support, but then, neither does Paladino. Mascia's a deadbeat and Paladino's an influential millionaire, and the latter is defending the former. Finally, 
Carl Paladino is "absolutely" with Donald Trump for president. "He's like the Rock of Gibraltar: solid and he doesn't waver."

— Bob McCarthy (@bobmccarthybn) July 29, 2015
You know what they say about birds of a feather.