Visual Arts
In Art Galleries This Fall
by
/ Sep. 14, 2016 12am EST
The local arts scene fall season is already underway, but much more to come. Shows just opened at the Burchfield Penney Art Center of the arts of Josef Bajus and Babs Reingold, with shows to come—to honor the 50th anniversary of the Burchfield Penney institution—on gallery eponymous artist Charles Burchfield and sculptor Charles Cary Rumsey. Rumsey did The Centaur outside the Buffalo Historical Society building, the Three Graces in the middle of the lake in Forest Lawn Cemetery, and Pizzaro, the flamboyant conquistador equestrian tucked high among Ionic columns outside the Albright-Knox. And to honor the 100th anniversary of the Irish Rebellion this year, a full slate of Irish-themed events in collaboration with the riverrun organization. On September 23, a day-long festival of movies and discussion about the rebellion, and that evening a stage reading of Samuel Beckett's Krapp's Last Tape by actor Vincent O'Neill, followed by talk and panel discussion, followed by two short films by Beckett ipse.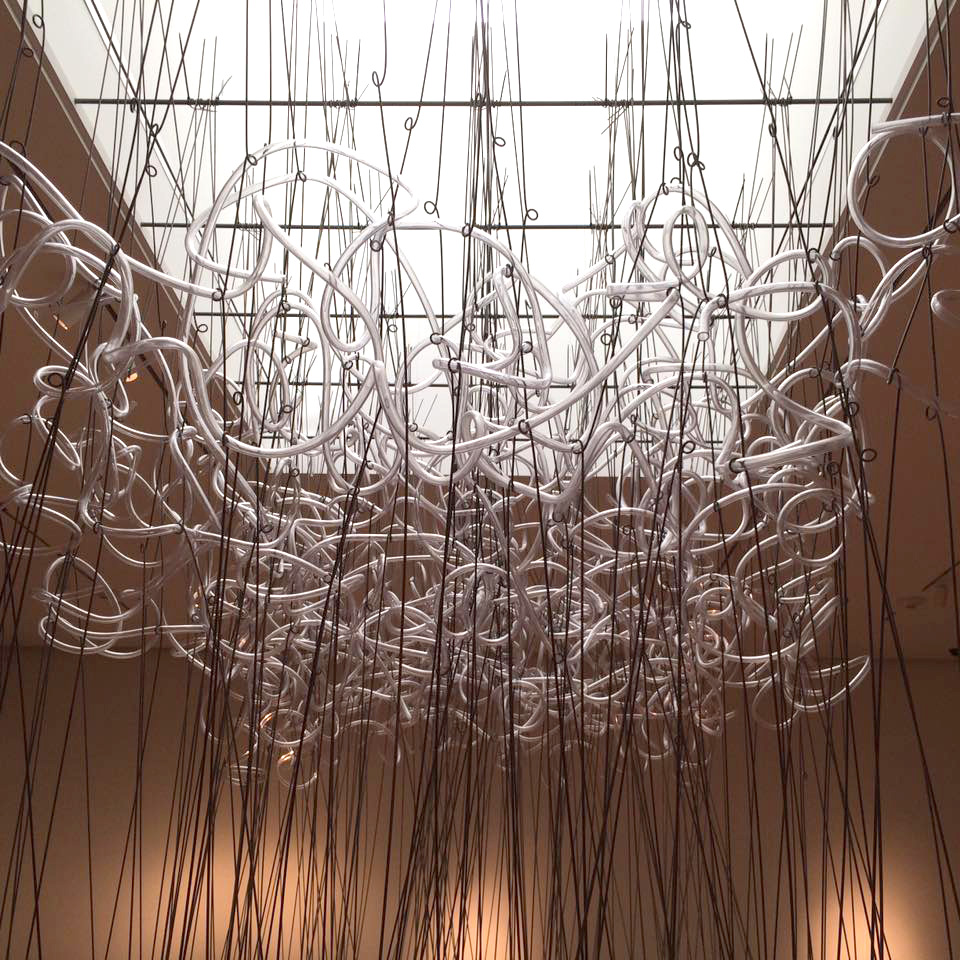 Josef Bajus at the Burchfield Penney.
Riverrun, whose purpose and purview has previously largely been limited to Irish cultural effects, is reaching out globally this season—in conjunction with the UB English Department—with a two-day festival of Iranian classic and contemporary films, to be screened at the Burchfield Penney, September 29 and October 1. 
Events at the Albright-Knox Art Gallery include an exhibit on multifarious proto-Pop artist Rosalyn Drexler, to include sculptures, paintings, and collages, and selections from her literary work—in addition to her visual arts works, she wrote plays and novels, and was awarded three Obies and an Emmy. A color and sound video work by Bolivian-born artist Claudia Joskowicz called Every Building on Avenida Alfonso Ugarte—After Ruscha. And a show called Picasso: The Artist and His Models, the second chapter in the Albright-Knox's Transformations in Modern Art series launched last year with Monet and the Impressionist Revolution, 1860-1910. Including works by Picasso from the Albright-Knox collection and other museums in the United States and Europe, and works by Picasso contemporaries such as Georges Braque, Henri Matisse, Juan Gris, Fernand Leger, Stuart Davis, and Georgia O'Keefe. 
At Squeaky Wheel Film & Media Center, a series of screenings entitled Other Worlds, and related gallery exhibit by Kathy High called Soft Science. The titles and dates of the movies are Victory Over the Sun, October 26; Reyner Banham Loves Los Angeles, November 23; Not of This Earth, December 2; and Nude on the Moon, January 18. Also upcoming, Squeaky's annual fundraiser blowout, this year with an elections theme. Third Party is scheduled for September 24 at the Curtiss Malting Agway Building, 1100 Niagara Street.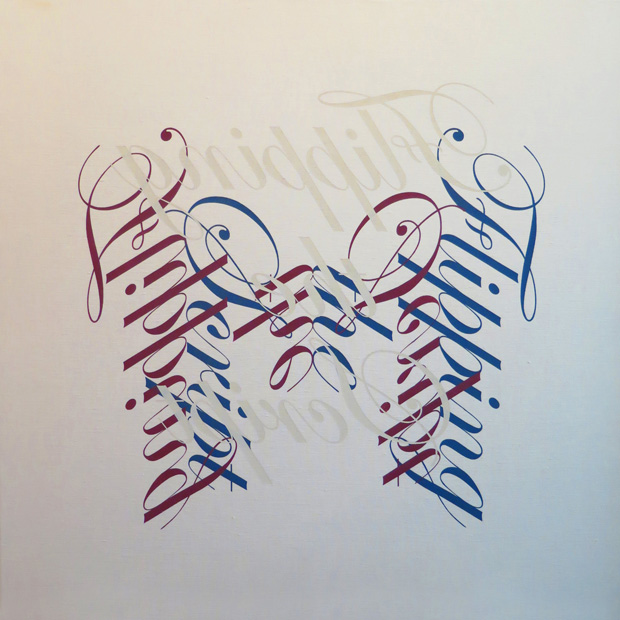 Flipping the Script by Eric Magnuson, at Hallwalls.
At Hallwalls Contemporary Arts Center, text-based paintings by artists Amy Greenan, Eric Magnuson, Brad Philips, and Betty Tomkins, opening September 16. And on September 21, a talk by Mickey Harmon, artist illustrator of the area-history-based series The Life and Times of Grovey Cleves, and the booklet, A Pie-Eyed Night with Peggy O'Neill. 
At CEPA, photographic works by Bob Collignon and Biff Henrich—separate shows—opening September 16. And at Big Orbit, on September 23, an installation and performance by Flatsitter and friends, called Lily Dale.
At the Castellani Gallery, paintings by Sara Zak, opening with an artist's talk, September 25. At the Nina Freudenheim Gallery, just underway, photos by Phyllis Galembo, and opening October 22, paintings by Duayne Hatchett. At Indigo, just underway, Tree-cantations, drawings and sculpture by Reinhard Reitzenstein, and upcoming, paintings by Jeffrey Vincent. 
At Artists Group Gallery, just underway, We Remember, works of some not-so-long-ago-deceased local artists. Edward Bisone, Catherine Parker, Joseph Whalen, Robert and Janet Blair, many more. (Sì lunga tratta di gente ch' io non averei creduto che morte tanta n'avesse disfatta.) Followed by the 25th annual juried regional artists exhibit. And at Art Dialogue, just underway, the art of Joyce Hill. 
At El Museo, a fundraiser costume party celebrating the gallery's 35th anniversary, October 29; the annual Dia de los Muertos exhibit, November 5; art of Stacey Robinson, opening November 15. At the Studio Hart Gallery, currently, works by the father-daughter duo Patrick Willett and Catherine Willett. And upcoming, works on paper by Chuck Tingley, opening October 7, and an Art Toy Invitational exhibit, opening November 4.
At UB, north campus, just underway, works by Lydia Okumura, and With and Without the Other, works by Chinese students—mostly—associated with the UB collaboration with Tsinghua University, Beijing. And the Anderson Gallery, more works by Okumura, and Screen Projects: Rodney McMillan. 
At BT&C Gallery, Early One Morning, works by Roberly Bell. At Casa de Arte, just underway, works by Mexican artists Carlos Merida, Jesus Escobedo, and Raul Anguiano. At Buffalo Arts Studio, fiber works by Ani Hoover, opening September 23, and Revelx25, the BAS 25th anniversary party, October 1.
At the Meibohm Fine Arts Gallery, Observe and Imagine, works by Raymond Bonilla and Richard Kersting, opening September 16. At 1120 Projects, The City Is Clean, paintings by Jay Carrier, opening September 22. And at the Manuel Barreto Gallery, Walk in the City, drawings by artist Pedro Manuel. 
At Box Gallery, Final Frontier, a collaborative work by Gary Nickard, Reinhard Reitzenstein, and Patty Wallace, opening September 16. And at Hi Temp,
September 14, an Instagram-based event billed as "like Jumanji but with photographs, and no monsoons or giant deadly spiders," and October 7, a sculpture show. And November 11, another show still in planning stages. 
More at the Burchfield Penney. September 22, a tribute to John Coltrane by the George Caldwell Quartet (George Caldwell, piano; Tim Clarke, trumpet; Tyrone Allen, bass; and Abdul Rahman Qadir, drums) and special guest saxophonist Vincent Herring. And September 22 to 24, the Buffalo Humanities Festival Renaissance Remix. Renaissance is where you find it. Early modern era Italy, Harlem in the 1920s, Buffalo right at the moment. How does it happen? What does it mean? Three days of talks, discussion, performances, food.
---
Our Fall Arts Preview begins with a Curtain Up! roundup followed by galleries, film, and music.
| | |
| --- | --- |
| |  THEATER  |
| |  GALLERIES  |
| |  FILM  |
| |  MUSIC  |