Commentary
Paladino: Obama is a Muslim
by
/ Aug. 5, 2016 5am EST
Within the cache of emails my colleagues and I revealed at WNYMedia.net in 2010 was one from tea party Assemblyman David DiPietro. It claimed that President Obama was a Muslim.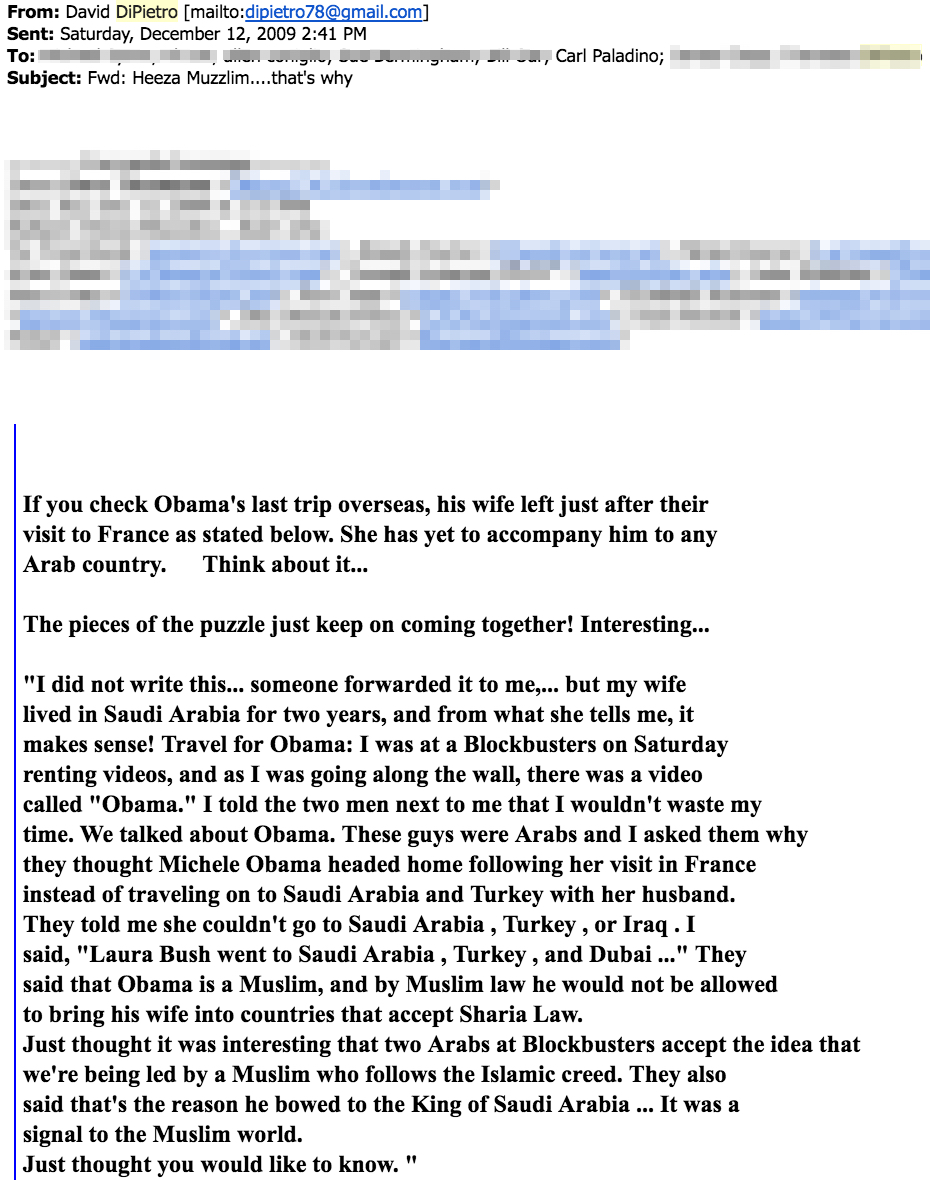 The Buffalo News' Sandra Tan caught up with him and he was wishy-washy about whether he thought the President was Muslim. (He was in agreement before he was in alleged disagreement). First, DiPietro told Tan, 
"Barack Obama is a Muslim," said DiPietro, former East Aurora mayor. "I don't like the president. I think he's a Muslim. I think he's a foreigner to our nation. I oppose every principle he stands for."
DiPietro called Tan back. 
He later said he spoke in the heat of the moment and apologized if he sounded offensive.

"He says he's a Christian," DiPietro said, referring to Obama. "Until that's proven otherwise, I'll take him at his word. I'm not going to question anyone's religion. Your faith is your faith. I don't question anyone's faith. I just would like honesty with all his policies."
Dishonest and unprincipled. Prejudiced. 
Not that there would be anything wrong with being Muslim. It's just that Obama isn't, and part of the reason why Caucasian Obama haters use the Muslim faith as a smear is because they are (a) Islamophobes; and (b) Obamaphobes. It's a way for them to confirm for themselves what they already believe — that President Obama isn't one of us. He isn't a real American. Some think he is on a Muslim/Communist mission to destroy America. All of it is rooted in deep racism. 
For these types of tea party right-wing bigots, saying bigoted stuff is evidence of their opposition to "political correctness"; being anti-PC is the new PC for this crowd, and they use it as a way to justify their racial or religious animus.  
So, we turn to Carl Paladino, local coward and tea party bigot who is Donald Trump's campaign co-chair in New York, a former and possibly future failed candidate for governor, and local embarrassment. It was Paladino to whom DiPietro sent that "Heeza Muzzlim" email. The New York Observer quoted Paladino in a story Thursday night, in which he laid bare his misguided belief that the President isn't a real Christian or American. 
Speaking over the phone for an unrelated story, Carl Paladino—the 2010 GOP candidate for governor of New York—abruptly changed subjects and assailed the sitting president and his policies. The Buffalo-based real estate developer and Tea Party activist maintained that Obama, a practicing Christian, has sought to mislead the public about his religious affiliation, but that the citizenry has not fallen for his falsehoods.
Get that? The Observer — owned by Ivanka Trump's husband — was speaking with Paladino about something completely different, and he spontaneously pivoted to this Obama-as-Muslim-foreigner fantasy. 
"In the mind of the average American, there is no doubt he is a Muslim," Paladino said. "He is not a Christian."
Sure, for Paladino, for whom being a "Christian" means forwarding hardcore pornography, including video of a horse having anal sex with a human woman, and having a whole second side family. Obama is not, indeed, that kind of "Christian". 
By way of proof, Paladino seemed to argue Obama has taken a pro-Muslim approach in conducting American affairs abroad.

"Look at what he's done with Iran, what he's done with the Sunni-Shia thing over in Iraq and Iran, and with ISIS," the Republican said.
Wait a minute. What has Obama done with "the Sunni-Shia thing over in Iraq and Iran"? What is that supposed to even mean? What the fuck is this doddering old racist talking about? The US has been raining bombs on ISIS for over a year, and ISIS' territory in Syria and Iraq has shrunken significantly. As for Iran, whether you agree with Obama's outreach to that country or not, his diplomatic initiatives there prove he's a Muslim about as much as his diplomacy with Singapore make him a Southeast Asian. It's just ignorant. 
Contrary to Paladino's assertions, the average American does not seem to believe there is "no doubt" the president is a Muslim: polls indicate only 18 to 29 percent of the populace identify him as an adherent of the world's second-largest religion. However, surveys suggest a full two-thirds of Trump supporters believe the president has hidden his true allegiances to the Quran and the holy city of Mecca.
So, there is quite a disconnect between real America, and what people like Paladino would call "real America". The Observer piece goes on to outline Trump's long and storied history with birther fanaticism, and Paladino's email issues. 
The thing that so desperately perplexes old racists like Carl is that President Obama is a one-family man, happily married to the same, one woman his adult life, and with two strong, intelligent young daughters - with only his wife. President Obama actually lives those Christian values to which Paladino pays only lip service. Meanwhile, Paladino supports a guy who is on wife #3 and has five kids with different women. Divorce, suffice it to say, isn't exactly smiled upon in most Christian sects.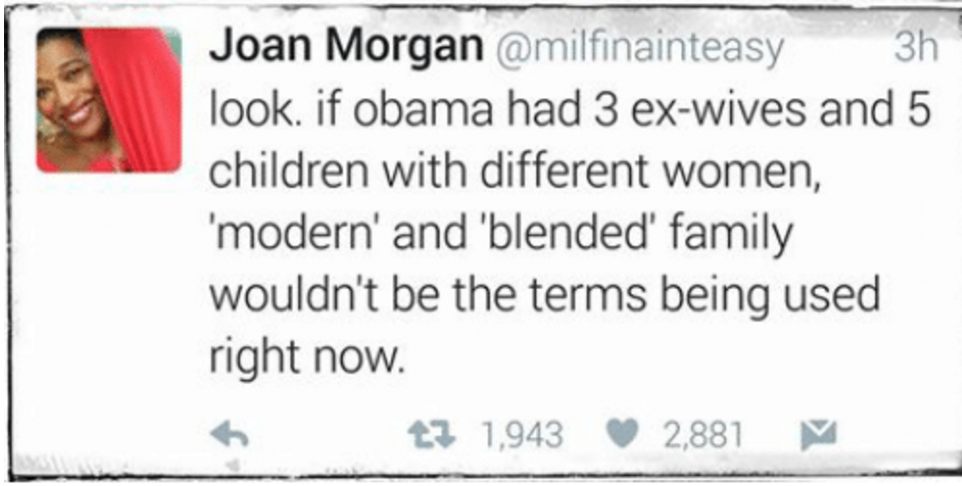 There's nothing wrong with people being divorced or having families like Trump. But people who choose to use "Christian values" as a sword but don't actually live up to them in their own lives, or are selective about their application, are rotten hypocrites.
Carl Paladino's dream candidate is going to lose. If Carl chooses to run for governor again, he's going to lose — bigger than in 2010. Carl Paladino is so inept he's lost his majority on the school board. His animus for President Obama is hilarious given how well his companies seem to be doing. He reveals himself — again — to be little more than a hypocritical bigot who gives Buffalo and WNY a bad name. 
UPDATE: This, from Niagara Falls residents Rus and Jul Thompson's ignorant Facebook circle-jerk (read more WNY's political couple most likely to be found in /r/trashy here, here, here, here, here, here, here, and here.)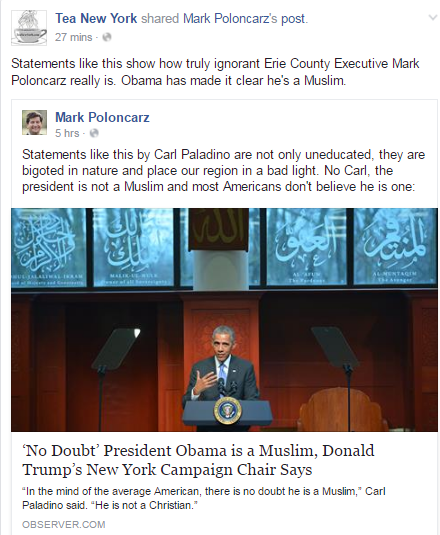 There's only one conclusion that can be drawn from such persuasive rhetoric and flawless logic. The Thompsons and Paladino are all Muslims.