Commentary
Gia Arnold and Triggering the Ammosexuals
by
/ Feb. 13, 2016 8am EST
There's nothing in the world worse than an ultra right-winger who adopts the language of civil rights because he feels the system has wronged him. But Friday's arrest of Gia Arnold, one time right-wing challenger for what was then Republican George Maziarz's Senate seat, is emblematic of the hilarity of the dominant Palinist wing of western New York's tea party scene. 
That's the same brain trust that pushed centrist Republican Mark Grisanti out of office in favor of Kevin Stocker, only to find themselves in a 3-way race, handing the race to current Democratic State Senator Marc Panepinto. Their tactics are bad and their strategy worse. 
In 2014, the Palinists' bête noire was State Senator George Maziarz. The reasons why they hated him were vague and poorly defined, but their feelings were so strong they even accused him of the worst thing their minds could concoct: being gay. Ever the adolescents, they eschewed establishment candidate Rob Ortt in favor of Gia Arnold, who played them like a fiddle. 
Gia Arnold is very young — she's 26 now — and attractive. She was married and co-owned a business with her husband, and they had three kids. She loved the 2nd Amendment, hated the NY SAFE Act, but was otherwise bereft of serious thought or policy. Her personal story was the centerpiece of her appeal. That, and her pandering to the SCOPE and Oathkeepers crowd. She announced in February 2014, and by March she had wrapped up this endorsement: 
That's right-wing darling Carl Paladino and his driver/perennial candidate Rus Thompson clasping hands with Mrs. Arnold. 
Western New York's ammosexual community embraced her, and she them. The image that accompanies this piece depicts how she showed up to campaign at an event in the summer of 2014. But in mid-August 2014, she abruptly dropped out of the Senate race because her marriage had failed, she had been having an affair for the preceding few months, and arglebargle. She went on WBEN, whose afternoon host begged her to reconsider. 
So, she did.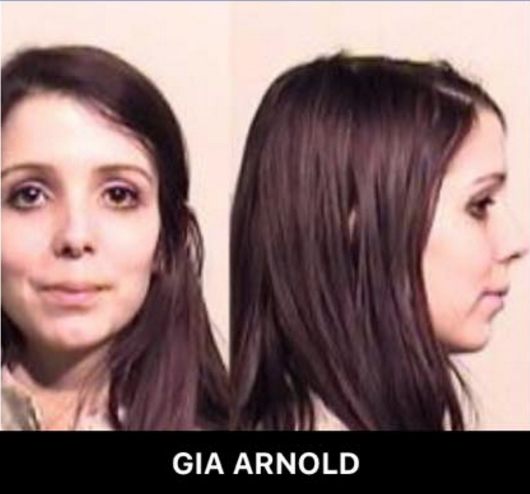 Displaying the sort of level-headed judgment she would presumably bring to the Senate, on that Friday, she un-dropped out of the race. Not surprisingly, WNY's youngest political vacillator lost the (R) primary to Ortt by an epic margin, and didn't have enough valid signatures to access the Libertarian Party line in November. She was taken to court over the validity of petition signatures that evidently came from outside the district. She was rather un-gracious in defeat, telling her mostly middle-aged male acolytes, 
If you happen to have a Rob Ortt for State Senate sign in your yard this election cycle, you are a fool to support the elite establishment that counts on your ignorance and apathy in order to continue to control our elections, state and national governments. VOTE ANTI – ESTABLISHMENT this year. Do your research.
She ended up endorsing the Democrat. The whole thing was a typically tea party Rus Thompson three-ring circus. 
Fast-forward to February 2016, and Gia Arnold is now under arrest, and this microaggression has triggered the tea party fanboys. The Buffalo News reports, 
She was arrested earlier this week with an 18-year-old Niagara Falls resident on felony charges of criminal possession of a loaded rifle and handgun along with a combat knife that were found in the front section of her vehicle, according to Niagara Falls Police Capt. Michael Trane.

Arnold and Halim Johnson were arrested Wednesday night and offered no explanation for why they had the weapons. A black ski mask was also found in the Pontiac Vibe, police said.

The vehicle was stopped at 10:30 p.m. by Officers Tommie Caldwell and Marsha Gee, members of the department's Roving Anti-Crime Unit, after they noticed Johnson failed to use a turn signal at the intersection of Haeberle Avenue and 15th Street, Trane said.

As those officers were conducting a records check, a second anti-crime unit arrived and Arnold was asked to step out of the vehicle by Officer Michael Tarnowski, who spotted a loaded magazine clip on her passenger seat.

"Before she got out, she had pushed her coat over the rifle, which was wedged between her seat and the door jam, trying to hide the rifle," Trane said. "Tarnowski immediately placed her in handcuffs. Caldwell then had Johnson step out of the vehicle and Caldwell spotted a handgun with a red bandana around its grip in the driver's side door cup holder."
It's not every day you have a former tea party politician caught in a car in the Falls with an 18 year-old driving her car, an AR-15, a ski mask, a handgun, and a KA-BAR combat knife. As you'd expect, the anti-SAFE Act tea party crowd perceives this all to be a massive civil rights violation. They've even set up a page on a site begging for donations. 
On Feb 10th Gia Arnold and her boyfriend became victims of the NYS (UN)Safe Act and racial profiling. We are asking all patriots to Rally behind her and help her get out of this horrid mess. Think about this, you get pulled over for not using a turn signal and it turns into a felony charge because you invoked your constitutional right to remain silent.
Halim Johnson is Gia Arnold's boyfriend, according to this post. A 26 year-old mother of three is dating an 18 year old from the Falls?
When Gia said they would no longer answer questions (a right protected by the Constitution) she was arrested for "Obstructing the duty of a Government Official" (sound like Oregon anyone?). Following her arrest her vehicle was searched for these drugs they were so sure they had. No drugs were found. But a Non-Compliant rifle under the NY (UN)Safe Act was found….

…On the way to the jail the officers told her that they were pulled over for "not using the turn signal in time." This is obviously a load of crap they racially profiled her boyfriend and made up the charge after the fact. "He's black he must have drugs."

We are asking all patriots to Rally behind her and help her get out of this horrid mess. Think about this, you get pulled over for not using a turn signal and it turns into a felony charge because you invoked your constitutional right to remain silent.
Racial profiling! Like I said, the worst lefty is a wronged tea partier. All of a sudden the cops are monsters and racial profiling is a thing, because their darling is under arrest. What I recall is this same crowd of so-called "patriots" sharing pictures of Trayvon Martin blowing smoke out of his mouth and posing provocatively on his Facebook page, to prove he was a thug and deserved to die. 
Well, the gentleman dating Gia Arnold also has a Facebook page. Here's the happy couple: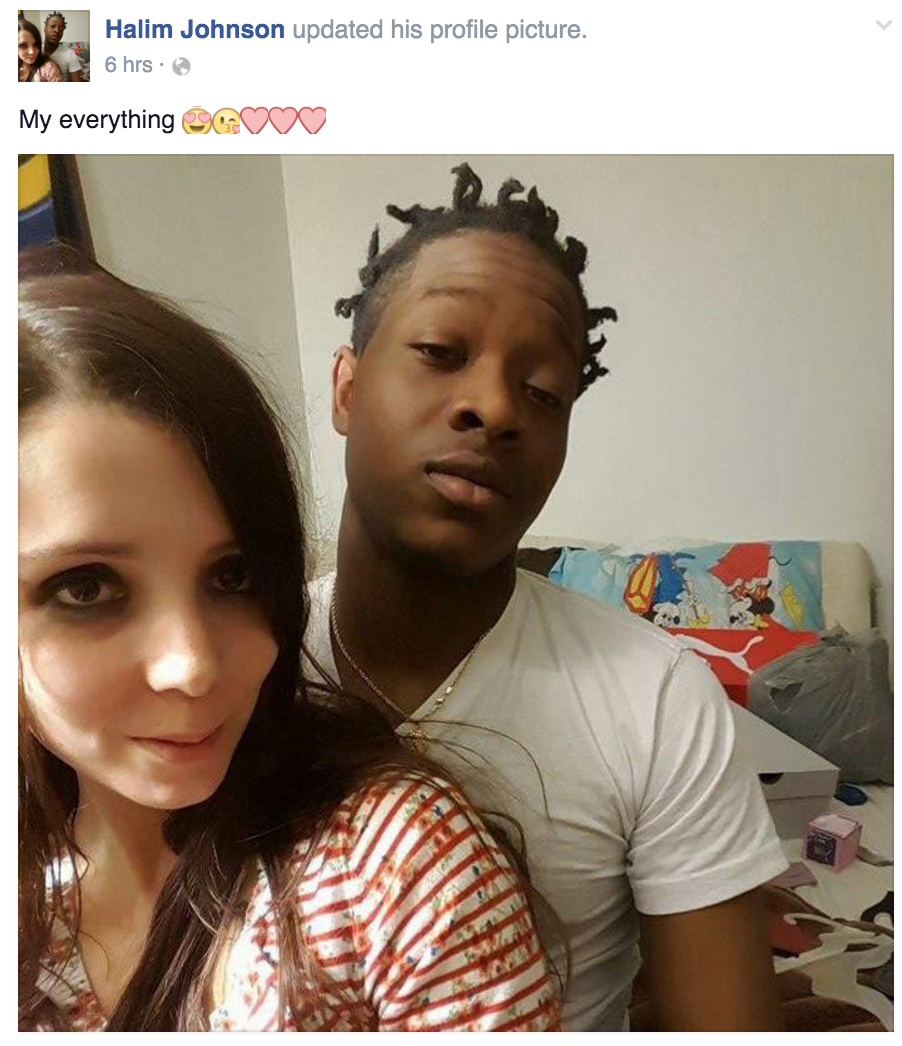 But why would the cops "racially profile" him, and assume he's a drug dealer?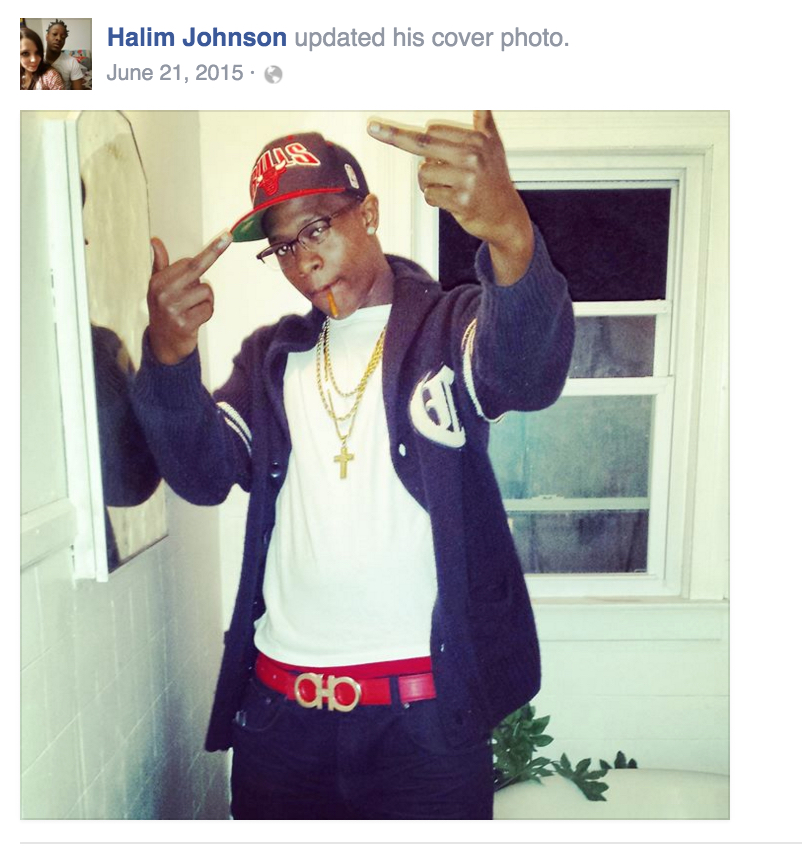 Drugs? Perish the thought.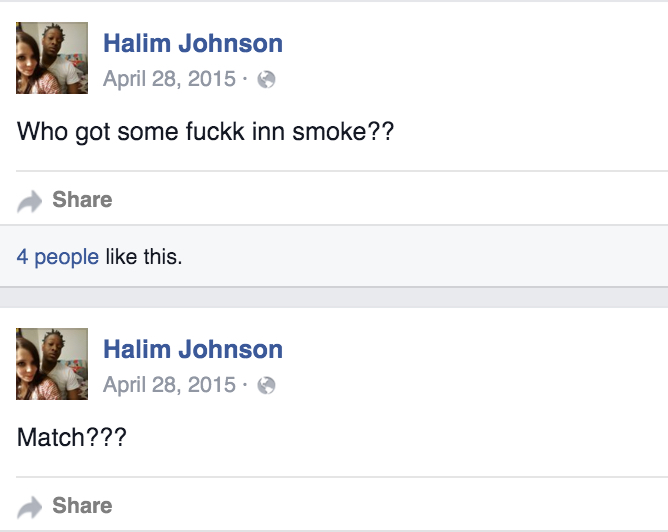 I don't think this is Kale: 
Interesting pose and use of emojis: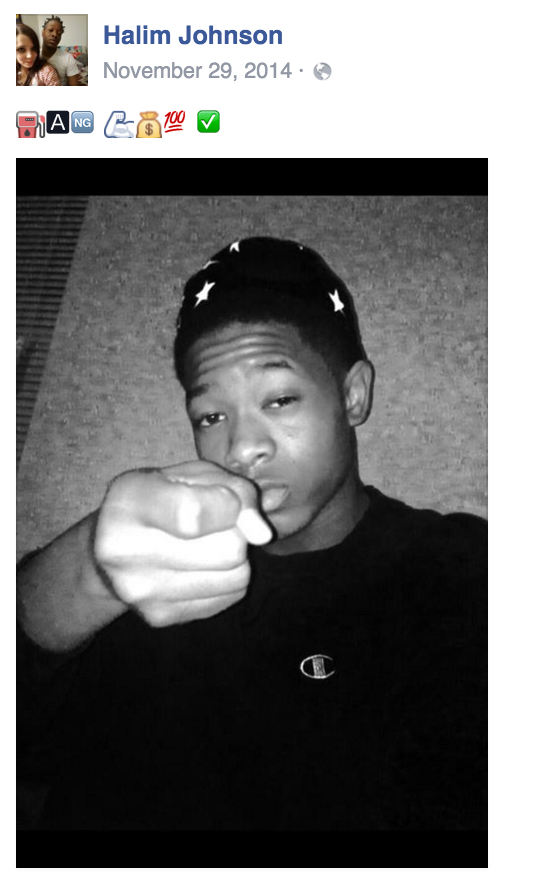 To be clear, recreational marijuana should be legal in New York State, but dealing drugs, and pretending to aim a handgun when posing for the camera under emojis spelling out the word, "gang" isn't a good luck for the barely legal boyfriend of a tea party darling. The fundraiser must be working, because while Ms. Arnold has bonded out, Mr. Johnson remains incarcerated. This raises the question of how his Facebook profile picture and relationship status were changed while he remains behind bars. Indeed, Mr. Johnson's high school-age friends seem upset and ready to fight Ms. Arnold. The spectacle, however, of the tea party coming to the aid and defense of Ms. Arnold and her paramour is interesting, but not as interesting as this: 
But some of Arnold's supporters during her failed senate campaign were not as quick to back her up on Friday. Tea Party activist Rus Thompson said he was concerned for Arnold but didn't want to make any comment about the situation until he had all the details about what happened.

Meanwhile, former gubernatorial candidate Carl Paladino, who attended Arnold's announcement when she entered the senate race in 2014, had even less to say. When called for comment, he asked who Arnold was.
Rus Thompson taking what might be his first "wait and see" position in history, and Carl Paladino denying knowledge of the candidate with whom he clasped hands and posed just two short years ago. This is a perfect coda to the Gia Arnold for Senate clown car.