Local
Storm Clouds Gather Above Radford and DPCC
by
/ Mar. 24, 2015 5pm EST
Buffalo's District Parent Coordinating Council [DPCC] has run adrift under the imperious management of its president, Sam Radford, according to community members familiar with the situation.
Last Wednesday, Radford called a press conference in which he implored the state and feds for a takeover of the city's schools. He also asked that the school board to be downgraded to an advisory board with authority transferred to the hands of a "federal receiver or special master." However, the press conference went down without the established support of the DPCC itself, which spent its meeting time on Tuesday on an entirely separate issue.
According to multiple sources, the Tuesday night meeting began in confusion and ended in contention after Radford pushed through an incomplete resolution supporting Cuomo's divisive education agenda.
A Quinnipiac poll released this week revealed that Cuomo's education agenda has resulted in his "lowest job approval rating ever." Not exactly a propitious time to insist on a resolution in favor of said agenda.
"By a 55-28 percent margin, New York State voters trust the teachers' unions more than the governor to improve education in the state. All party, gender, age and regional groups agree," reads one conclusion from the poll.
Just last month, DPCC members voiced their concerns over the group's unwavering support for the governor's agenda only to be met with anger and derision from DPCC leadership.
The Buffalo News quoted DPCC member Melanie Matteson at that time:
"It's very one-sided, I think," Matteson said of the DPCC hierarchy. Some of its leaders "speak very passionately about the viewpoints they are trying to convey, and it's easy to get parents on board with what they're trying to do…It's very difficult to go against something they're pushing for. It's been that way for years."
Katrinna Martin-Bordeaux, a community activist, told The Public that she sensed a "level of discomfort with other members of the DPCC." They attempted to ask questions for clarification—of 22 members, 14 raised hands to join resolution [with] eight strongly against.
Martin-Bordeaux observed that the 14 members on board with the resolution seemed uncertain about their participation, and looked around the room as if for reassurance, despite raising their hands in favor.
The manner in which the resolution was presented sent the group's membership reeling. At least eight representatives got up and walked out along with other community members before the meeting ended, according to multiple sources. Radford claimed to The Public that only a single DPCC rep left the meeting early.
At one point, a Radford supporter hoisted aloft the recent Buffalo News story by Sandra Tan about a 15-year-old at BUILD academy who had repeated the seventh grade three times, "holding it up as an example to get people to conform to the resolution."
Martin-Bordeaux voiced her opposition, calling the tactic a form of abuse. She said that the article reinforced negative stereotypes held about inner-city African-American males. "I don't see how we think that's a good idea to exploit these children like this," she said.
She also questioned the DPCC's sustainability, claiming it is suffering a crisis of leadership. She said the DPCC has failed to craft a policy that accommodates the entire school district. "They can never stick through and follow their own meeting agenda," she said. "And I don't see enough people around to represent 35,000 students—22 people cannot represent 35,000 students. I'd like to know: What method are they using to engage the 35,000?"
Martin-Bordeaux says a lack of communication is at the heart of the matter, suggesting, too, that the opacity may be purposeful. Is Radford's decision to file complaints with the State Education Department and the civil rights divisions of the US Departments of Justice and Education a recognition of his faltering grip?
"They never mentioned they were doing this lawsuit they announced on Wednesday," said Martin-Bordeaux. Two other sources present at Tuesday's DPCC meeting confirmed this.
Martin-Bordeaux added: "I feel this is desperate attempt for the DPCC to act because they are losing control. People are waking up to what is actually going on. Sam being the president does not give him the right to decide what's right for the entire school district."
Carolette Meadows, also present at the Tuesday meeting, was an early member of DPCC and part of the organization's original Office of Civil Rights [OCR] lawsuit, but became disillusioned when she realized that "Sam was actually pushing not just for charter schools but double-dealing and working with Paladino and his crew to make the next dollar."
In fact, Radford has a tangled past with OCR. In July, he was instrumental in getting complaints heard regarding admissions processes at the city's criteria schools. The complaints led to a contract with Dr. Gary Orfield of UCLA, who launched his study into alleged segregation in the district shortly thereafter. But, by January, Radford had switched course, arguing that the district should—in violation of its contract—ignore the conclusions of Orfield's team. Now he's calling on OCR again.
Radford responds
The DPCC president sees the dissension in the ranks as part of the democratic process, pointing out that votes can be won by the slimmest of majorities.
"I don't pretend to speak for all Buffalo parents. All Buffalo parents don't have children attending a failing school," he said, when reached by phone on Friday. On the resolution that passed supporting the governor's agenda, Radford said, "The majority of schools voting at the DPCC voted for that, so yes [it does represent the majority]."
He characterized his critics as being a small yet vocal minority who represent schools in good standing. He said that his opponents represent "white privilege" while he attempts to speak for all students, the majority of which are "black and in failing schools." When pointed out that many of his critics are also black, Radford dismissed them as "black, union-controlled individuals."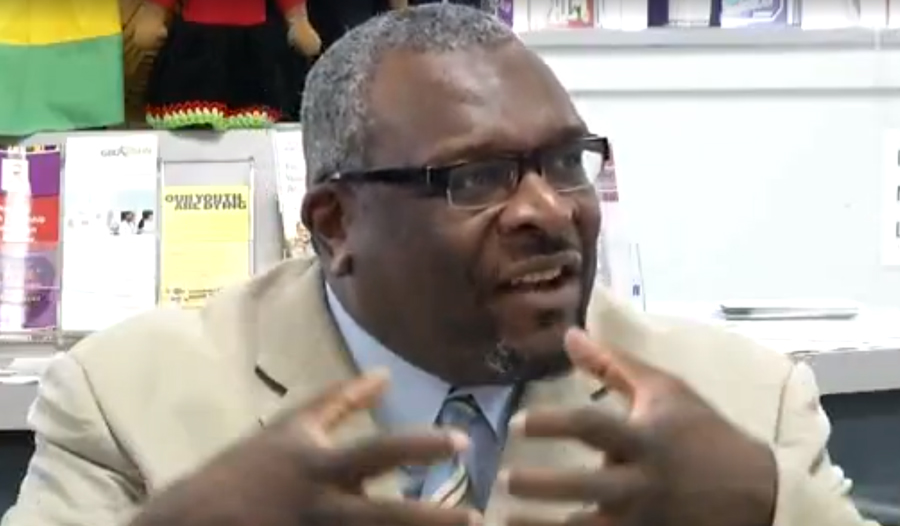 DPCC President Sam Radford
"My kids go to City Honors and Olmsted, but I think it's arrogant to think that we're all good just because my kids are good," he said. "All kids deserve to go to a school like City Honors and Olmsted."
On the apparent disconnect between the separate agendas of the DPCC meeting last Tuesday and Radford's press conference on Wednesday, Radford offered simply that he was playing different roles: one as president of the DPCC and one as an employee of the Community Action Organization of Erie County's Better Schools, Better Neighborhoods program. "If you look at the press release for that press conference, you won't see DPCC anywhere," he said, adding that there is "no reason for DPCC to take action on behalf of an individual parent."
There was every reason to use the occasion of a new OCR lawsuit to ask for the school district to be put into receivership, Radford said—a measure which he claims is the only recommendation made by both Dr. Gary Orfield and Distinguished Educator Judy Elliott.
When asked why he would appeal to the OCR just two months after recommending that the Buffalo Board of Education not wait for the OCR's report to be published to make drastic changes to the landscape of public education, Radford chalked it up to calculated impatience.
"I'm not going to wait for the kids to be in the status quo for a year, year and a half [until the findings are released]," he said. "I support Gary Orfield 1,000 percent but I'm not naive. [Delaying for Orfield's report] was a tactic by the union to slow it down. Why would you wait for 18 months when you could do something today?"
For months, Radford has been angling for non-voting representation on the school board, a move that's apparently complicated by legalities. Radford admitted that he is now resigned to it not being a possibility, lamenting that "not a single school board member has a child in a failing school" and that "poor people don't have representation on the board."
When it was pointed out that Radford also doesn't have a child in a failing school, he argued that he's still a conduit for parents of educationally marginalized students. "It's our kids that are being over-suspended, over-referred to special education, not receiving English Language Learners support, and ultimately discriminated against."
But according to Carolette Meadows, who was part of a previous OCR lawsuit aimed at the criterion schools, Radford is only interested in using such parents as fodder for press conferences and publicity. Meadows, along with many observers, suspects that Radford is angling for a run at elected office. Radford steadfastly denied that, saying that he's been consistent on his mission to reform education from the beginning. "Tell me what I'm doing different now than what I was doing in 2005 when I started going to board meetings," he said.
Radford was far more eloquent in describing the issues he is fighting for than the problems associated with his leadership. "No one wants to address that for five consecutive years the BOE has violated the state law that says if your kid attends a failing school they have the opportunity to attend a school in good standing, and capacity is not an excuse."
BPTO holds its own
On Saturday, the Buffalo Parent Teacher Organization [BPTO] hosted its own press conference to condemn the request from the DPCC and invite other community members to join them in rallying for local control of the Buffalo Public Schools.
Mine Dosluoglu—a DPCC representative, and City Honors parent facilitator—said that she is frustrated with the DPCC's recent deafness to the diversity of its members' voices:
"I've been shut down in my own parent group a couple times, because of asking difficult questions," she told those gathered.
The DPCC's resolution to endorse governor Cuomo's divisive education agenda was a particularly problematic issue, she said: "[W]e were forced to support a resolution for the governor's education plan last week, which I don't agree with for many reasons."
Dosluoglu pointed to New York State's $5.9 billion underfunding of public schools as one reason she didn't support the governor's plan.
Another parent, Christian Brandjes, contended that the DPCC's problem was one of disproportionate representation. "The recent vote that the [DPCC] had to support Cuomo's education [plan] passed by a number of people that was lower than the people who were struck by lightning in Western New York this past year," Brandjes said. "It is not only a minority of Buffalo public school parents, it's a statistically insignificant minority."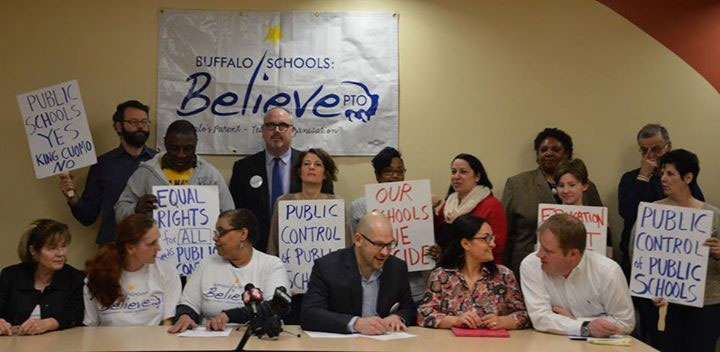 From the BPTO press conference last Saturday.
However, Kristen Mendoza, a teacher and parent, wanted to make it clear that the BPTO is not opposed to the DPCC as such, remarking that "there's more that we agree on than we disagree on" and pointing to the two group's recent collaboration to call for more physical education in BPS.
Keith Jones, a parent facilitator at PS 53 and DPCC representative, picked up on Dosluoglu's theme of underfunding: "[Mine] mentioned $5.9 billion owed. School 53 is owed $1.7 million. That's just one school. It's not right."
He added that he supports teachers in their fight against Cuomo's plan. "You're up there lying to the people," he noted. "Pay your debts. You owe $5.9 billion to [the state's schools]. If I was to owe you $5.90, you'd probably throw me in jail."
Jones pointed to recent rallies in Buffalo's suburbs as proof of the coalescence of a broad movement to fund public education. "You see the suburbs are coming back to the public schools supporting us, because this is something dangerous that's going on," Jones claimed. "It's not going to stop here. What's happening here is going to get to West Seneca, it's going to get to Clarence, it's going to get to Amherst."
Larry Scott, co-chair of the BPTO, outlined a plan for the organization moving forward. The cornerstone, he argued, was the opposite of receivership—that is, the consolidation of community power and subsequent dispersion of control among its members.
"[W]e have a leadership here that represents district wide parents. But if there were something going on in School 53—that was specific to School 53—it should be the parents and educators and community members of School 53 that help determine the fate of that decision. Not us as leaders…so, I think there needs to be a broadening and more inclusiveness in parent representation."