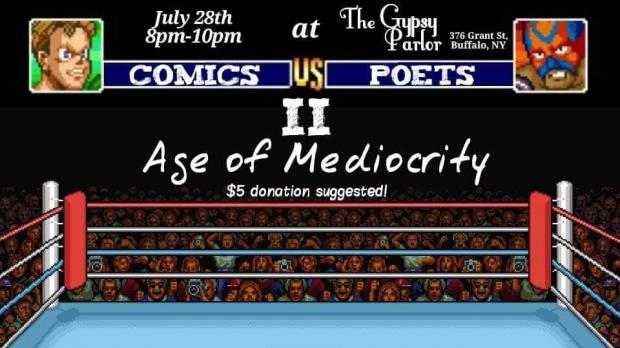 Comics vs Poets II: Age of Mediocrity
Aristotle identified the original four genres of literature as comedy, tragedy, epic poetry, and lyric poetry. He knew comedy and poetry were closely related, but even he couldn't have been prepared for what local talents Ben Brindise and Bruce Wilson have cooked up.
The incestuous relationship between poetry and comedy will seduce an audience this Friday, July 28 at the Gypsy Parlor, forming a melting pot of emotions. Brace yourself, you won't know whether to laugh yourself into tears or cry yourself into a madness of laughter. You might even do both.
Expect to find yourself enraptured, as poets take the stage to tackle an array of topics, competing for your snaps. But this isn't your stereotypical poetry recital with a hopeless romantic rhythmically speaking their heart out to you. Poets will compete for your heart and comedians will compete for your laughs at this two-way, dynamic event: Comics vs Poets II: Age of Mediocrity.

"I feel like the beauty of the event lies in the pairing of the mediums on the same topic," Brindise said. "Seeing the angle the artist takes to tackle a certain idea directly next to a completely different angle creates this interesting Venn diagram where there are certainly differences, but sometimes some really cool similarities."
The collaborative inclination of the poetry community continues to push boundaries, flirting with other genres to create a cohesive event. Last year's event ended in a deadlock, with host Beef Stuart (Sean Marciniak) dubbing all participants losers, "catching a beating WWE style." Brindise says this year, Beef Stuart is back, fearless as ever, and ready to project his bluntness onto participants. The event begins at 8pm, and only costs you a generous $5 donation.
When:
We're sorry, this event has already taken place!
Where: