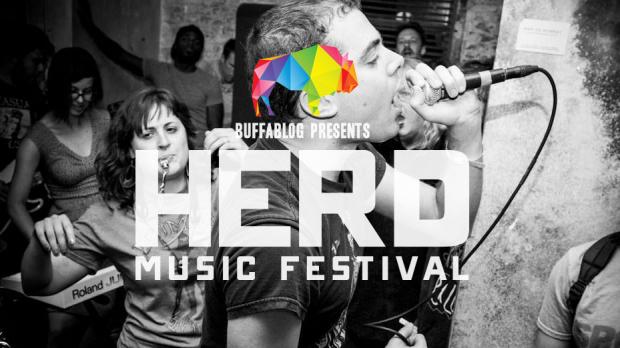 buffaBLOG Presents Herd Fest (June 18-21)
[FESTIVAL] This weekend there is no excuse for you not to revel in some of the most exciting local music. BuffaBLOG's Herd Fest is launching this Thursday night and coming to a venue near you. Like last year, buffaBLOG has collaborated with a diverse group of Buffalo music names (collectives, production companies, record labels, etc.) to put on a showcase at their venue of choice. This year, the participants include Steak & Cake Records, Deep Thinka Records, Cool Dad Records, Silo Sessions, Wax Museum Radio, Quiet Country Audio, Harvestsum Records, Black Dots, ESI Events, and Sugar City. Each showcase is $5 at the door, or you can purchase an all access bracelet for $20 at the opening ceremony at Mohawk Place (listed below). The four-night, city-wide music takeover begins this Thursday night and we've compiled a list of seven shows for you to check out.  The full itinerary can be found on buffaBLOG's facebook page and herdfest.com.
 THURSDAY, JUNE 18 
Herdfest Opening Ceremony
7pm / Mohawk Place, 47 E Mohawk St. The opening ceremony of Herd Fest will take place this Thursday evening. Kicking off the festivities will be the mesmerizing Rochester-based shoegaze outfit, Pleistocine, alongside Buffalo's favorite jangle-rockers Bryan Johnson and Family, and last but not least Rochester lo-fi folk outfit Attic Abasement.
 FRIDAY, JUNE 19 
Harvestsum Showcase 
10pm / Nietzsches, 248 Allen St. 
Orchard Park-based, lo-fi label Harvestsum will hold their showcase at Nietszche's and the lineup will be filled with talent from their label. Set to grace the stage are alternative rockers Johnny Nobody; down-tempo electronic outfit, Strange Acres; gritty roots rocker, Roger Bryan; indie-pop-rock band Applenium; and finally, college-rock trio Bearhunter.
Deep Thinka Records Showcase 10pm / Duke's, 253 Allen St. Hip-hop label Deep Thinka Records will be hosting an installment of live hip hop at Duke's featuring performances by some of the city's most unique rap artists. Taking the stage will be Prime Example, Dr.Oooo, and Truey V with Mad Dukez and Short Moscato.


Sugar City Showcase
6pm / Sugar City, 1239 Niagara St.
In conjunction with Herd Fest, Buffalo art-collective Sugar City will be hosting the opening reception of People That Rock, photographs by Michael Mulley—a dynamic collection of shots amassed from over 25 years of shooting live bands and musicians, from the famous to the unknown.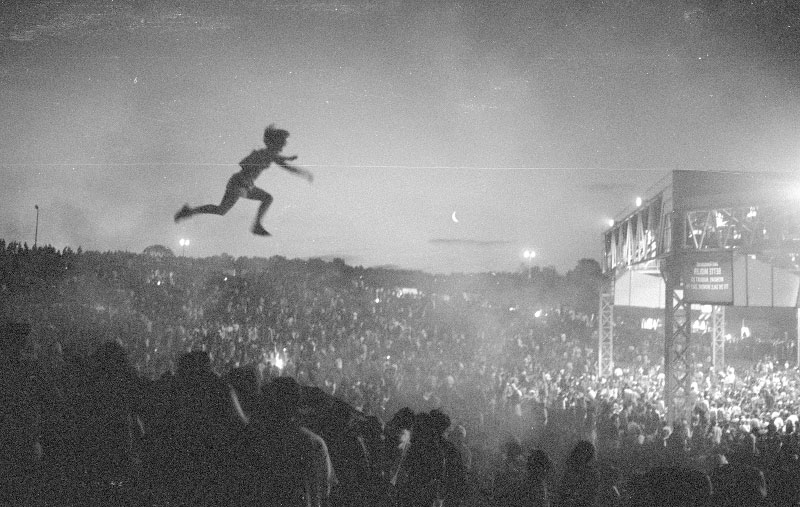 Photo by Michael Mulley.
Saturday, JUNE 20
Steak & Cake Records
12pm / Record Theatre, 3500 Main St.
Indie-rock label Steak & Cake Records will hold their showcase in the early afternoon at the unique location of Record Theatre on Main Street. Their lineup includes a fiery array of local music projects including electro-pop stuntperson Lesionread; gritty surf rockers Locals Only; post punk channelers Red Heat; pop-punk trio Zealot, and melodymakers Welk's Mice.
Wax Museum Radio Showcase
11pm / Hardware, 245 Allen St.
Digitally streaming, electronic radio collective Wax Museum Radio is bringing you an evening of dance—from deep house to trap—which will feature an assortment of radio regulars spinning in both the front and backroom of Hardware. DJ's include Heezy, Stonez, Pizza Pizza, Josh Yourmoms, Concur, Jolly Wailer, and DJ Medison with Buzz Trillington.
Silo Sessions
10pm / Nietzsche's, 248 Allen St.
The people behind the acoustic music series, Silo Sessions, have rallied together an eclectic mix of melodic folk and indie artists to perform Saturday night at Nietzsche's—Helen, Lara Buckley, Alex Berkley with Sonny Baker, and Pam Swarts will captivate the front of the venue while Bourbon and Coffee, Andy Pothier, Viking Moses, and Aircraft take the back stage. 
$5 per event, or $20 all admission bracelet.
When:
We're sorry, this event has already taken place!
Where: