Commentary
Paul Cambria on Pat Kane: Don't Prejudge
by
/ Aug. 18, 2015 7am EST
The point of Monday's piece wasn't to say that hockey superstar Pat Kane shouldn't hire an off-duty cop to be his designated driver if he wants; a designated driver is a good thing. Instead, the point was to recommend that people close to the alleged victim, and those aligned with Pat Kane, should all stop talking to the media. 
At this time, the jury pool poisoning is continuing apace — of course, no one has yet been charged with a crime, but it's safe to say that the authorities are investigating whether one happened, and whom they might charge. So, what we see happening as the coverage lurches from Mark Croce's victim-shaming to anonymous supporters of the alleged victim defending her, to Lieutenant Thomas English, the aforementioned designated driver turning to the News to rebut the alleged victim's friends' assertions.
The whole case has devolved into a public relations battle. In this case, Kane has deeper pockets, star power, and more to lose, so it stands to reason that his PR effort would be well-funded and professional, while the alleged victim's side has been silent, and some friends talked to the News without attribution.  
As you might know from Deadspin, WBEN/WGR, Chicagoist, CBS Chicago, and Time Warner Cable News, Kane's attorney, Paul Cambria, commented on my personal Facebook page, alleging that I was being irresponsible, and pointing out the witness credibility issue that he believes inures to his client's benefit. 

Cambria was specifically complaining about my insinuation that Kane was "trashed". Specifically, in Monday's story, I wrote, "So a police officer who stands by to drive Kane home when he's too trashed to drive wants you to know that the alleged victim really wanted to go home with Kane, if you know what he means. Is this real life?" The point wasn't whether or not Kane was "trashed", although certainly people tend not to leave nightclubs at 3am sober.
The point was to expound on English's motive to embellish or lie to protect his friend, who also happens to pay him. English wasn't testifying at a trial; he had the benefit of Buffalo News reporters who took notes and simply printed what he told them. At trial, he'd have been under oath and the truth of his statements would be tested through a withering cross-examination. At trial, he'd have a duty to testify truthfully — no such duty exists when talking to the News. 
That's why the driver shouldn't have opened his yap. The News prints his words without cross-examination or proper context, and another Kane defender gets to chalk up another point for the subject of a police rape investigation. 
Trying this as-yet-non-existent case in the media is stupid and counterproductive. It cheapens the import of what happened here, and the very real accusation of violent crime.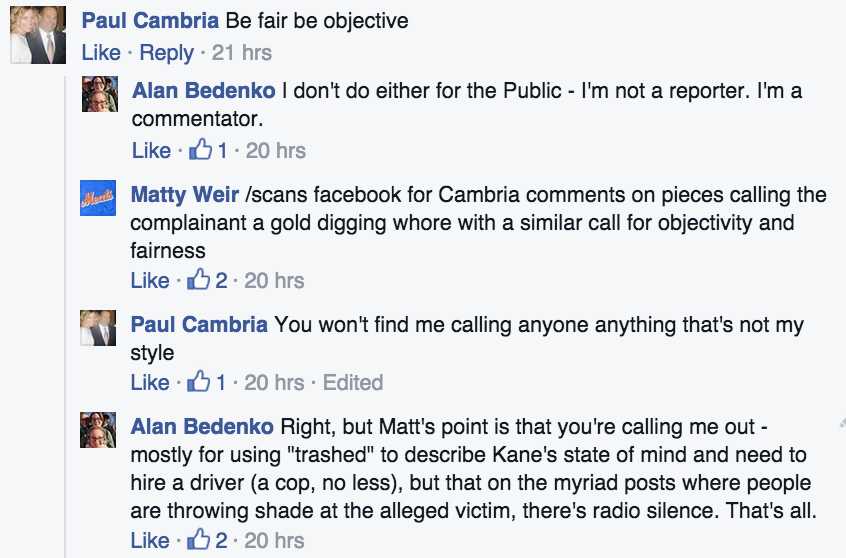 That was, I thought, a fair point.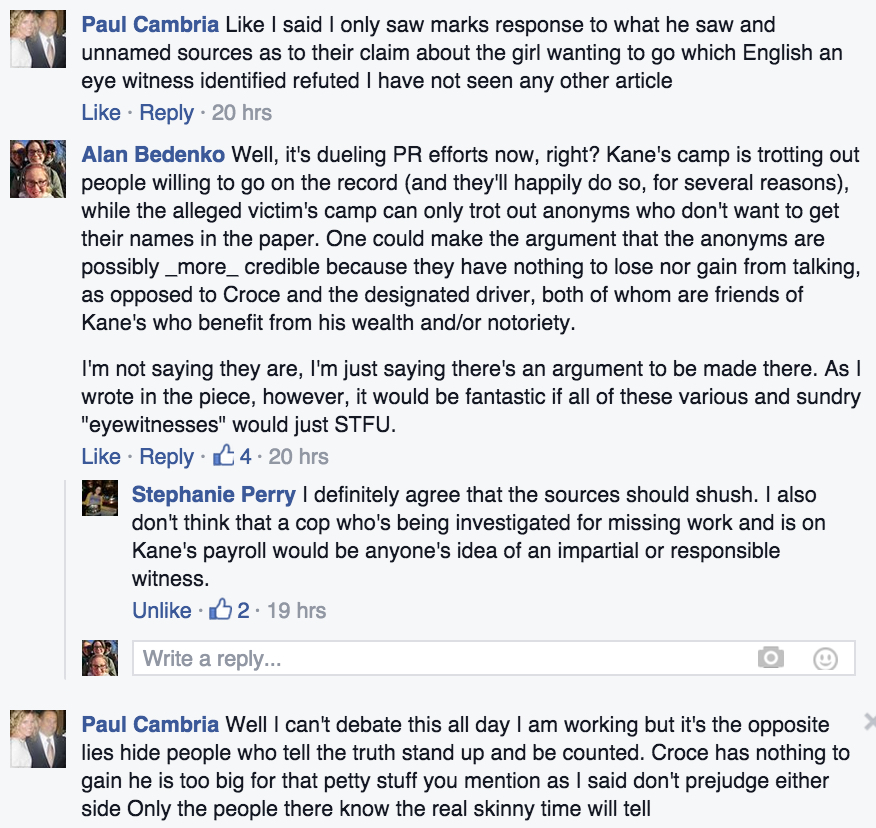 I don't think Croce spoke in order to gain some advantage, except to protect a wealthy, popular customer; he also spoke to avoid liability and, ironically, to protect his reputation and that of his bar.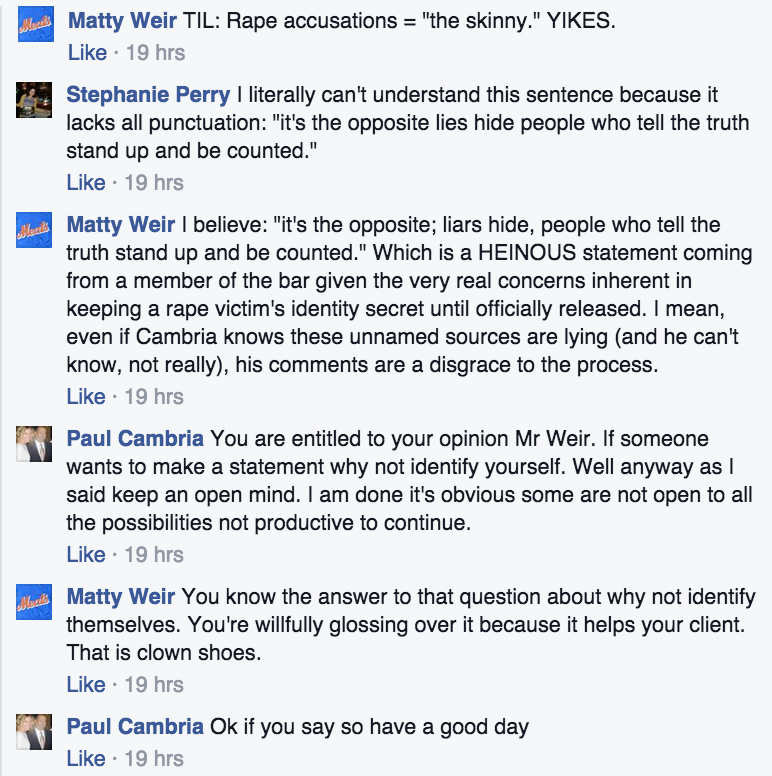 Cambria didn't have much else to say, except cryptically to recommend that people keep an "open mind", that he's "keeping it even", and that people shouldn't "prejudge". It was a lively discussion. If you want to see the rest, here it is as it appeared Tuesday morning with all comments uncollapsed. 

Here's to hoping no one else who thinks they know something and is desperate to get their name in the paper decides to talk to the press about things they saw on the night that Patrick Kane allegedly raped a woman. Everything anyone's said — on or off the record — has been wholly irrelevant to the underlying key issue of consent.