Etc.
Get on the Water with SUP Erie Adventures
by
/ May. 20, 2015 3am EST
Christian Edie and Kevin Cullen are preparing to renovate their little cottage in Silver Creek, which is a walk across the street and 50 yards from Hanford Bay on Lake Erie. And why shouldn't they: The couple, united by love not only for one another but for surfing, paddleboarding, rock and ice climbing—any number of outdoor activities—have decided that Western New York is the right place to be.
"I'm amazed by how this region stacks up in a world-class way for outdoor recreation activities," says Cullen, 29, a student in UB's Architecture and Design Department. Cullen and Edie, 25, run SUP Erie Adventures, which offers paddleboard rentals out of Sunset Bay, guided trips, and a variety of yoga and fitness classes. "We don't really have the best of anything, but we have a little bit of absolutely everything. Between the seasons, the hills, the lakes, the rivers…There's just so much to do here between the paddleboarding, the surfing, the kayaking, the kiting, the windsurfing."
Edie and Cullen met ice-climbing on Eighteen Mile Creek five years ago. "We've been pretty much inseparable ever since," Edie says.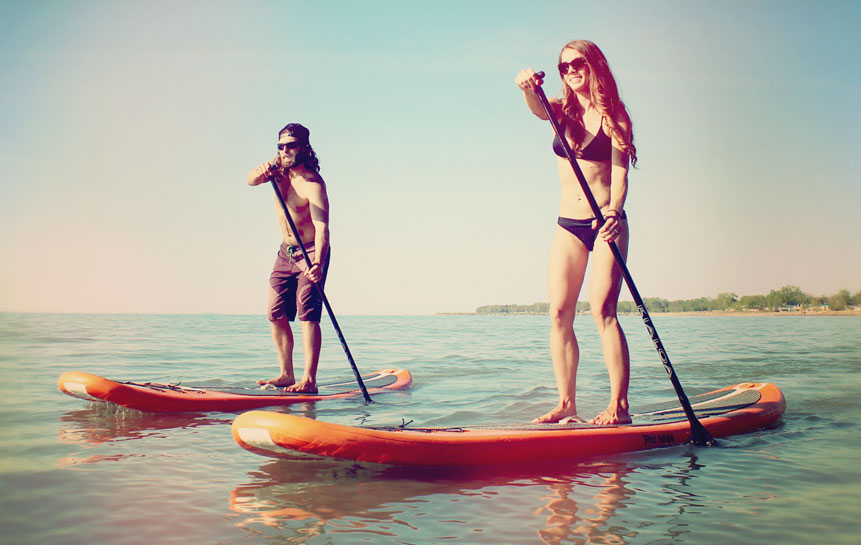 They lived for a while with Cullen's family and looked for a house in the First Ward, while they worked on building and promoting climbing walls on the grain elevators at Silo City. Instead, Edie found the cottage on Hanford Bay on Craigslist and they've been counting their blessings ever since. It's their fourth summer on the lake. "If we hadn't found this place, we might have moved away," Edie says.
The couple travels a great deal for sport: In the last year they've been surfing in Jamaica, Key West, Maui, Cape Hatteras. Both are sponsored athletes and instructors—Pau Hana Surf Supply Company, Kialoa Paddles, Sperry Footwear, and Honu Surf Company—which makes them rare birds in this region, though increasingly less so: Both say that the adventure sports culture here, while always robust, is growing. Enthusiasts travel to the lakeshore here from Rochester, Erie, and Pittsburgh because the conditions are so conducive to surfing, kitesurfing, windsurfing, and paddleboarding. Their friend Kris Kinn offer kitesurfing lessons and rentals every nice day at Bennett Beach. Some new surf shops have opened in Toronto. And every time they put their surfboards in the water, Cullen says, they see new people.
"Every time we go out, there's a new surfer in the water," he says. "Last time we met a Buffalo firefighter; it was just his third or fourth time out. 
"One of the great things about this area is there's something fun to do everyday no matter the weather and conditions," Edie says. "When the lake is calm, it's so clear sometimes you have 30 feet visibility and you can see so many underwater features and fish while standing on a paddleboard looking down. We're really just scratching the surface with what this area has to offer."
When it rains this summer, Edie and Cullen will offer introductory stand-up paddling whitewater lessons. When the wind picks up, they'll offer stand-up paddle surf lessons. And the guided tours they offer are guaranteed to thrill. In fact, the idea for the business derived from an overnight paddle from Sunset Bay to Dunkirk and back. "We were absolutely blown away by the scenery and couldn't believe we were the only people we saw out there," Edie says. 
"All along the cliffs between here and Dunkirk is just beautiful," Cullen says. "There are some bald eagles' nests up there and some terrific scenery. Same with going up Cattaraugus Creek. The mouth of Eighteen Mile Creek is another place we'll do tours, and there are some flat-water rivers that are really nice: the Conewango River, the Buffalo River."
Edie and Cullen created some national fame for themselves during last November's powerful winter storm. Their cottage was in the teeth of the system, and they were confined, so they did what so many Western New Yorkers do when bad winter weather hits: They went outside.
"We were snowed in, there was nothing else to do," Cullen says. "We had some surfboards and some Concord grape wine, and there were seven- or eight-foot waves out here."
So they surfed, and the video they made of the effort became a widely shared symbol of regional resilience. Winter provides great waves, Cullen says, but so do late summer and fall. "The surfing is all localized wind swells," he says. "The best season is definitely late summer, fall, and winter. Although we just had five-, six-foot waves last Tuesday. Any time the wind gets above 25 miles per hour from the southwest, this little coast gets some waves."
The opportunities are there, not only for enthusiasts but for professionals like Edie and Cullen who might otherwise be finding their adventures and their livelihoods elsewhere. "One of the cool things we've noticed is how powerful the outdoor recreation industry can be," Edie says. "It's time Western New York capitalizes on its untapped potential in drawing these new and emerging industries."
It's time we all capitalized on the region's waters. Let's go.