Commentary
Preetsmas: Unpacking The AwfulPAC Complaint
by
/ Apr. 19, 2017 5pm EST
On Wednesday, Steve Pigeon, Kristy Mazurek, and David Pfaff were formally charged with four felony counts each arising out of their involvement in 2013 with the "WNY Progressive Caucus", or "AwfulPAC". They each pled not guilty and were released on their own recognizance. They stand accused of three Election Law felonies and one criminal count.  Election Law 14-126(5) makes it illegal for a campaign committee to coordinate with individual campaigns in order to bypass mandatory maximum contribution limits. Penal Law 175.35 makes it a crime to knowingly offer a false instrument for filing. 
The complaint itself contains a small handful of mysteries as to the identities of people connected with the AwfulPAC allegations; AwfulPAC's principals are accused of illegally coordinating with the campaigns of three individuals in order to bypass campaign finance restrictions. The 2013 primaries were held on September 9th, and the campaigns of participating candidates had a duty to file financial disclosures with the state on August 8th, August 29th, and September 19th; the 32-day pre-primary, the 11-day pre-primary, and the 10-day post-primary filings, respectively. 
"Candidate 1" is alleged to have taken in only $450 in contributions between mid-July and mid-September — the busiest time for a primary campaign. According to filings with the State Board of Elections, candidate for Erie County Legislature Rick Zydel took in exactly that paltry amount during that period. 
"Candidate 2" is alleged to have taken in only $700 in contributions between mid-July and mid-September, and apparently spent nothing whatsoever between late August and mid-September. According to the BOE, candidate for Erie County Legislature Wes Moore took in exactly that amount during that period, and spent nothing during the days immediately surrounding primary day. 
"Candidate 3" is identified as a town board candidate. Although the AwfulPAC never properly made its requisite disclosures, Mark Manna's own campaign committee did. 
The complaint informs us that Pigeon was the mastermind and the money guy. Mazurek was Pigeon's number 2 and helped coordinate AwfulPAC's work with its preferred candidates. Pfaff as the "administrative" guy who could "run a campaign in his sleep". Nevertheless, all three of these political veterans will say that anything being alleged is evidence only of inadvertent mistake, rather than intent to commit any crime. 
The complaint also mentions — but does not identify - three "Persons". The first cannot be unmasked; a business associate emailed the BOE's campaign finance limits for legislative races to Pigeon in August 2013 - evidence that Pigeon knew what those limits were. More interesting are the identities of Persons 2 and 3. 

On August 19, 2013, AwfulPAC reported receiving $4,000 from Frank Max's Progressive Democrats of WNY, reporting it as AwfulPAC reported that $4,000 as one lump sum, but for some reason Max's group didn't. AwfulPAC also reported that it received that money long before Max's group says it contributed it.
The News wrote:
Now, questions center on the three postal money orders purchased on Aug. 14, 2013 and made payable to the WNY Progressive Caucus, according to the sources.

A name appears on the postal orders as the purchaser. But nobody familiar with the case can say if the person named on the money orders actually purchased them.

Kristy L. Mazurek, treasurer of the WNY Progressive Caucus, endorsed the postal orders and deposited them, the sources said. Yet state Board of Elections campaign finance records indicate no corresponding contribution.

The Postal Service maintains no requirement to show identification when purchasing or sending postal money orders under $3,000, according to spokeswoman Karen L. Mazurkiewicz.
As the Public reported in June 2015, "Person 2", whose name appears on the money orders, is Matthew Connors, the son of prominent attorney Terry Connors. Connors, however, didn't buy those money orders and didn't put his name on them, as he described here to investigators: 

Matt Connors' employer, "Person 3", is Nick Sinatra.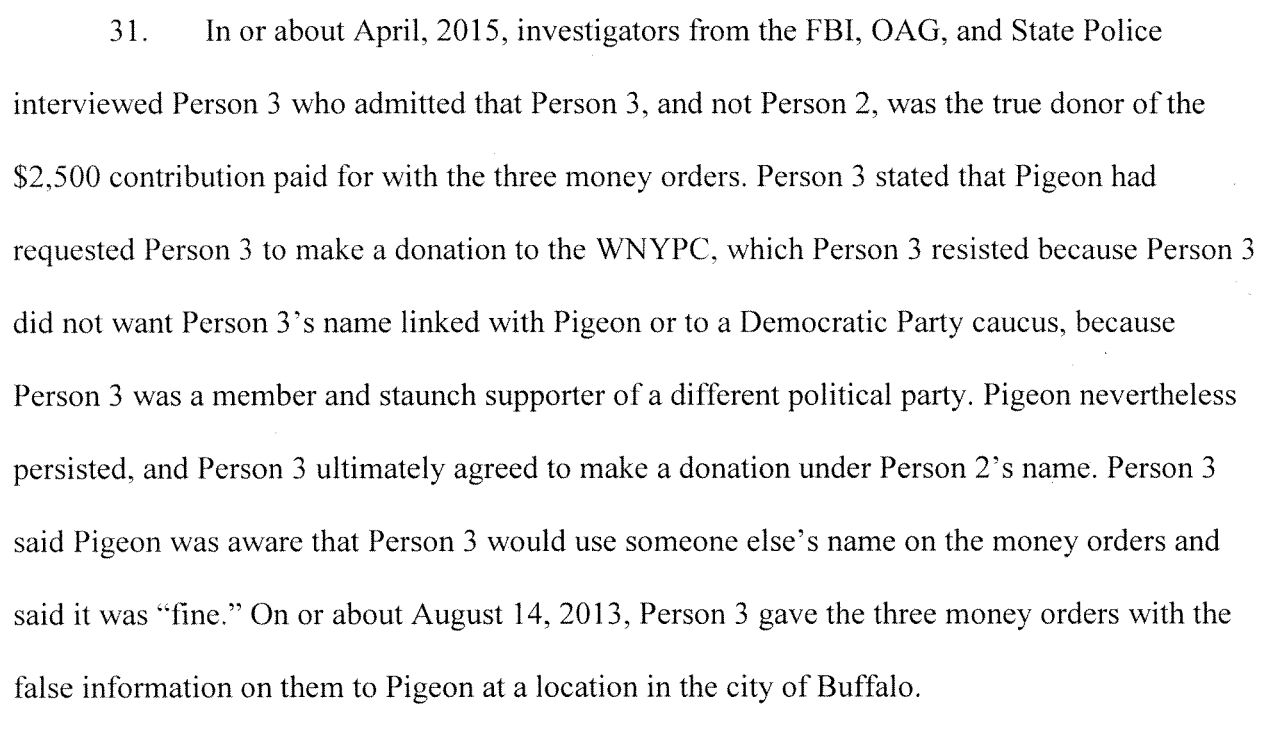 So, Pigeon begged Sinatra to contribute to AwfulPAC. Sinatra balked because he didn't want his name connected to Pigeon or to some shady and nominally Democratic organization. So, instead Sinatra bought some money orders in his employee's name and gave them to Pigeon, who knew the money's real source was being disguised, saying it was "fine". 
Last August, Channel 2's Steve Brown got a hold of one of the search warrants from May 2014, which revealed that the warrant was being requested, in part, to investigate, "Steve Pigeon's unlawful lobbying on behalf of Nick Sinatra."
Incidentally, Pigeon's erstwhile protege and former State Senator Anthony Nanula co-founded American Coastal Properties in San Diego in 2012 with Nick Sinatra. "Candidate 2", Wes Moore's 2013 legislative campaign was run out of the Nanulas' Clarence office. 
The limit on campaign contributions for legislative races in 2013 was $1,476.50. 
The State's Complaint alleges that AwfulPAC illegally coordinated with — and made $18,000 in payments on behalf of - the Zydel campaign, exceeding the campaign finance limit by about $16,500. AwfulPAC also allegedly illegally coordinated with — and made $13,000 in payments on behalf of — the Moore campaign, exceeding the limit by about $12,000. Finally, AwfulPAC allegedly illegally coordinated with — and made $4,812 in payments on behalf of — the Manna for Amherst town board campaign, exceeding that race's applicable limit by about $3,200. 
Nothing yet has come about in connection with the Dick Dobson for Sheriff race, which also benefited from AwfulPAC's aptitude for raising money.