Local
Opt-Out 2016 Polemics Round-Up
by
/ Apr. 6, 2016 2pm EST
On Tuesday, the first day of Common Core [CCSS] testing across New York State, the battle between testing and anti-testing forces heated up. 
Dr. William A. Kresse Principal of City Honors, like Protesilaus, itching to join the fray, leapt afield brandishing a letter to parents.
The gist: State Education Commissioner Dr. Mary Ellen Elia has addressed, and continues to address, the concerns of parents with the recent modifications made to the state assessments.
In the letter, Kresse gives his take on the tweaks made to the CCSS testing regime.  In response, Eric Mihelbergel, an opt-out leader, replied point-by-point on his blog. Here, I've edited the point/counterpoint for clarity and length:
Kresse: NYS Assessments are no longer tied to teacher and principal evaluations.

Mihelbergel: The tests are still tied to school evaluations, and the assessments are only temporarily disconnected from teacher and principal evaluations.

Kresse: This year's assessments have been developed by a new organization, with NYS teachers selecting the questions.

Mihelbergel: The new organization, Questar, is using the questions that the old organization, Pearson, developed. NYS teachers were only allowed to select questions from a very small bank of pre-written questions.

Kresse: The number of questions and predicted time to complete the assessments has been reduced again this year. 

Mihelbergel: Parents have demanded a reduction from yearly testing in grades 3-8 to only testing once in grade 4 and once in grade 8. 

Kresse: Students will have unlimited time to complete the assessments.

Mihelbergel: That's like saying 'We are giving you more time to do what you know is bad for you'. 
The first point of contention—the use of state assessments to determine the status of failing/persistently failing schools vis-à-vis receivership—is especially pertinent. Tom Precious of the Buffalo News tweeted that, during budget talks, Governor Cuomo had made receivership of failing schools a negotiating priority: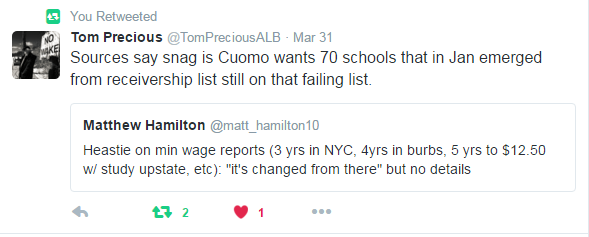 In other words, Cuomo's signature "failing schools" narrative is not one from which, facts be damned, he's willing to budge. It's an issue, central to the social justice aspect of the opt-out debate, on which there has been no compromise on the state level.
Elsewhere in the letter, Kresse says, "I believe Dr. Elia's changes bring us to a point of moderation," which, considering Mihelbergel's responses, will give you some idea of the distance between the demands of the opt-outers and the concessions made by Elia. It's probably true that Elia conceded more than she'd have liked to—with no parent activity, there wouldn't have been changes at all—but are the changes be enough? That question will be answered once the numbers of test abstainers come in.
Meanwhile, Sam Radford and Jason Zwara, members of the pro-Common Core group High Achievement New York, turned up in the "Another Voice" column at the Buffalo News, making an argument similar to Kresse's:
Opt-out organizers have already received essentially every change they've requested. For instance, there is a new testing provider in New York State and, most critically, the exams are delinked from both teacher evaluations and student promotion decisions.  For opt-outers, it is finally time to take yes for an answer.
Mihelbergel was all up in the comment section:
"This is what we have demanded, and we have gotten NONE of it:

1.) Completely and permanently disconnect all student tests from all teacher and school evaluations.

2.) At the State level, remove the Common Core Standards and replace them with the previous NYS Standards.

3.) At the Federal level, reduce state testing requirements to, at most, once in grade 4 and once in grade 8. NYS legislators and officials must advocate for this change with parents.

4.) Enact legislation that makes it illegal to collect student data without written permission from the parent.
Radford and Zwara call the tests "purely diagnostic," a claim refuted by a letter sent to parents by Buffalo Schools Superintendent Dr. Kriner Cash late last month. In the letter, he writes that three Buffalo schools—City Honors, Frederick Law Olmsted, and Leonardo DaVinci High—"use state assessments as one of multiple sources of information to determine admission into schools."
The letter continues: "Those schools will be unable to assign a value to a portion of the student admissions profile if a student refuses to complete the most recent state assessments administered at the time of application."
In his letter, Cash also wrote that students not taking the tests would be "given examination booklets and will be allowed to read quietly while the test is being administered"—a policy to which BOE member Barbara Nevergold objected on her blog:
"While the Board has endorsed eliminating the 'sit and stare' policy, we will need to develop a policy that specifically spells out the treatment for students who do not take the test."
G. Scott Thomas of Buffalo Business First got in on the act with his article "Students Who Opt Out in WNY Are More Likely to Be Underachievers."
The premise of the article is that "opting out…appears to be an effective way for less-skilled students to avoid another round of statewide testing."
By less-skilled Thomas means less-skilled at taking standardized tests:
"The best way to estimate the relative skills of those students—the ones who declined to take 2015's tests—is to look at their grades from a year earlier."
Opt-out parents, to my knowledge, have never expressed the opinion that they'd wish their kids were better test-takers. It's the testing regime itself and its displacement of traditional means of learning which is the typically cited complaint.
I'm not sure why Thomas wrote the article. He doesn't seem to have the slightest grasp on the dynamics of the issue, nor does he demonstrate any interest in trying. If it weren't for the barely concealed subtext of the title—that lazy parents of dumb kids are refusing the tests to avoid being shunted into the underachiever category—the article would just be the typical low-info, one-sided Buffalo Business First fare. But there is that rather nasty subtext to consider. The voice of business.