Commentary
by
/ Feb. 9, 2017 6am EST
Kathy Hochul served as Congresswoman for the 26th Congressional district from 2011 — 2012. She defeated former Assemblywoman Jane Corwin in a special election, but later lost to Chris Collins, who was sworn in on January 3, 2013. 
Here's an October 2014 letter to the editor of the Buffalo News I found. It avers that, while running against Hochul, Collins was asked in a debate to,
…give a letter grade to incumbent Kathy Hochul's performance. Collins gave her an "I for ineffective" for failing (by that point) to pass any bills of her own. Collins promised, "As a member of the majority, I guarantee voters when I introduce a bill, I'm gonna have the kind of support that gets those bills passed."
Collins has now been in Congress for four years. He has been in the majority in the House for that entire time. In those four years, only two of the bills he introduced have been signed into law; each of them involve the naming of a post office.
That is clearly an impressive record of achievement that more than justifies the $174,000 annual salary and federal benefits package that this distinguished gentleman from New York "earns" for the important legislation that he has introduced and "guaranteed" passed. 
On a similar note, Mr. Collins stands accused of using his knowledge and power as a congressman to promote legislation that might help his own personal investments; particularly in a small Australian penny stock trading at 70 cents per share called "Innate Immunotherapeutics". (See here, here, and here). 
A CNN reporter caught Collins replying to "all" in an email when he meant only to reply to the CEO of Innate, who was coming to Collins' defense. 
"Simon. Yellow journalism. Making the story fit a bias regardless of the facts. Distorted," the email began, in apparent reference to the WSJ report. "In fact the offer was made available to every US shareholder who had ever participated in any share offering in the US. Interesting how he somehow distorted that."

Collins, who both invests in and sits on the board of Innate Immunotherapeutics, continued on to say that "many US shareholders" — including his own children — declined to participate "because of the perceived risk."
He went on to whine, 
Collins confirmed in a follow-up email to CNN Tuesday morning that he had "replied all by mistake," before venting his frustrations about a "witch hunt where the press goes after my friends and family." In the case of Price's investment in Innate Immunotherapeutics, a "standard private placement" has been incorrectly portrayed as "some kind of insider special deal," Collins said. "I was venting to Simon as he shares my frustration."
Get the whaambulance. 
The Australian reports that Congressman Collins appears to be in violation of Australian law. 
A US Republican congressman has allegedly breached Australia's corporations law by failing to make key disclosures about his family's significant investment in a listed, Sydney-based health company, including that two of his children and other close associates bought parcels of the company's stock.
and 
The Australian can reveal ­allegations that Mr Collins has breached Australian corporate law by disclosing he was a "substantial shareholder" — that is owning more than 5 per cent of a company's shares — only after almos­t 18 months, instead of within two business days of acquis­ition, as required by law.

Mr Collins has owned more than 15 per cent of Innate Immunotherapeutics shares — three times the threshold — since before its December 2013 float, but only made the disclosure in May 2015.

His US associates — including family members, political donors and employees — have also bought shares in Innate Immunotherapeutics in recent years, many in private offerings at a 12 per cent discount to the traded share price at the time.

Mr Collins has also allegedly breached section 606 of the Corporations Act — known as the "20 per cent rule" — which prevent­s any party holding a "rele­vant interest" in more than 20 per cent of a company's shares without gaining shareholders' approv­al and making disclosures. The maximum penalty for breaching the 20 per cent rule and for breaching substantial shareholder disclosure laws is sixth months' jail.
Law and order! The Australian report seems to contradict Collins' allegation that HHS nominee Tom Price and others didn't get a special price on this junk stock in a company with no products or revenue. As for Innate, the Australian reports that its CEO, Michael Quinn, used to run a company that delivered a flawed, smelly waste treatment plant to the Cairns city council in North Queensland. 
In its first year of operations, the plant's Bedminster rubbish ­digesters repeatedly crashed, two were put "out of commission indefinitely" and the council later sued the company for contractual ­issues.

Later, the Environmental Protection Agency ordered the plant reduce odours following problems with filters — which had to be ­replaced at a cost of $100,000 — and in 2010 the plant was again deemed inoperable after a large section of suspended concrete collapsed.
and 
In a highly unusual move for a listed company, EWT has gone to ground in recent days, with calls to its offices in

Sydney and Auckland ringing out and ­executives failing to respond to ­repeated texts and emails.

The Australian revealed on Monday that Mr Collins had ­allegedly breached Australia's corpor­ations laws by failing to make key disclosures about significant investments in Innate made by two of his children and other close ­associates.

Sydney barrister James Wheeldon wrote to Innate last Friday, highlighting the alleged breaches, but was yet to receive any ­response.
To sum up: 
1. Chris Collins once derided Kathy Hochul as "ineffective" for having passed no laws in her less than one year in office. In four years in office, Collins has passed two laws, both to name a post office.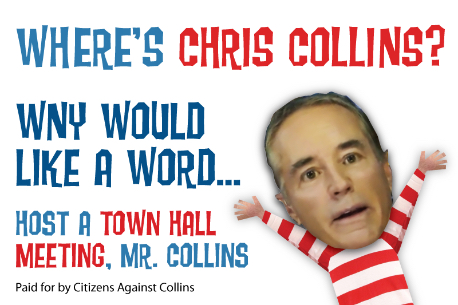 2. Collins allegedly broke Australian securities law and could be prosecuted and sentenced there to 6 months in jail. 
3. The company for which Collins is an evangelist is run by guys who couldn't properly build and run a garbage dump. 
Incidentally, Collins has never — not once — held an in-person town hall meeting that was open to the general public, and which was publicized in any way to his constituency at-large. People have been trying to set one up with him, to no avail. In Geneseo and Lancaster, people have been unsuccessful in getting a meeting with him. So, be sure to contribute to this Gofundme to get a billboard up asking Rep. Collins to show his face in the district and answer constituents' questions. He works, after all, for us. 
I'd grade that an "I" for ineffective, an "F" for failure, and "G" for garbage. 
The kakocracy is working great for some, at the expense of everyone else.