Commentary
Elections Have Consequences: Kakocracy
by
/ Nov. 20, 2016 5am EST
A few things to consider, as we slowly come to the realization that Donald Trump's impending kakocracy has nothing to do whatsoever with inclusion or a "coming together" or lifting up the working or middle classes. What is emerging instead is an extremist regime founded on white male rage, victimhood, and resentment. It's more like: 
There may never be a safer election in which to vote for a third option. pic.twitter.com/5qqRsgCRe5

— Edward Snowden (@Snowden) October 21, 2016
and
Trump pick for CIA director Mike Pompeo wants to restore and expand the NSA bulk phone dragnet revealed by @Snowden https://t.co/tUjf8Av2as pic.twitter.com/IcF8H0IYr4

— Dustin Volz (@dnvolz) November 18, 2016
Riots & Crybabies
It's been a long time since, "Sore Loserman", but a shorter time since this eruption of crybabyism (H/T Edmund Cardoni, Hallwalls Executive Director):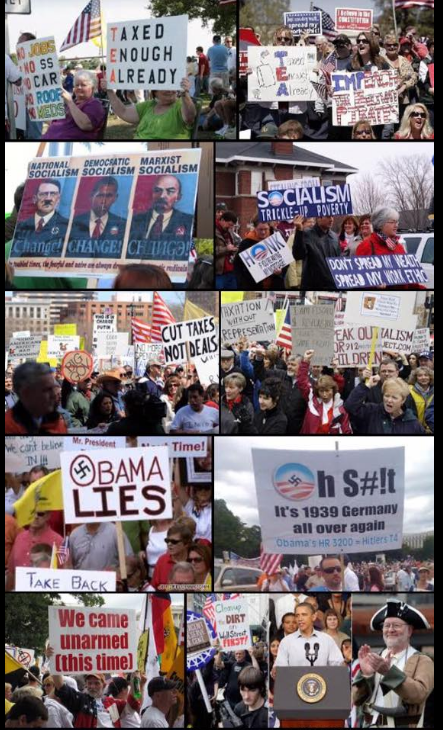 In Portland, Oregon, demonstrations devolved into riots from about Wednesday - Saturday after election day. No one was killed, mostly protesters found themselves wounded, and there was limited destruction of property. The media ridiculed the protesters for not having voted, or being registered to vote; the news equivalent of "haha, dicks". Obviously, no one condones property damage or violence, but there isn't some widespread nationwide riot panic — it was one city for a limited time. The remainder of the anti-Trump demonstrations have been peaceful. 
On my social media, Trump backers have denounced the demonstrators as "crybabies", and the rioters as criminals before then conflating all the demonstrators as rioters (paid for, of course, by George Soros, the Clinton Foundation, the DNC, or a combination of those plus maybe the Bilderbergs). 
But a lot of things that, to my mind, are worse than an isolated riot, they haven't bothered to address or condemn. Over the past week and a half, I've shared these stories on my personal timeline, most of them with something along the lines of a sarcastic, "but some kid in Portland broke a window, though". 
This one, from an apparently idiotic former Congressman, kicked everything off with some grade-A cognitive dissonance.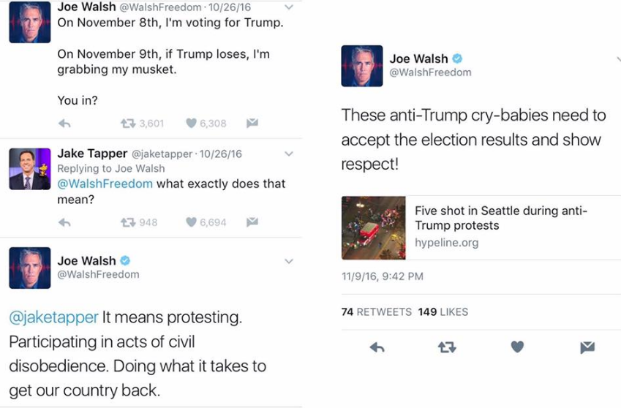 Also: 
November 10: Racist pro-Trump graffiti in a Minnesota High School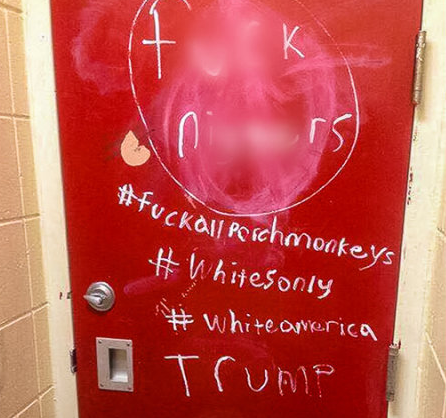 November 14: West Virginia local IDA chief refers to Michelle Obama as an "ape in heels", Mayor approves. Both ultimately fired. 
November 14: Actress Emmy Rossum victim of anti-Semitic harassment on Twitter by Trump supporters. 
Many Trump supporters were circulating a letter from a politically correct Republican seat-moistener in Albany, demanding answers as to why a SUNY Albany professor cancelled classes on the day after Election Day. Yet, not a lot of sharing of the article detailing how a bunch of posters went up around UB decrying, "anti-white propaganda" and linking to a white supremacist neo-Nazi website. Of course, as it turns out, the professor at SUNY Albany never cancelled classes and the whole thing was a lie. 
November 15th: African-American veteran denied free "Veterans' Day" meal at Chilis because some random Trump supporter told the manager he wasn't a real veteran, despite having his discharge papers on his person. 
November 14th: Maryland church banner advertising Spanish services defaced with, "Trump Nation, Whites Only". 
November 16th: Tennessee public official's Facebook under scrutiny; "One featured a picture of President Obama next to a man in a Ku Klux Klan mask and said 'The KKK is more American than the illegal president.' Another post, according to the Memphis Flyer, is about the Obama family claiming they had been discriminated against because they're black. According to the newspaper, Barber commented, 'Arrest convict hang and confiscate all assets.'"
November 16th: Man in pickup with Confederate Flag and Trump sticker menaces and attacks Black motorists. 
November 17th: Gay Florida man attacked by man yelling, "my President says we can kill all you faggots now!"
November 16th: Denver woman's vehicle defaced with graffiti reading, "Fag Die He/She" "Tranny Die" and a Swastika, and some paean to Trump. 
November 17th: California woman wearing headscarf due to a medical condition attacked as, "Hijab wearing bitch" by people who broke her car's rear window. The note went on to say, "This is our nation, now get the F— out."
Say it with me: but some kid broke a window in Portland. 
Kakocracy
In the meantime, Donald Trump is besties with someone who declares that the Sandy Hook massacre of 1st graders is a hoax. 
Donald Trump has named Senator Jeff Sessions to be Attorney General, 
While serving as a United States prosecutor in Alabama, Mr. Sessions was nominated in 1986 by President Ronald Reagan for a federal judgeship. But his nomination was rejected by the Republican-controlled Senate Judiciary Committee because of racially charged comments and actions. At that time, he was one of two judicial nominees whose selections were halted by the panel in nearly 50 years.

"In testimony before the committee, former colleagues said that Mr. Sessions had referred to the N.A.A.C.P., the Southern Christian Leadership Conference and other civil rights groups as "un-American" and "Communist-inspired." An African-American federal prosecutor then, Thomas H. Figures, said Mr. Sessions had referred to him as "boy" and testified that Mr. Sessions said the Ku Klux Klan was fine "until I found out they smoked pot." Mr. Sessions dismissed that remark as a joke."
Donald Trump has named retired General Michael Flynn to be his National Security Advisor. Former Secretary of State says Flynn has been "right wing nutty" since being forced out of the Defense Intelligence Agency over his "abusive and chaotic management style." 
General Flynn, for instance, has said that Shariah, or Islamic law, is spreading in the United States (it is not). His dubious assertions are so common that when he ran the Defense Intelligence Agency, subordinates came up with a name for the phenomenon: They called them "Flynn facts."

…The Flynn Intel Group, a consulting firm he founded after he was fired by President Obama as head of the Defense Intelligence Agency, has hazy business ties to Middle Eastern countries and has appeared to lobby for the Turkish government. General Flynn also took a paid speaking engagement last year with Russia Today, a television network funded by the Kremlin, and attended the network's lavish anniversary party in Moscow, where he sat at Mr. Putin's elbow.
Literally. Here's a picture of Flynn and erstwhile Green Party candidate and spoiler/anti-vaxxer/Putin stooge Jill Stein lunching with Vladimir Putin and his top oligarchs in Moscow, celebrating 10 years of Putin's own personal international network of propaganda channels.  
Pic of @DrJillStein at dinner w Putin, @realDonaldTrump pal Gen Mike Flynn in Moscow in Dec 2015 at RT anniv party pic.twitter.com/1eFrxKFzge

— Andrew S. Weiss (@andrewsweiss) August 6, 2016
Putin, Jill Stein and Donald Trump's military advisor Michael Flynn attending dinner for RT, Putin's propaganda arm. pic.twitter.com/J97YjqxtRW

— Zachary Fedell (@zatchry) August 6, 2016
Photo: #Flynn giving Putin a standing ovation-Putin paid Flynn & son to be there #FireFlynn#cnn #msnbc #AuditTheVote #obama #diversity pic.twitter.com/xOCO9QZiKM

— Scott Dworkin (@funder) November 18, 2016
This is a picture of National Security Adviser Michael Flynn sitting next to Vladimir Putin in 2014. pic.twitter.com/IgGSA8Kqck

— Nate Schenkkan (@nateschenkkan) November 18, 2016
BREAKING: Trump offers National Security Adviser post to Putin's right-hand man Lt. Gen. Michael T. Flynn #TrumpPutin pic.twitter.com/2ha5qFxDU7

— The Daily Edge (@TheDailyEdge) November 18, 2016
Trump has also retained the services of white nationalist Breitbart editor Stephen Bannon, who decried the number of "Asians" running Silicon Valley companies, and son-in-law Jared Kushner, who is for all intents and purposes a political cipher. 
In another example of, "it's 2016", George Takei, of Star Trek fame is a survivor of the WW2-era Japanese-American internment camps. He is forced in this day and age to explain why it is again that registration and internment of people in the United States is a bad idea and unconstitutional. 
Meanwhile, Trump holds a meeting with the Japanese Prime Minister and his daughter, who holds no official post or position and helps run his businesses, is present. The polite New York Times says this, "raises questions", but they're pretty critical questions not dissimilar to issues surrounding, e.g., unsecured in-home email servers. 
Anyone present for such a conversation between two heads of state should, at a minimum, have security clearance, Ms. Whelan said, and should also be an expert in Japanese affairs. "Meeting of two heads of state is never an informal occurrence," Ms. Whelan said. "Even a casual mention or a nod of agreement or an assertion left unchallenged can be interpreted in different ways."
Also, while many argue over whether the cast of Hamilton was rude or kind to Vice President-elect Mike Pence, who stands ready to assume the office once occupied by thin-skinned murderer Aaron Burr, Trump stands to personally profit from diplomats seeking to ingratiate themselves to him by staying at his hotels. Trump settled the class-action fraud lawsuits and the one brought by Attorney General Schneiderman by agreeing to pay $25 million. Fraud — imagine if Hillary Clinton was similarly situated. We still have no tax returns from Donald Trump — no transparency. He has not divested himself from his holdings in any meaningful way, and the conflicts of interest are myriad, serious, and un-addressed. We have the beginnings of a Putinesque kleptocracy previously unfathomed in the US. 
I don't see anything being made "great" so far. Only very serious problems.