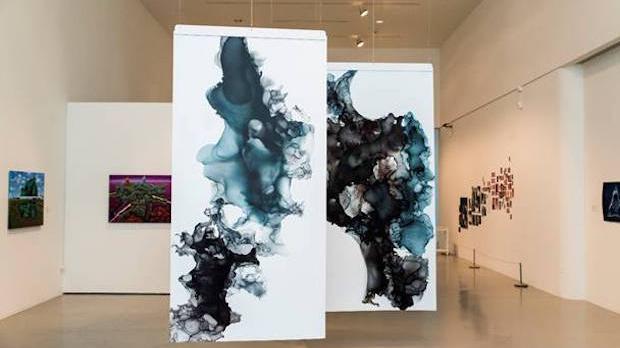 Stay Gold: A Community Art Party
[ART PARTY] The December installment of the monthly Second Friday series at the Burchfield Penney Art Center is a celebration of 10 years in the institution's current building, which has greatly expanded its role in cultivating, collecting, presenting, and promoting the work of regional artists. Stay Gold, which takes place on Friday, December 14, is a blockbuster: There's music in the reception area (Frontstreet Men, the inimitable Curtis Lovell, the Brothers Blue, Travi$ Twin) and in the East Gallery (Kokoneetz a.k.a. Andrew Kothen, Hop Hop, Space Cubs). And there are installations throughout the gallery by Markenzy Caesar, Debra Eck, Bianca McGraw, Jose Rodriguez, Siegel/Sonnenberg, Darya Warner, Joshua With, Xiao Yang (whose artwork is pictured above), Angelina and Ari Matteliano, Brian Milbrand and Holly Johnson, and Eclectric Oil and Light. The gift shop will be open too, naturally, which means you can enjoy the spectacular display of local creative talent and get some holiday shopping done in one lovely evening. The party runs 5:30-10pm and admission to the galleries is free all day long.
When:
We're sorry, this event has already taken place!
Where: