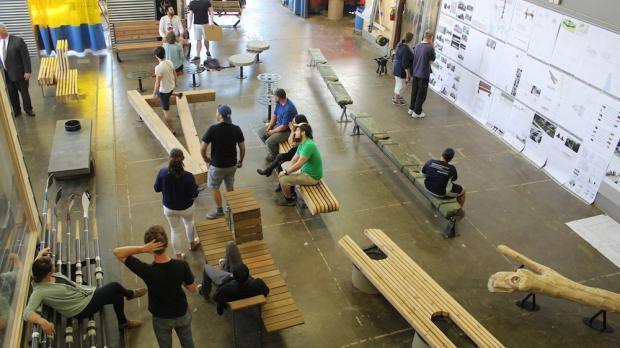 Buffalo Benches Project at Gallery 164
Gallery 164, the multidisciplinary artspace at 164 Allen Street that is run by architect Brad Wales and dancer Beth Elkins Wales, has been quiet for a couple years. (Quiet is the wrong word, perhaps: Brad Wales runs his architecture practice out of the space, and there are too many renovations ongoing to call the place quiet.) But it's back into the swing of things this Thursday, December 8, when it will open 7-9pm for an exhibition showcasing the work of Wales's students in UB's Small Built Works Program, which for 15 years has been been a conduit for direct interaction between students in UB's School of Architecture and Planning and city neighborhoods. Over the years Wales's students have populated Allentown with elegant bus shelters and bike racks; renovated El Museo Gallery; built the Burchfield Penney's Front Yard installation; built a granite monument to Frederick Law Olmsted; and much more.
The current crop of students have been working on designing, fabricating, and installing more than 20 artistic public benches in the city's historic First Ward neighborhood. The designs take inspiration from the neighborhood—from the Buffalo River and its industrial and recreational uses, from surrounding architecture, etc. Helping them to shepherd the project to fruition has been the Old First Ward Community Center; they've also had a surprising degree of governmental cooperation, in an era when governments tend to regard public benches as nuisances and liabilities to be removed rather than encouraged and maintained.
Thursday evening's exhibition is a chance to see some of the fabricated designs, learn about the project, and to help the students in their final push to get them installed in the neighborhood for which they were made. It's also a great chance to welcome back an art venue that hosted spectacular events (remember Story of a Girl, The Cellphone Show, GROSS Negligence?) and encourage its organizers to keep the space programmed.
Student participants in the Buffalo Benches Project include Nick Bottiglieri, Dylan Burns, Stephon-Rae Jackson, Cassandra Kern, Qiong Wu, Max Collins, Matt Kreidler, Evan Schweigel, Lemma Al-Ghanem, Shaun Baranyi, Garrett Brown, Rong Chen, Evan Glickman, John Jiang, Lauren Kennedy, Emma McAneny, Ross Moretzsky, Nate Sikora, Kevin Turner, Cody Wilson, Hua Xiu Chen, Tyler Gates, Julia Hunt, Drew Marshall, TJ Mulligan, Alan Palermo, Nick Pizzonia, Traven Tong, and Max Warshaw.
Current business sponsors of the Buffalo Benches Project include Tom Saia/Iroquois Concrete, Rick Smith/Rigidized Metals, John McKendry/Hi-Temp Fabricating, Dan Bryndle/Virtual Polymer Compounds, Tim and Emily Lowrey, and Chris Kameck Enterprises.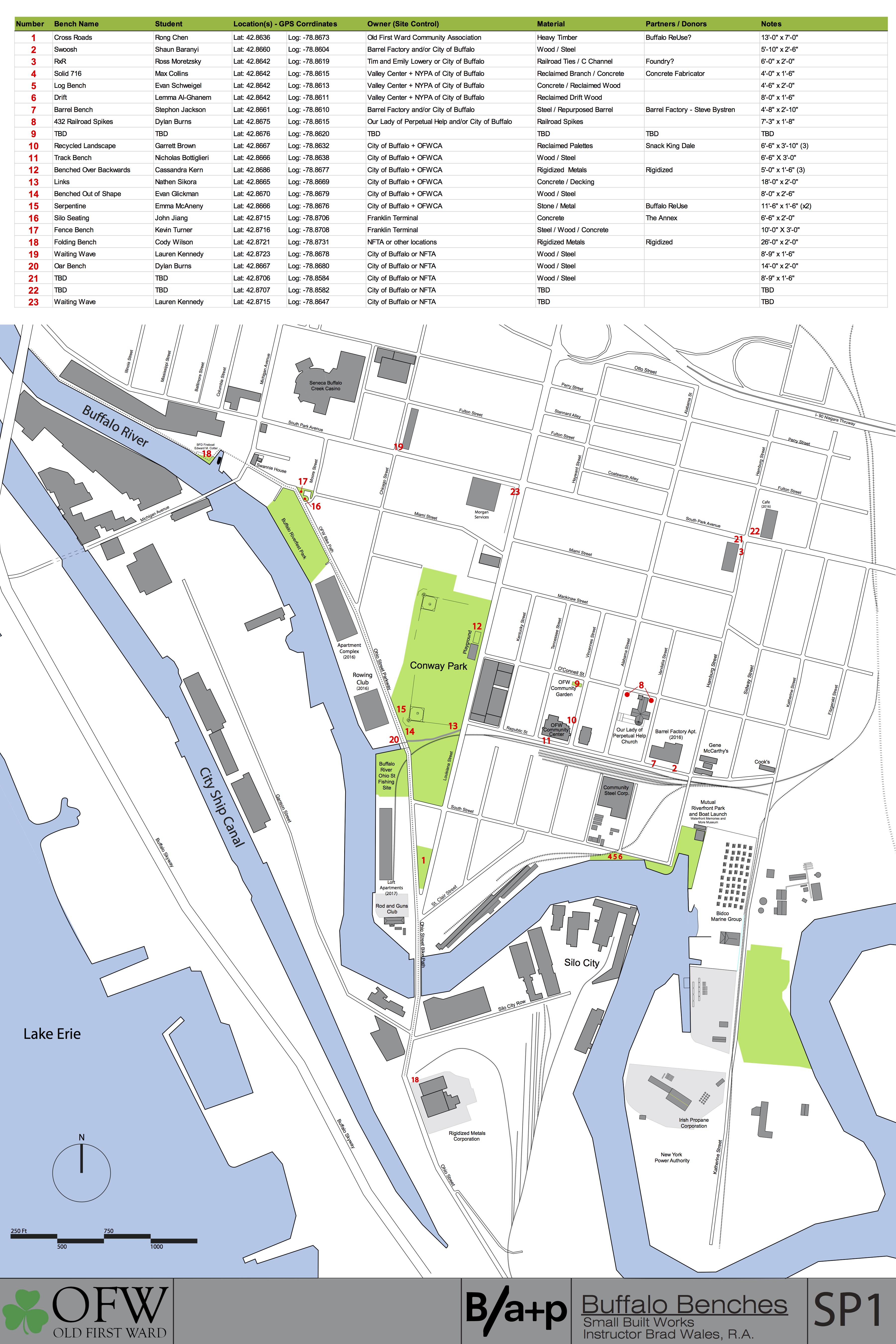 When:
We're sorry, this event has already taken place!
Where: