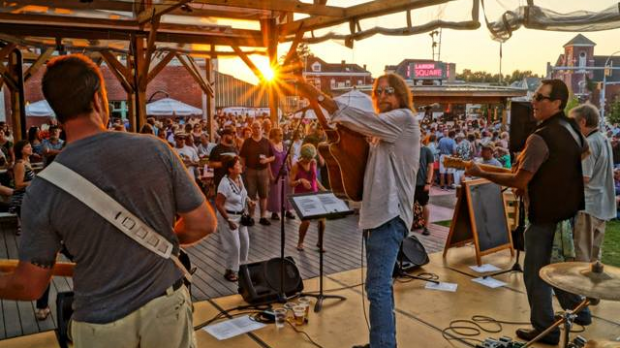 The Steam Donkeys 25th Anniversary Show
[AMERICANA] I first heard the Steam Donkeys during the holiday season of 1993. My friend B picked me up in his orange VW bus and we headed toward the Club Utica (here I make the sign of the cross, spit to the right, throw salt over my left shoulder), stopping on the way to pick up B's friend MJ, with whom he was mildly infatuated, and rightly so. The lovely MJ jumped into the front seat and picked up the record album B had bought her at a thrift store as a Christmas present. Then she looked into the cold, dark back of the bus, to which I had repaired to make room for her, and she said, "Who is that back there?" Taking a cue from the title of the record album, I said, "I'm the Spirit of Christmas." She'd hoped to go home that night with a dark-haired Eastern European woman but she got me instead. We lived together nearly two years, until she left me for a handsome lawyer, which, even in my heartbreak, seemed at the time a sound decision. My point is this: There's something special about rock shows in the holiday season, especially in Buffalo, where the weather is appropriate, quickening, and memories are long. The fabulous Steam Donkeys celebrate their 25th year as a band—and thus a quarter century as our city's finest example of the genre that was just barely beginning to be called Americana when they started—this Friday, November 25, at the Sportsmen's Tavern, which is like the Club Utica but bigger, better, and cleaner. The date also marks 40 years to the day since the Band's Last Waltz, a fact to which the Donkeys are hip. Expect homage to that auspicious anniversary in the form of special guest stars. The band will have a new single for sale—freshly recorded on Halloween—and the show will be recorded for a video to accompany the new songs. This will be a show for the ages, folks. You might fall in love. Your heart might be broken. You might walk home under the moon and the stars, in the brisk holiday air, thanking whomever, every goddamned thing, that you're alive right now. I did that night. My first waltz with the Steam Donkeys.
When:
We're sorry, this event has already taken place!
Where: