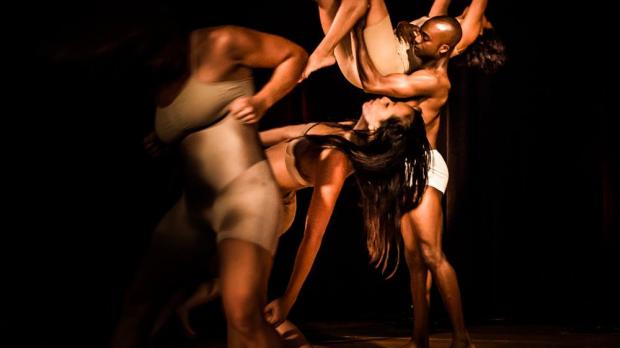 Gallery Dances at Burchfield Penney Art Center
[DANCE] "Gallery Dances" is a four-day event of professional dance, being presented at the Burchfield Penney Center from November 10-13, curated by Jon Lehrer of Buffalo's own Lehrer Dance. Each day has its own specific theme or showcases a renowned dance company or choreographer from the Queen City, helping expose the diversity of our dance scene to its residents.
Kicking off the event on Friday, November 10 at 7 p.m. is "Cultural Dance Night" featuring five of Buffalo's cultural dance groups, including Amor and Heritage with MarCe Zerrate, Mackenzie "Eirene" Lynch, Slyboots with Griffin Brady, Ballroom Revolution with Lihann Jones, and Devi Bollywood Dance with Gaitrie Devi. Each group will offer a glimpse into their specific styles by educating, but also entertaining the audience through performance, lecture and video.
Lynch's piece is an exploration of Egypt's Golden Age, which began in the 1930s and continued into the 1960s. The presentation will exemplify how western influences shaped what society now recognizes as modern day belly dance.
"This period was a time of transition, as every aspect of the dance became noticeably more sleek and stylized for movies and for the stage," Lynch said. "The musicians and dancers of the Golden Age are household names in Egypt, and forever left their mark on future generations of dancers.
Film footage of the Golden Age's most prominent dancers will be shown as their influence on the dance is discussed. Lynch will perform two essential parts of a modern Egyptian belly dance show, the first being a mejanse, followed by a drum solo accompanied by Bob Accurso.
Devi's piece titled "Behthi Nadiya," which translates to "flowing water," will showcase authentic Bollywood dance and features Devi and her dancers Natasha Perkins and Tonya Davis with guest musician Naryan Padmanabha.
"Behthi Nadiya is a representation of our lives, showing how things can start off flowing peacefully, but change so quickly," Devi said describing her piece. "Gentle flows in life are often confronted with sudden difficulties. React to it the way water does, always finding a path to a gentle flow.
Brady, who is the founder of Slyboots, will offer up "The Slyboots Circus." This showing is an interactive and inspiring performance comprised of the talented artists from the Slyboots School combining elements of traditional West African music and dance, Chinese acrobatics, contemporary dance, magic and jazz.
In addition to these performances, Zerrate from Amor and Heritage will present a colorful performance showcasing Latino history and culture through dance and music. Jones from Ballroom Revolution will also share her piece "Swing Dancing: The American Folk-Dance," a look into the development and evolution of Swing dancing in America.
"Modern Dance Night," the second night of this dance extravaganza, is on Friday, November 11, and features five works by local modern dance choreographers including ConvergeDance's Hayley Sunshine, Center Dance's Nancy Hughes, Moné Dance's Nakita Moné, Kim Vincent, and Melanie Aceto.
Hughes of Center Dance will be presenting "What's in Between," a site-specific work created in response to the architecture of the East Gallery in Burchfield Penney Art Center.
"Through the exploration of our environment we developed our performance atmosphere based on sensory switching," Hughes said.
Hughes, Courtney Barrow, Rachel Keane, Sophia Roberts and Mary Sullivan will perform the piece with music composed by David Adamczyk.
Moné will be presenting her work "In Our Rooms," a piece dedicated to those afflicted by mental health and chronic illnesses.
"To be in the East Gallery of the Burchfield Penney Art Center, which is so vulnerable and exposed relates perfectly to the texture of this piece," Moné said.
Vincent, the artistic director of Tanzen Dance Company, will be sharing her piece "Innate Effort," which highlights internal struggles we all face, some more severe than others.
"The Gallery Dances event is going to be amazing," Vincent said. "This is an opportunity for professional dancers and choreographers to show their work and get dance out there and keep the community knowledgeable about upcoming dance works."
ConvergeDance's Sunshine will be showcasing the piece "In Orbit," which was choreographed specifically for the Burchfield Penney Art Center space and is a collaborative effort of all the dancers included in the piece.
Aceto will premiere the work "Couplet," choreographed and danced by her and Phil Wackerfuss. She will also perform two other pieces with music composed by Caroline Mallonnée.
The third night of the event, on Saturday, November 12, will be taken over by Lehrer Dance in collaboration with video artist Nate Benson and visual artist Claudia Carballada. Together they will create an intimate and unique multimedia experience in the Burchfield auditorium while showcasing the dance company's renowned repertoire.
On the last night of "Gallery Dances," on Sunday November 13, "Elaine Gardner: Buffalo's Ambassador of Contemporary Dance" will feature Gardner herself explaining her own development as an artist and thinker through photos and video excerpts from throughout her career. Gardner has also invited Roman dancer-choreographer Benedetta Capanna, who will perform a solo, in which choreography was contributed by both of them.
Admission to each night, except for Saturday, of "Gallery Dances" is free with regular gallery admission.  Saturday's performance will cost $20 for non-gallery members, $10 for members and $5 for students with identification.
When:
We're sorry, this event has already taken place!
Where: