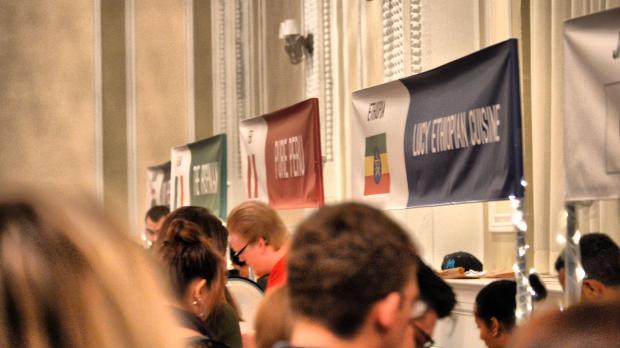 Buffalo Without Borders
[FOOD] The meaning of the word "melting pot" gets lost in translation. Some think a melting pot means assimilation, others think it is meant to celebrate the diversity of the country we live in. According to Google, melting pot means "a place where different peoples, styles, theories, etc., are mixed together." By definition, Buffalo will bring this word to life at the International Institute of Buffalo's (IIB) annual event, Buffalo Without Borders.
The event will be held at the Hotel at the Lafayette on Thursday, November 3. Buffalonians will get the chance to celebrate the diversity in Western New York at what IIB's Executive Director Eva Hassett calls "a big street party."
"It is a microcosm of the community, giving people a good chance to meet others they may not have had the opportunity to meet," said Adair Saviola, the Director of Development and Communications at IIB.
A plethora of ethnic restaurants will show off their culture through food. There will be a souk–a marketplace with handmade crafts from around the world–and plenty of entertainers, including a sitar player and Bollywood dancers.
BWB started roughly seven years ago, when Hassett felt that the IIB should be "raising awareness about the amazing populations that were making Buffalo their home through the work IIB does."
"I had been able to meet a few clients, experience their stories and a bit of their culture, and it changed me for the better. I wanted as many people as possible to have that experience and to see how the new American population was changing Buffalo for the better," she said.
At the time, the IIB had an influx of Burmese clients, so the event was initially dubbed "Buffalo meets Burma." The following year, they expanded the event to include more cultures and changed the name. Hassett expressed her gratitude for the sponsors, and said they are the real reason this event happens.
The IIB is one of the four resettlement agencies in Buffalo. They help refugees find housing, jobs, and align them with social services. 
When:
We're sorry, this event has already taken place!
Where: