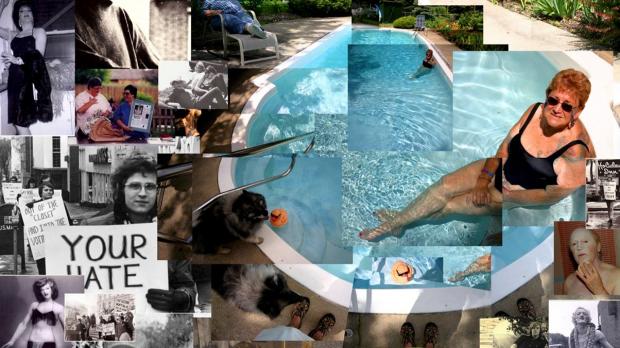 Swimming with Lesbians presented by LGBTQ History Project
[SCREENING] When I think of the history of the LGBTQ community, my mind immediately goes to the Stonewall Riots. I have been guilty of bypassing milestones that happened in my own city –Buffalo– and I doubt I am the only one.
I'm reminded of our rich LGBTQ history at a loud and crowded Sweetness 7, the same day the cafe temporarily transformed into the iconic Luke's Diner, with all the flannel and free coffee your heart desires. I'm sitting with Adrienne Hill of the Buffalo LGBTQ History Project, a new organization that focuses on telling the stories of LGBTQ people in Buffalo.
"We want to tell the stories that people may not have access to," she said. "If we don't think of [these stories] as worthwhile, we won't study what is being done here, and we won't have a story that explains to future generations how you survive and thrive as an LGBTQ person in a smaller city or town."
The project began after Hill explored the human sexuality archives at Cornell University in Ithaca. Sitting in a sunless room, delving through old papers, she was inspired by the documents and would share the information via Facebook. Through the collaborative idea between Hill and her friend, Bridge Rauch of No Labels Clothing Cooperative, came the birth of a collective focusing on the histories of LGBTQ people in Buffalo.
The project boasts committees that focus on LGBTQ people of color, refugees, and immigrants. "We have a large African American community and refugee and immigrant community with their own stories of LGBTQ identity. That diversity is not yet reflected in the archives," Hill said.
One of the first upcoming endeavors for the project will be the screening of the locally focused documentary, Swimming with Lesbians on Tuesday, October 18 at Hallwalls. This documentary follows local activist, Madeline Davis, as she tries to create what we now know as the Madeline Davis Archives: an LGBTQ archive of Western New York available at SUNY Buffalo State. Davis is known for being a founding member of one of the first gay rights organization in Western New York, the Mattachine Society of the Niagara Frontier. Following the documentary, there will be a panel discussion featuring Davis herself as well as another notable and significant activist in Buffalo – Camille Hopkins.
Hopkins is the first person to openly transition and come out as a transgender woman at Buffalo City Hall. Hopkins was a crucial factor in the passage of a "Gender Identity and Expression" anti-discrimination amendment for the city in 2002. She also played a large role in the City's Fair Housing Ordinance in 2006, having been a victim of discrimination herself when she was evicted from her home for being transgender.
Along with Hopkins and Davis, Dan DiLandro, the curator of Madeline Davis GLBT Archives, will be participating on the panel. Although the event is free and open to the public, they will be accepting $5 donations. To get involved with the project, you can contact Hill at bflolgbtqhistory@gmail.com. 
When:
We're sorry, this event has already taken place!
Where: