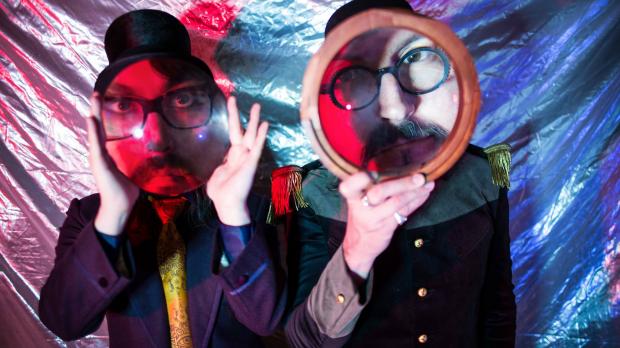 Claypool Lennon Delirium
[PSYCHADELIC] Two strange worlds collide in the multi-colored sonic universe of Claypool Lennon Delirium. The duo comprised of Sean Lennon and Les Claypool of Primus formed while the pair were touring last year, both playing in separate acts. Like the spawn of many legends, Lennon doesn't have to do anything to live comfortably. The 41-year-old son of John Lennon and Yoko Ono has spent years dabbling in the underground and indie music scene, collaborating with countless artists and starting his own record label. Lennon doesn't aim to capitalize on his pursuits; rather, he takes on projects that inspire him. Claypool inspires him. As mentioned, these guys have only been together for about a year. Nonetheless, their chemistry on their debut album, Monolith of Phobos sounds like a blossoming bro-mance. Both excellent musicians, Lennon is a whizz on guitar with a keen capacity for seamlessly shifting between subdued jazz to psych-rock overload, and Claypool—who is known for his goofy playing style—is a remarkable bassist with a truly unique tone. Lennon's gentle vocals anchor songs like "Mr. Wright," but Claypool is not to be missed. As usual, the bassist refuses to let his instrument serve as merely the rhythmic foundation of any given tune. Catch the Claypool Lennon Delerium on Thursday, August 25 at Canalside. 
When:
We're sorry, this event has already taken place!
Where: