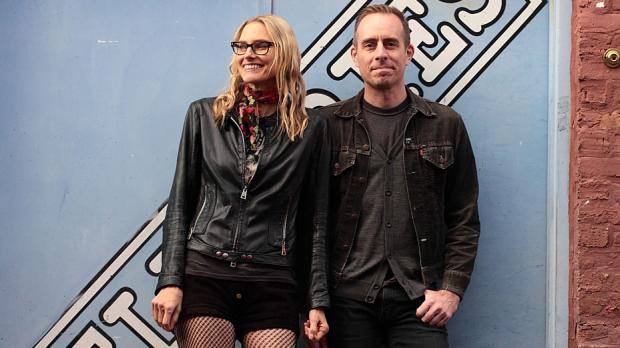 The Both
[INDIE] "It's always slightly frustrating," says Ted Leo, frontman of Ted Leo & the Pharmacists, Chisel, and most recently one half of the Both with singer/songwriter Aimee Mann. "People will say like, 'You're the punk guy!' and [Aimee] 'You're the singer and songwriter.' And Aimee is punk in her own way. She has a history of playing crappy clubs in Boston in her new wave art punk band before 'Til Tuesday and starting her own record label."
In nearly every article about the Both, who released their first album in 2014 on Mann's SuperEgo Records, they are described as an unlikely pairing. "While I totally understand that in order to describe something, you need to wrap it up and put a little bow on it, it doesn't really tell you what's inside—the whole story of what's inside the box. I didn't just start writing songs in which I sing softly yesterday and Aimee didn't just start writing songs that have a monstrous fuzz bass yesterday. The fact is, our music separately is a lot more diverse than I think either of us tend to get credit for," says Leo.
The Both was born during a 2012 tour when Mann was promoting her album Chamer, with Leo opening. Their Twitter conversations became the platform to talk about a collaboration, naming it #Both. Says Leo, "It was right before that year of hashtaging things in real life became completely insufferable. We realize it's dumb, but it was dumb and funny to us and it doesn't always necessarily translate. We have a twin secret language sometimes. For a while we were like 'Put a hashtag on it!'" Mann added, "We realized it was going to get pretty old because it was too in the parlance; it was too in the moment."
And so, #Both became the Both. They formed a true collaboration. They wrote together, borrowed from each other in ways that Leo says "might have seemed a little more off limits." Mann was encouraged to use Leo's fearlessness and bold songwriting, and Leo was able to ground himself and focus. While Leo and Mann have had long careers in music, Leo states that, "There's a lot of overlap there already that it works in complementary ways, as opposed to complete melding."
Early on in their performing career, the Both was given the opportunity to perform on NPR's Tiny Desk series. "We were really nervous!" says Mann. "It seemed like a really important thing. A lot was riding on it. As you set up, people start to gather, so you feel like, 'I need to practice.' It's very strange," she says. Leo adds, "What you may be gathering from this conversation is that neither of us are the type of artists that can just stroll in and be like, 'Here I am!' We have a lot of unnecessary shame and fear."
Mann also recalled her performance on the cult television series, Portlandia: "The idea for that experience sprung out of something that happened to Carrie [Brownstein] when she hired a cleaning service and the person who showed up was a singer in a band she was a fan of. And that was so weird, so I think that's what made them think of me, that I could play that part."
Both Mann and Leo are looking forward to playing Buffalo in the summer season. The handful of times that Leo has played Buffalo have been during a blizzard or snowstorm, he says. Still, he calls Buffalo "a solid place for punk shows." The Both will perform on Friday, August 14 at the Tralf Music Hall in Buffalo. And feel free to tweet @aimeemann and @tedleo with vegan-friendly restaurant recommendations.
When:
We're sorry, this event has already taken place!
Where: