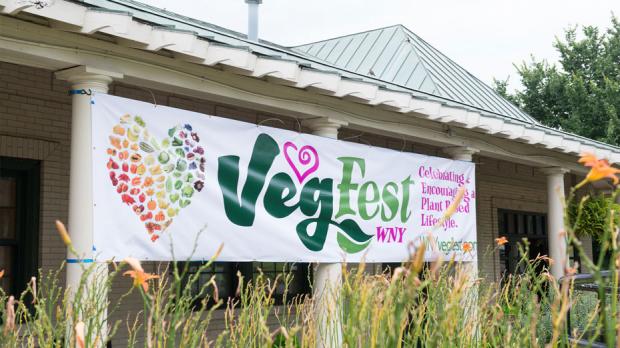 Veg Fest
[FOOD] When VegFest founder and co-founder, Albert Brown and Sara Rogers, were discussing venues for the upcoming event, they were met with many great options. They looked at Canalside, along with some other sites, but found that Delaware Park really had everything they were looking for. With the natural beauty of the park as its backdrop, it made sense to hold a large-scale plant-based event there. "It had a lot of what we were looking for, plus it's a historic site and a lot of people describe it as the heart of Buffalo," said Brown. Delaware Park has it all: a great natural terrain for runners, allowing the 5K to be held on site and away from traffic, great facilities, plenty of room, and a stage for the various performers.
With a focus on performances, workshops, and activities for children, VegFest has expanded to include more of what people enjoyed most last year. There will be more dancing, martial arts demonstrations, and silk aerial artists will be performing shows for adults and children. Additionally, the puppets will be back, as they were an exceptionally well attended showcase last year.
Let's not forget the food. Brown said he is especially excited for Taste of Thai, his favorite Buffalo Thai restaurant. Veg-friendly local restaurants will be represented, serving up their most popular plant-based fare, including Allentown Pizza, Merge, Amy's Truck, and Wheatberry's Bake Shop, among dozens of other vendors. Wellness vendors will be on display, as well, with a focus on natural ways of maintaining a balanced wellbeing. Fest attendees can expect to see yoga practitioners, chiropractors, fitness specialists, and health food shops.
WNY VegFest hosts the largest Tofurky Trot in the country, and the only one of its kind on the East Coast. Rogers states that last year people who registered the day-of came from 10 different states. Runners are encouraged to dress up and bring friendly four-legged running buddies. The entire community is invited to attend the festivities on Sunday, August 2. "We're not trying to just hang out with our vegan friends," said Brown. "We are trying to get a message to those who have not yet seen the benefits of this lifestyle and the only way to do that is through kindness, respect, humility, and inviting them to a party!" Festivities will be held at the Marcy Casino & Rose Garden in Delaware Park from 10am until 6pm. VegFest is free and open to the public. All proceeds will go to Asha Farm Sanctuary. Food Not Bombs will be accepting vegan food donations. Runner registration will take place beginning at 9:30am. More information about WNY VegFest and the Tofurky Trot can be found at www.wnyvegfest.com.
When:
We're sorry, this event has already taken place!