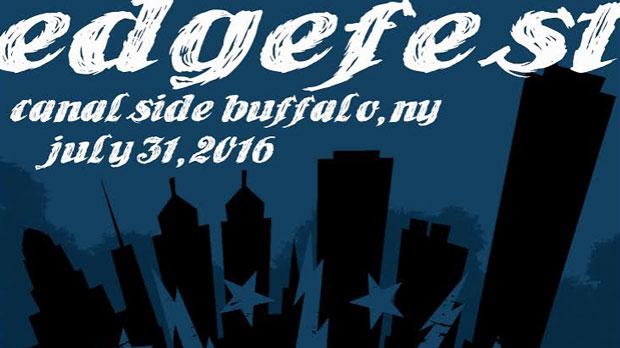 Edgefest 2016
[ROCK] 103.3 the Edge has been an essential part of the Buffalo airwaves for over two decades now, and their annual Edgefest concert is a crucial part of that. "It's such a Buffalo show. You couldn't stick this lineup in Dallas, Texas. You couldn't stick this show in Boston. You couldn't stick this show in D.C. and have it mean something to everybody," says programming director for WEDG and on air personality, James Kurdziel. Unique to this year's show is a new venue for the concert. "Our attendees gave us advice that they don't like the Outer Harbor, but they like the Inner Harbor," says Mike Battaglia, the station's promotions director. He also went on to say Canalside is "the place to be," in reference to the atmosphere and events that take place there, but also it's accessibility for those who attend. Below, we've got a run down of each band playing this year's Edgefest—presented by Funtime and Afterdark—this Sunday, July 31.
---
 DEFTONES 

Deftones are no stranger to what 103.3 refers to as "the summer of rock." Having played Darien Lake last summer, this Sacramento metal group, has been consistently putting out hits since the late 1990s. "There's the case of the Deftones where they weren't really doing much this summer, they were just kind of around listening to offers. They've got the new stuff and we really wanted them," said Kurdziel who makes reference to Gore, which has been continuing the band's string of chart topping songs.
---
 CITY AND COLOR 
Of the two co-headliners, Kurdziel says "before we had Deftones, we had City and Colour locked in, and we thought 'are Deftones and City and Colour going to be able to play together?' and it was City and Colour who came to us and said 'fuck yeah, we'll play with the Deftones!' Then Deftones came back and said 'fuck yeah, we'll play with City and Colour!'" Dallas Green is a rare breed in today's music scene, being able to do two radically different projects, and making both of them work excellently. City and Colour's folky, yet equally-as-rocking setlist is going to be a highlight of what will certainly be an eclectic Edgefest.
---
 SAM ROBERTS BAND 
Continuing the Canadian trifecta started by City and Colour, and completed by Tokyo Police Club, Sam Roberts Band is a melodic force to be reckoned with. Having some of the catchiest, toe tapping songs of the past 15 years, Sam Roberts is no stranger to success. His debut album, 2001's The Inhuman Condition, was one of the best selling independent releases in Canadian history.
---
 JOYWAVE 

Joywave is the closest thing this year's lineup has to a hometown band. "They hit us up, saying 'hey, we're going to be home a lot of July,'" says Kurdziel, referencing Joywave's hometown of Rochester. Their electronic alternative sounds have already allowed this band entry to national exposure, with their song "Tongues" appearing in commercials, "Destruction" being featured in the Madden '16 video game, and all of the above (and then some) being played on 103.3.
---
 TOKYO POLICE CLUB 
Tokyo Police Club should be no strangers to music fans in the Buffalo area. Having played here many times, this trip marks the first time they will be on the Edgefest lineup. Their newest single "Not My Girl" from the brilliantly titled, Mellon Collie and the Infinite Radness: Part One is a favorite of 103.3 listeners, and will surely evoke a huge reaction from Edgefest attendees.
---
 THE JOY FORMIDABLE 

The intercontinental influence of the Joy Formidable is next up on the Edgefest lineup. Their latest single "The Last Thing On My Mind" received heavy airplay from 103.3 the Edge, and for good reason. The shoegazing sounds of Joy Formidable's set will keep Canalside jumping from start to finish.
---
 HOLY WHITE HOUNDS 

Holy White Hounds round out this year's stellar lineup. Releasing their debut EP in 2014, Holy White Hounds have made an impressive dent in the Buffalo area. Their song "Switchblade" is one of the Edge's most requested songs, and their show at the Waiting Room in May was deemed an instant classic by all those who attended.
When:
We're sorry, this event has already taken place!
Where: