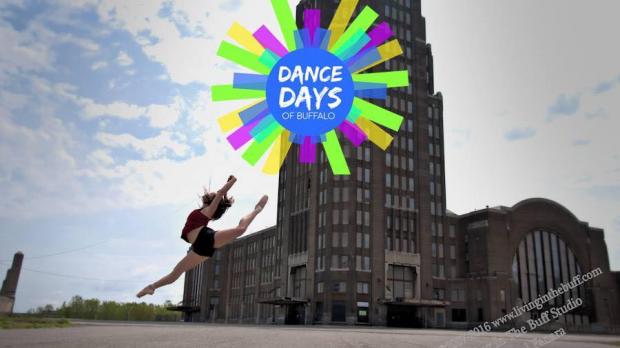 Dance Days of Buffalo
[DANCE] Buffalo's very own three-day dance festival, Dance Days of Buffalo, is returning for its second year and will take place Friday, August 4 through Sunday, August 6. During these three fun-filled days of dance, the festival will be welcoming local and out-of-town artists to share their knowledge of dance with participants. Each day festivalgoers will enjoy a wide range of classes, along with special performances.
"We took into account our participant data from last year and we listened," said Dance Days of Buffalo founder Jessica Moore. "We're bringing back the teachers with the highest attendance from last year, and creating a rotating schedule to give returning participants a fresh experience. We also changed the format of our performances to allow more community involvement."
Once again the festival will offer a diverse assortment of classes of many dance styles, including Bollywood, contemporary, ballet, musical theatre, Bharantanyam, burlesque, hip-hop, modern, jazz, belly dance, salsa, Irish dance, West African dance, tap, Argentine tango, funk, dancehall, West coast swing, and more.
While there are plenty of movement-based classes to take part in throughout the festival, there are also some informational classes happening throughout the festival, such as an "Essential Oils Workshop" with Danielle Cofta, "Fueling Your Dance Through Nutrition" with Amy Shults, "Navigating the Professional Dance Landscape," with Ellen Shadle, and "Grants and Funding for Artists" with the Arts Service Initiative WNY. Moore will also be holding her own "Dance Community Roundtable" to gather people within the community to discuss the current state of dance in the Buffalo area and how local residents can work together to improve its reach.
Some classes will involve both informative and movement aspects. "The Revolutionary Act of Self-Care" with Courtney Barrow will present participants with somatic-inspired exercises, allow them to explore improvisational movement, and teach them to connect with their bodies through movement, breath, deep listening, and play. Rachel Keane will be instructing two classes, "Choreographic Devices" and "Down & Out: A Practical Guide to Crashing & Burning." While these classes will be movement-based, they will also inform dancers, giving them guidance on how to construct their own choreography and think about dance in alternative ways.
One of the newest and highly anticipated additions to this year's schedule is a class taught by esteemed Buffalo choreographer Jon Lehrer followed by a Q&A session. Lehrer is known for his athletic and artistic style of modern dance, which often incorporates several other dance styles.  
The first day of the festival (Friday, August 4) will conclude with the Contemporary Choreographers Showcase, which will be an evening of contemporary works presented by local and guest choreographers. This event will run from 8pm to 9:30pm. The second night of the festival (Saturday, August 5) will end with the performance "Domba to the Dougie," which is a collaboration with the African American Cultural Center from 8pm to 9pm. This performance delves into the evolution of African American social dance forms, such as the Charleston, Lindy Hop, The Twist, breakdancing, and more. Both of these special events at the end of Friday and Saturday are open to the public (meaning you don't have to buy a festival pass to get in). Admission for these events is $15 for adults, $10 for students and seniors, and free for kids under 12.
The last day of festival (Sunday, August 6) will include a salsa lesson with Baila Salsa followed by a pizza party from 6pm to 8pm. This event is free and open to festival participants and the public.
A three-day pass for Dance Days of Buffalo is $155 and single day passes are $55 per day. Passes for the festival can be purchased at the Dance Days of Buffalo official website (http://www.dancedaysofbuffalo.com/). All classes (for ages 16 and up) and performances (for all ages) during the festival will take place at Tapestry Charter School at 65 Great Arrow Ave.