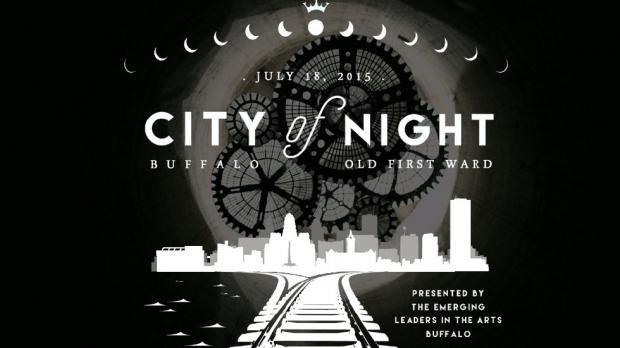 City of Night
[ART] Since 2010, Buffalonians have been able to look forward to this magical summer night at Silo City where dozens upon dozens of artists, musicians, and vendors set up their wares and equipment, transforming the desolate grain elevators into an otherworldly complex of light shows, art, music, and street grub. With a shift in location to the Old First Ward—where for the past year organizers and artists have been working with local residents to inject a new level of neighborhood awareness—this year's City of Night will be no exception. "Whether it be through their stories, or personal artwork, we are trying to uplift and highlight the residents and fascinating history of this neighborhood—what the artists did before [to re-envision a space] has now shifted to paying attention to the people in the space, and how they live and work and play in that space," says organizer Marissa Lehmerman.
In addition to evoking a heightened sense of community consciousness, the new location will be able to accommodate more music performances, installations, and interactive art-pieces than its predecessor—including the brand new "Art Train," a series of installations set up within shipping containers. "The train embodies our theme of metamorphosis in its connection to the new site, its embodiment of migration and progress, and the artists' work. The installations will fill the Train with themes of transformation, struggle, and adaptation," says event organizer Tara Sasiadek. Attendees can further look forward to guided ghost tours (7pm, 10pm), a collaborative dance performance by Dangerous Beauties, roaming and spontaneous poetry with the Pure Ink Poetry Slam Team, improv comedy sessions, and much more, all intertwined into an entire night devoted to interactive expression. To say the least, the fourth annual City of Night is bound to be the talk of the summer–a spectacle-filled evening you will not want to miss out on.  
SCHEDULE OF EVENTS
(PM TIMES)
DJ Stage
6:00 – 6:45: Nate Krug
6:45 – 7:30: Pinja
7:30 – 8:15: Soma
8:15 – 8:45: Sunset Parade
8:45 – 9:30: Aerialists
9:30 – 10:00: Cove
10:00 – 10:45: N3wT
10:45 – 11:15: Midnight Parade
11:15 – 12:00: PROJEX
Amphitheather
6:00 – 6:30: Science Lion (Band)
6:45 – 7:15: Improv Explosion (drama / comedy troupe)
7:30 – 8:00: Mod Dance Company (Musical theather dance performance)
8:00 – 8:15: Owen Linders & Thom Crowley (comedy / visual art)
9:00 – 9:15: Michelle Joy (bellydance)
9:15 – 9:30: Mariah Maloney (dance)
9:45 – 10:45: Dangerous Beauties (big group of dance/burlesque performances)
10:45 – 11:15: Midnight Parade starts at Train stage and ends at DJ stage
11:15 – 11:30: Hell's Harlots (Burlesque troupe)
11:30 – 12:00: Slyboots School of Music (African Drumming troupe)
Light Garden
9:00 – 9:45: Buffalo Aerial Dance
10:00 – 10:20: Mariah Maloney
Tours / Roving Performance
7:00: Guided Ghost Tours, meet across from Light Garden by Mason Winfield
10:00: Guided Ghost Tours, meet across from Light Garden by Mason Winfield
9:00 – 9:45: Peformance by Franklin LaVoie/Church
8:15 – 8:45: Sunset Parade starts at DJ stage and ends at Train stage
TBA
Ryan "Eagle" Gallagher (Parkour)
Jim Caughill / (percussion)
Acroyoga (dance/yoga/acrobatics)
The Avengers of Poetry (spoken word)
Rachel Cimerman (fire dancer)
Laura Jean Castelluzzo (dance)
Map: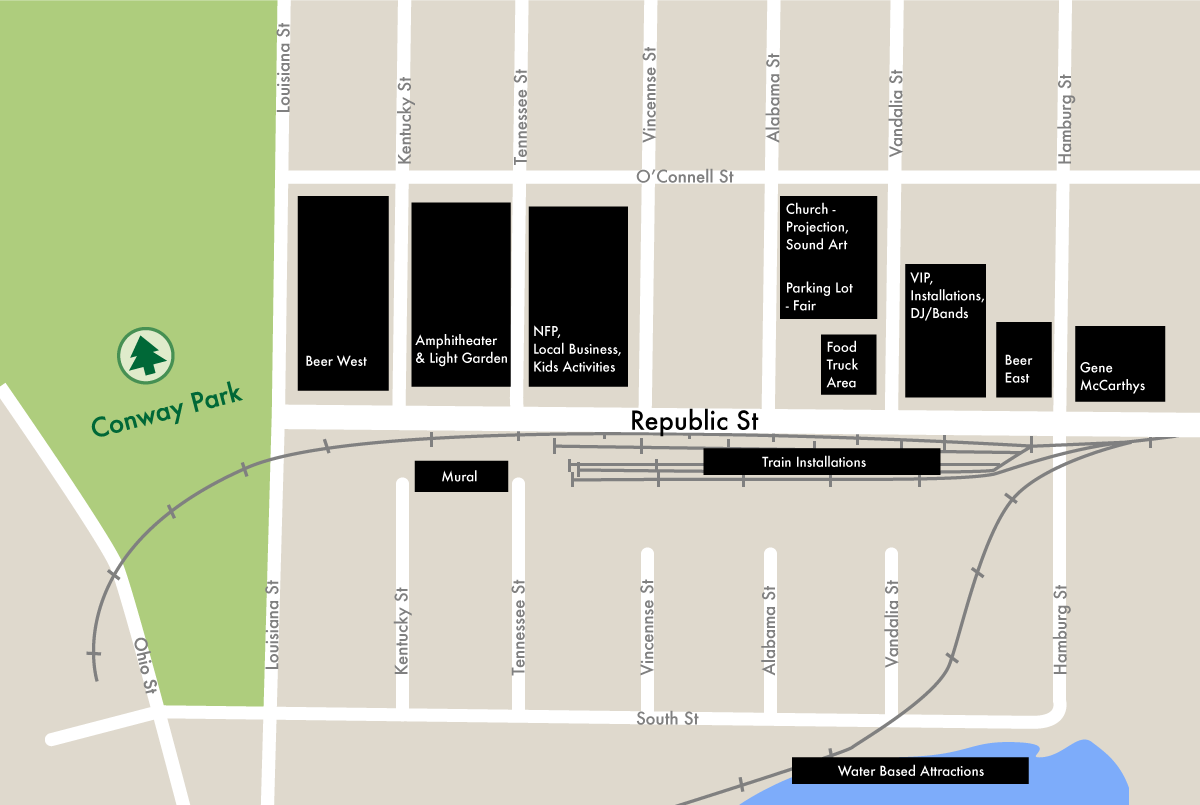 When:
We're sorry, this event has already taken place!
Where: