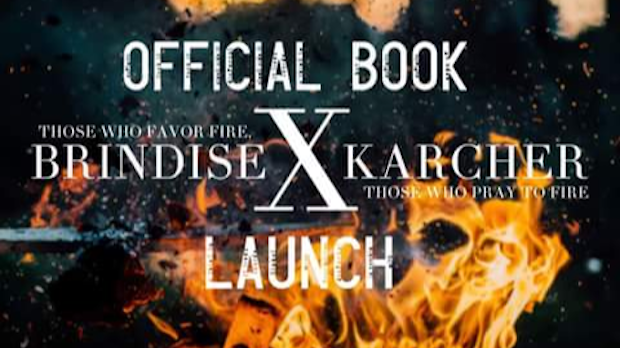 Those Who Favor Fire, Those Who Pray To Fire
[LIT] It's precious to remove yourself from the world and wander with no purpose throughout the streets of Buffalo. Being emblematic of a passionate voyager who vigorously writes about their encounters and thoughts that erupt from strolling through the city in the night is vivacious. 
Most of us can relate. Those rowdy nights at dive bars, a rustic city full of excessive drinking and bad decisions, a saunter mind fighting racing thoughts.  If you haven't experienced what I'm talking about, you can vicariously through the works of playwright and poet Justin Karcher and teaching artist and spoken word poet Ben Brindise in their book "Those Who Favor Fire, Those Who Pray To Fire."
This Saturday from 6:30pm-8:30pm, the official book launch for this full-length collection of poetry will be held at Resurgence Brewing Company.  
If I were to jump into Dante's Inferno and walk through each circle of hell, I would jump back out with "Those Who Favor Fire, Those Who Pray To Fire" clutched tightly against my chest. A biography of tormented souls, "Those Who Favor Fire, Those Who Pray To Fire" is a brutal truth of what it's like to drink your toxicity away and emerge as a new person with the pieces glued back together. The streets Karcher and Brindise walk you through are paved with gluttony, lit by lust, and will lead you to limbo. It's like the black hole you want to swallow you. 
The Karcher and Brindise you'll experience at the book launch won't be the same gentlemen who wrote the book back in 2017. According to Brindise, both he and Karcher underwent changes since writing the book. 
"Each part has a certain amount of psychosis, psychosis being recognized, then handled in a hopefully productive way," Brindise said. 
The book encompasses the day-to-day stride in Buffalo, focusing on the mundane and the exciting, dabbled ever so slightly with politics and F. Scott Fitzgerald. It's a rollercoaster through the life of two poets.
"It was very influenced by the hopelessness of our political climate and an attempt to find a place in that, and how to do something about it. It's paralleled with the fact we're flawed and may not be of any real use to anyone," Brindise said. 
Copies of the book will be available for purchase at the event. The reading begins at 7pm followed by a signing.  The event is free to attend. 
When:
We're sorry, this event has already taken place!
Where: