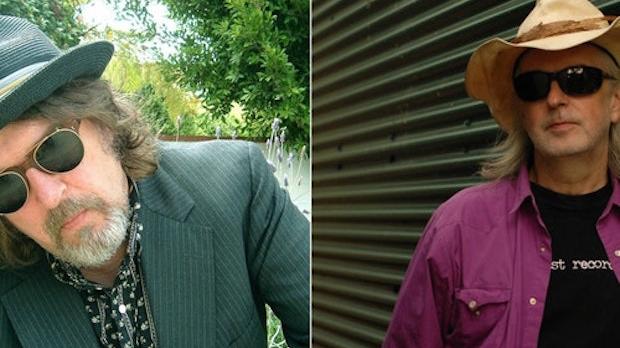 Hamburg Rocks: Peter Case, Gurf Morlix, and Friends
[AMERICANA] Peter Case lit out from Hamburg in 1973 at age 19, already a veteran of stages at local bars, for California, where he formed the Nerves and later the Plimsouls, whose hit "A Million Miles Away" made the band famous and Case, at least briefly, fairly comfortable for a kid who'd been busking and couch-surfing and hitchhiking to gigs just a couple years earlier. His solo career began in 1986, and since then Case has established himself as one of the country's finest songwriters, the sort of person about whom other musicians nod in quiet appreciation. Gurf Morlix left Hamburg a couple of years after Case, in 1975, destination Austin, Texas, where he hooked up with the legendary country music singer/songwriter Blaze Foley. From there Morlix moved to LA, where he joined Lucinda Willams's band and served as producer for a couple of her records. He went on to produce records for Slaid Cleaves (also in town this week, May 20 at the Sportsmen's Tavern), Mary Gauthier, and Robert Earl Keen, among others, all while recording his own albums, 10 of them, and establishing his own reputation as a songwriter and performer, both on stage and in studio. Case and Morlix are bona fide members of the Americana canon, and have known each other a long time, but have never shared a stage in their hometown—until now. On Friday, May 18, the Hamburg Place Theatre hosts Hamburg Rocks, featuring Case and Morlix tagether, backed by a host of local talent: Singer-songwriters Alison Pipitone and Tom Stahl open the show, with assistance from Graham Howes; Case and Morlix's best-of-the-region's best backup band comprises multi-instrumentalist Jim Whitford (also a Hambug native), guitarist Mark Winsick, and drummer Rob Lynch. This is, quite literally, a dream come true for promoter Dan Sawers and fans of roots rock and transcendent songwriting. Tickets will sell out. Get them now at purchase.tickets.com.
$17 presale, $22 at the door
When:
We're sorry, this event has already taken place!
Where: