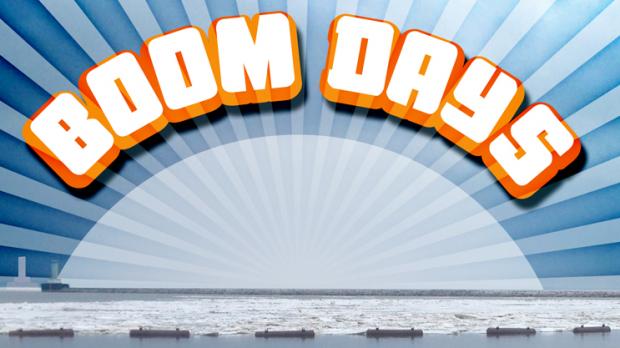 Boom Days: Celebrate Spring at Silo City
[CELEBRATION] Boom Days is a rite of spring in Western New York. The festival's name celebrates the removal of the ice boom from the Niagara River, a sure sign that winter is behind us and summer is on its way. It's the first in the region's rich schedule of outdoor festivals and showcases a site that is unique and emblematic of Buffalo's history and its future: Silo City, once at the heart of the commerce that made the region wealthy, now developing an international reputation for its re-invention as a canvas for artists, musicians, theater and film producers—for anyone, in fact, with innovative ideas. It's also a great place for a festival. This Saturday, May 7, the free, family-friendly action starts at noon with kids activities, cultural exhibits, and environmental displays. There will be live music by Susan Rozler, Doug Yeomans, Michael DiSanto, the Boomer Daddys, BloodMoney, and the Minions. There will be tours of the historic grain silos and the fireboat Edward M. Cotter, food trucks, a beer tent, a Boom Ball race (don't ask, just come and watch), a live broadcast of the Kentucky Derby on a giant LED screen…and, capping it all off, a fireworks display at 9pm. A little bit of summer is waiting for you at Silo City this Saturday. Come down and say hello. Parking available on-site for both cars and bikes. 
ON THE MAIN STAGE:
Noon-12:45pm: Susan Rozler: Mama Earth's Kitchen Show Band
1-1:45pm: Doug Yeomans: Blues to Bluegrass
3-4pm: Michael DiSanto
4:20-5:40pm: The Boomer Daddys
6-6:25pm: BloodMoney
6:25-6:45pm: The Kentucky Derby 
6:45-7:30pm: BloodMoney 2nd set
8-9pm: The Minions
AROUND THE SILOS:
Noon-6pm: Environmental & Cultural Exhibits, plus kids activities and workshops by US Fish & Wildlife and Young Audiences of WNY
Noon-3pm: Fireboat Cotter
4:30pm: Boom Balls Race on the Buffalo River
3-6pm: Explore Buffalo Tours of Silo City
9pm: FIREWORKS!
When:
We're sorry, this event has already taken place!
Where: