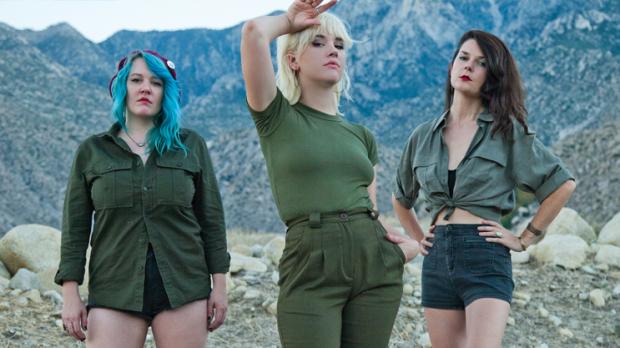 Interview: Bleached
[INDIE] Los Angeles band Bleached have returned with a brand new album, Welcome The Worms, which delves into the tumultuous times the Clavin sisters, Jessica (guitar) and Jennifer (guitar and vocals), experienced during the making of the record, and also demonstrates their ascent out of those dark places. Bassist Micayla Grace also joined in on the songwriting process this time around, while Marc Jordan offered up his talents behind the drum kit. The band will touch down in Buffalo for the first time at Mohawk Place on Monday, April 18 at 8pm. with No Parents. This week we spoke with Jessica Calvin about their new record, sharing the stage with her sister, and the psychdelic inspiration behind Welcome The Worms.
When did you and your sister start playing music?
I started playing music when my dad bought me an acoustic guitar when I was 7. The thing is it sounds like I was really young when I started, but I feel like I didn't completely continue because I was like "This is too hard." But I really wanted to do it and I would always watch my dad play guitar. But then I ended up kind of being more into the bass. Jen started playing when we were living in the valley with our parents. I was playing bass at that time and we would go see shows almost every night. Punk bands. And Jen was like "Why are we not doing a band?" And I was like "Yeah, you're right."
What was it like working with Joe Chiccarelli (Morrissey, Strokes, Elton John) and Carlos de la Garza (Paramore, Yacht) on the new album?
It was really awesome. We first met [Chiccarelli] at this restaurant Café 101 that we really like to go to and it wasn't at all to work with him. He just wanted to meet us and we wanted to meet him and get some advice from him. He gave us really great advice and we left the restaurant not knowing that we were going to end up working with him. Then the next day he was like "I want to work with these girls." Jen and I always say we felt like he was like our lost uncle. We worked a lot with Carlos De La Garza too. We got to record at Sunset Sound because of Joe and we had a good week there doing a live recording. Then we worked with Carlos at his studio out in Eagle Rock in his back house and finished up with overdubs and vocals.
I read that both you and your sister were going through turbulent times before and while making the album. Do you ultimately feel like making the album was therapeutic for you?
It totally was. I think when we started writing, Jen and I were both a mess. She had a lot of rough times she was going through. I was going through some stuff, but every day we would make an effort to meet up and write because that was the only time when we felt really good, just meeting up with each other and trying to forget about whatever is going on around us and just taking it out on our guitars.
Who came up with the title of the new album?
That was Jen. Coming up with this title was during the time of trying to figure out like "Why am I so unhappy right now? Why am I so depressed?" It was a night of her being out and doing some psychedelic drugs and it leading into the morning at like 9am and she was at Echo Park. At Echo Park there's a lot of religious pamphlets that get passed around and she found one and it said 'Welcome The Worms' and she was like "Welcome The Worms, that's crazy. What is that?" I feel like it ended up really working with what was happening. Welcome The Worms, it basically just means welcoming the dark side and embracing it almost and letting it happen and being honest and being like 'Yeah, I'm really depressed right now' and just being open. You can't get better or feel better if you're not honest with yourself, so like you said earlier it was really therapeutic to write this album and figure stuff out.
What's it like being in a band with your sister? Do you two ever fight?
No, we don't fight. We've had crazy fights in the past and we look back to those nights and it happened and it was only because someone was too drunk or someone was just not in a good place. Overall we hate when we fight because we're just so close and we just want the best for each other. We've never been, like, competitive. She's my older sister, so it's nice too to have family on the road. The band we're touring with, No Parents, there's two brothers in that band, so it's kind of like fun.
When:
We're sorry, this event has already taken place!
Where: