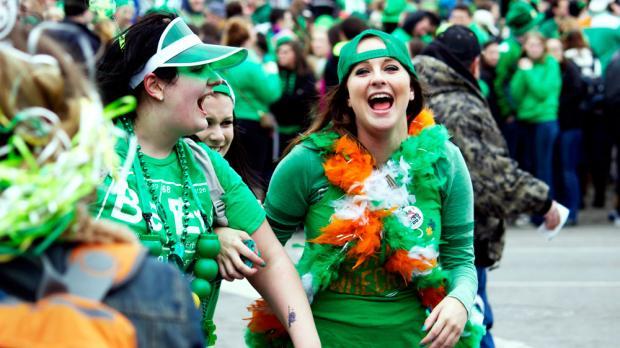 12 Things to Do St. Patrick's Day Weekend
[CELEBRATION] Most people here in Buffalo know about the two major parades; the "real" parade A.K.A. the Old Neighborhood parade in South Buffalo, and the OG parade down Delaware Avenue, which is now in its 78th year. Many don't know that there's another parade, in Lackawanna, which has taken place for almost as long—since 1946. Maybe the reason it's not as popular is because it's only 98 steps long, from Our Lady of Victory Basilica, (767 Ridge Road) to Lackawanna City Hall, (714 Ridge Road). If you're looking to expand passed the 700 block of Ridge Road for your St. Patrick's Day celebration, we've got a list of a bunch of great events to check out all through the week. 
On Friday, March 16 (or Saturday, March 17), start with dinner at Hardware Cafe in Allentown on, where they're serving up corned beef and cabbage, Irish lamb stew, and bangers and mash, as well as pints of Guinness. From there head to the Buffalo Irish Center (245 Abbott Road in South Buffalo) for their Parades Eve celebration featuring music by Crikwater, The Brothers Blue, a full-band tribute to The Cranberries by Maria Sebastian & Zak Ward along with an open Celtic seisun in the pub led by Cairde, plus dance by Rince Na Tiarna Irish Dance School. In addition, Slow Roll Buffalo will present a St. Paddy's Pedal Party, a 7-mile bike ride around South Buffalo and the original Old Neighborhood Parade route, free and open to all ages and skill levels. 
Obviously, there's a lot to do on Saturday, beginning with the Old Neighborhood St. Patrick's Day Parade, which marches through the Old First Ward starting at noon. View the parade along South Park Avenue (between Hamburg Street and Smith Street), along Smith Street (between South Park Avenue and Elk Street), along Elk Street (between Smith Street and South Park Avenue), along Hamburg Street (between South Park Avenue and O'Connell Avenue), or along O'Connell Avenue (between Hamburg Street and Louisiana Street). 
If you end up in the Elmwood Village/Allentown area after the parade there's Punk Rock St. Patrick's Day at Thin Man brewery featuring Super Tugger or St Paddy's with Phantasm, Buffalo Brass Machine and more at Nietzsche's. Craft beer lovers, should just head straight to Community Beer Works on the West Side to pick up their latest brew, Woodruff Pun Intended, a sour gose that's perfect for the holiday since looks kinda green from the woodruff—a herbaceous perennial. A little bit off the beaten path, you'll find Celtic jam band The Town Pants at Buffalo Iron Works. For late night partying, check out Club Marcella for The Green Party.
Then, on Sunday, if you honestly need another parade, there's the more mainstream United Irish American Association of Erie County Parade, which heads down Delaware Avenue at 2pm. If you're looking for a great spot to camp out for the parade, head downtown to Babeville—which is along the Delaware Avenue parade route—for  some bluegrass from The Observers, Middlmen, Kirckwater, and Catskills Mountain Boys. Then, if you're hungry for some hip hop and and corned beef and cabbage, then Duke's in Allentown is your spot because they'll have a whole bunch of DJs and a complimentary buffet full of Irish favorites. Have a safe and happy St. Patrick's Day.