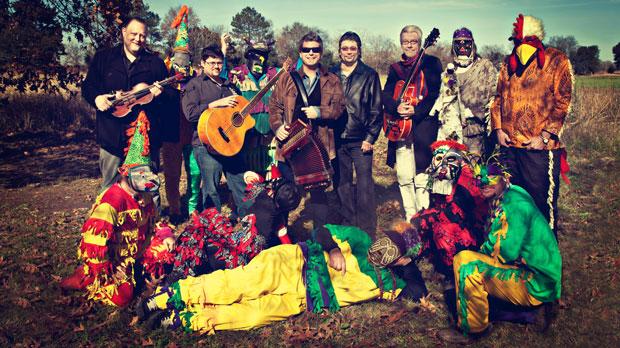 Steve Riley and the Mamou Playboys
[CAJUN] Steve Riley and the Mamou Playboys, in various iterations, have been honing their sound—rooted in the French-speaking Cajun culture of south Louisiana—since 1988. Initially hailed as a fresh young player, bandleader/accordionist Riley has matured into an ambassador for this grassroots genre. He's in several bands—in 2012 the "super-group" he's part of, the Band Courtbouillon, won a Grammy; the Playboys have been nominated several times. In anticipation of the Cajun band's gig on Sunday, February 22 at the Sportsmen's Tavern, we talked with the energetic triple-threat (he also sings and plays the fiddle).
What's your "elevator pitch" for Cajun music?
The south is the birthplace of the best music! South Louisiana's culture is one of the most unique in the United States; the music, food, language, way of life. Everybody should get a taste of Cajun and zydeco…especially around Mardi Gras.
You've been doing this a long time.
When I was 15, my dream of meeting Dewey Balfa and playing with him came true. The Balfa family is kind of like the "Cajun Kennedys." Dewey's life was an amazing story. [In 1964, Balfa's Newport Folk Festival performance earned Cajun music early national attention. In '67, Balfa formed a family band, called The Balfa Brothers, with two of his brothers. In '79, his brothers died in a car accident.] He was one of the greatest spokesmen. He commanded respect and spoke from heart.
How do you carry on Dewey's legacy?
When we played sit-down concerts, Dewey talked about the songs, the history, the culture. We also played a lot of dances in Louisiana. The Playboys do the same thing—try to educate when we play concerts, and play dances back home and on the road.
Did you imagine you'd take Cajun so far?
No! I've been lucky to do things that I never thought would happen, like winning a Grammy, touring with Robert Plant, recording with Paul Simon.
The Mamou Playboys push the boundaries of a traditional music. How are you so successful?
These musicians are some of the best. We've gotten better at moving the music in different directions while still having truth to the roots.
What's the latest?
Fiddle player Kevin Wimmer brings a Creole and jam influence. On our new record, he's written most of the tunes. Some of them have almost a ska or reggae groove that can take you on a journey.
Do you ever have a bad night?
The band is tight and consistently on. Even if I'm in a bad mood, when I start playing, and the crowd starts dancing…it's a joy being transported through the vibe of playing and the reaction of the crowd.
When:
We're sorry, this event has already taken place!
Where: