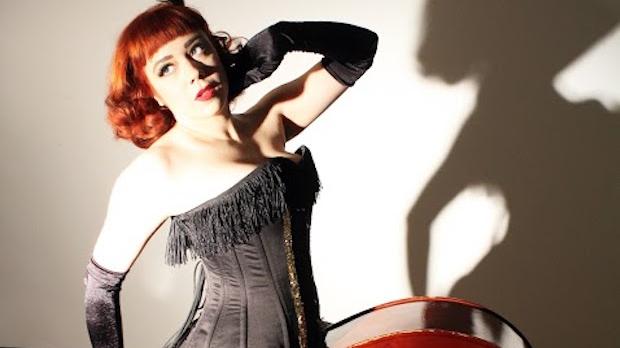 Brassband, Dixieland, Americana, & Burlesque IV
[BURLESQUE] Live music and dance is an age old tradition, it is the heartbeat of humanity, the voice of the people in sweet revelry. Burlesque is protest theater, twirling tassels for social change, never afraid to touch on the most pertinant political commentary. Burlesque empowers people of all gender identities, ages, and body types to speak up and be proud. For one night only we transform Mohawk Place into a scene from the Palace Burlesk, downtown Buffalo's most infamous dance hall for more than 50 years. 
There is nothing quite as openly lusty and exhilarating as bumping and grinding to a live, in-the-flesh, sweating, screaming, and hearts-beating band! The drums changing the way your own heart palpitates, the strumming of the upright bass (its smooth shape mimicking the beauty of a woman's curves), ivories being tickled by skilled fingertips, a saxophone leading the twists and curves of gyrating hips, baby got brass, the trumpet pumps it up, a washboard going right down your spine, the rhythmic ruckus of a guitar being strummed, and a voice with such passion and power it could make you cry (or take your clothes off).
​Fringe swaying, booties shaking, heeled shoes tapping, tassels twirling, breasts revolving, hair tousled, arms flailing flawlessly, entangled bodies moving to the rhythm of the moment. The chemistry between live musicians and dancers is probably the most magical thing that has ever existed. Put on your dancing shoes and spin the girl already!
Music by the Folkfaces, the Fredtown Stompers, 12/8 Path Band, and Ten Cent Howl with the Buffalo Brass Machine. The Stripteasers burlesque featuring special guest star Juicy Lucy will be bumping and grinding throughout the night with each band. Photographer and performance artist Brandon Perdomo will have his magic photo booth. To top off this full blown art party there will be live painting by Cody Hughes and Tara Sasiadek. Costumes encouraged, so let's get fancy! 
Join us Saturday, January 14 at Mohawk Place. Doors at 9pm. $10 with a delicious non-perishable donation for Friends of Night People $15 without. Scarves, hats, gloves, and winter coats will also be accepted. Even though it will be a hot night to remember, we cannot forget those who are less fortunate during this frigid time of year. See you there! 
When:
We're sorry, this event has already taken place!
Where: