Local
The Public Record: DuPont Closes, Silver Guilty, and More…
by
/ Dec. 2, 2015 3am EST
DUPONT TO CLOSE POLLUTING NIAGARA FALLS PLANT: Niagara Falls is losing not only 200 jobs but one of its riskiest polluters and otherwise dangerous plants with the announcement Tuesday that the Chemours Company is closing its plant on Buffalo Avenue the end of next year.
The plant was operated for years by DuPont before it spun a portion of the operation off under Chemours, which is eliminating 400 jobs companywide in a move that will save an estimated $50 million annually. 
In June, Investigative Post analyzed federal Environmental Protection Agency that showed the Buffalo Avenue plant poses the second greatest risk to public health of any manufacturing plant in Niagara County because of its release of chlorine. 
The plant accounted for 27 percent of the risk score in Niagara County, second only to Goodyear's facility off 56th Street. 
The company declined interviews for our June report, but did send a prepared statement from Joe Hausler, the plant manager, that stated, "environmental management at the site is accomplished with pollution prevention as the key focus."
The facility was was established in 1896 before DuPont purchased it in 1930. The plant manufactures sodium and lithium. 
Chemours's chlorine emissions rank 16th highest out of 261 companies nationwide, based on the most-recent EPA data. At low exposures, the chemical comes with a host of health risks such as skin irritation, breathing trouble and blurred vision. At higher doses, it can kill by asphyxia.
In addition, an Investigative Post analysis of Occupational Safety and Health Administration data found the Niagara Falls plant had the worst worker safety record of any of the dozen plants in Niagara County we looked at.
For example, in July 2004, OSHA cited the company when it failed to record the injury of a worker who inhaled enough chlorine gas that he missed a month of work. 
And since 2006, Dupont has had nine serious violations with fines that total $34,435.
One of the citations included an incident on December 27, 2013, when a worker sustained first- and second-degree burns on most of his body. 
The worker was covered in molten lithium and his protective equipment ignited, according to the OSHA report. On the same day, the company also was cited when an employee fell through a hole onto a concrete floor five feet below.
The Buffalo Avenue plant is scheduled to close in December 2016. 
"The changes at the Niagara Falls plant are part of the Chemours five-point transformation plan that was announced early August 2015 aimed at reducing structural costs, growing market positions, refocusing investments, optimizing the portfolio, and enhancing the organization," said company spokeswoman Robin Stemple Ollis.  —DAN TELVOCK, INVESTIGATIVE POST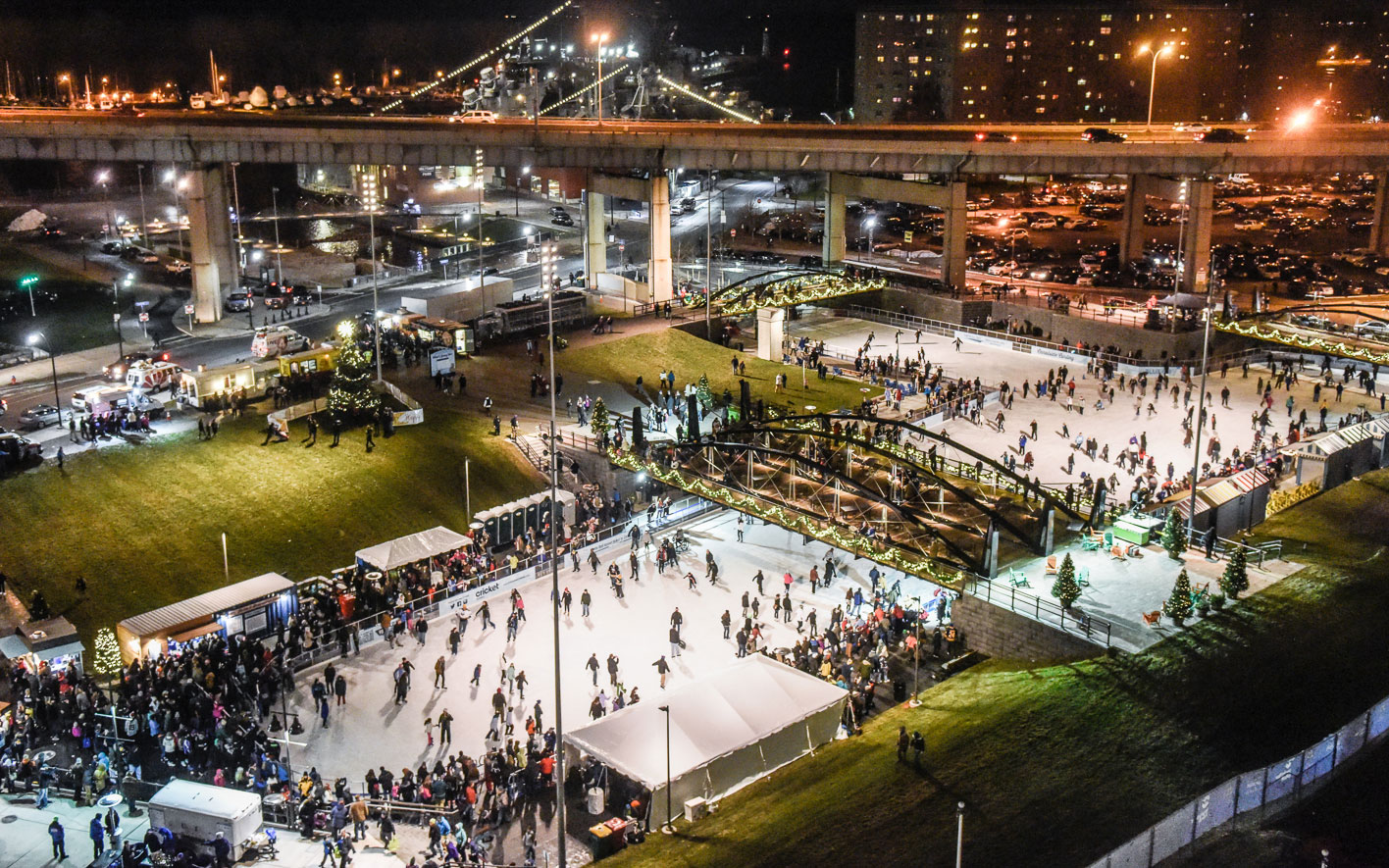 CANALSIDE AND THOSE SUMMER CONCERTS:
Indeed, for consistently attracting crowds, the frozen faux canals are second only to the Thursday night summer concert series, which there was some discussion last month of moving, perhaps to the Outer Harbor, in response to complaints from Marine Drive residents that the music was too loud, the crowds too raucous and drunken. The Buffalo Common Council took the part of Marine Drive residents; nearly everybody else championed keeping the concerts where they are. Erie Canal Harbor Development Corporation president Tom Dee told Jim Fink of Business First, "We have no plans to move them. Not at this time."
Not at this time. Remember Dee's slight hedge next fall, after another successful concert series has pumped up the annual visitor count that ECHDC uses as evidence of its successful stewardship of the Inner Harbor and to attract potential investment. We're told that ECHDC would like to put out a request for proposals in 2017 for the development of the parcels on which the concerts take place, on the water side of the Skyway. The target likely will be retail and restaurants. 
Complaints from Marine Drive residents started the conversation this year. When it comes up again, it'll be driven by ECHDC's desire to see those open spaces built up, per the site's master plan—beginning not along Main Street's light-rail line or elsewhere on the land side of the Skyway, but along the wharf
. —GEOFF KELLY
KEARNS STYMIED ON INFO ABOUT ZOMBIE PROPERTIES: Assemblyman Mickey Kearns is hoping to compare data on "zombie properties" with the Department of Financial Services, but he hasn't had any luck in getting them to share their information.
Kearns is in the middle of a campaign to shame banks in his district by placing lawn signs identifying the financial institution in front of derelict properties they either own or are in the process of taking through foreclosure and is pushing legislation that would make banks more accountable for the condition of the property during the foreclosure process.
He asked DFS to share their list of properties gathered in a registry the agency is compiling as part of an agreement with 11 major banks struck in May—Governor Andrew Cuomo was involved in the negotiation of the pact—that will see them voluntarily adhere to set of best practices outlined in the deal.
But Kearns was rebuffed verbally when requesting requesting the documents in early October, he said.
"They won't give me the list," Kearns said, indignation inflected in his voice. "I had to FOIL it."
Kearns filed a Freedom of Information Law request with DFS and the state Attorney General's office October 10, asking for the lists of addresses collected for vacant, distressed, abandoned, foreclosed, unoccupied or zombie properties submitted to either office.
The Attorney General's office replied saying they did not have such a list. A spokesman from the office told City & State in an email that the office is not responsible for the registry agreed to in the agreement.
George Bogdan, the records access officer for DFS, in a letter to Kearns' office dated October 15, acknowledged the receipt of the request and wrote that the office would respond within 20 days.
The assemblyman has yet to receive any further response, he said.
As part of the agreement the data was supposed to be shared with state and local officials.
"I should be able to get that information," Kearns said. "I'm a friggin' legislator."
Kearns has been compiling a list of his own as part of his push to prevent homes from falling into disrepair during the foreclosure process. His list, which he admits is imperfect, part of the reason he was looking to DFS for their information, has grown to over 2,000 properties in Erie County.
A DFS representative indicated to Kearns on the phone that their list had about 200 properties when they spoke in October, he said.
"They've only got 200 properties," Kearns said. "How in the hell can I have 2,000?" —JUSTIN SONDEL, CITY & STATE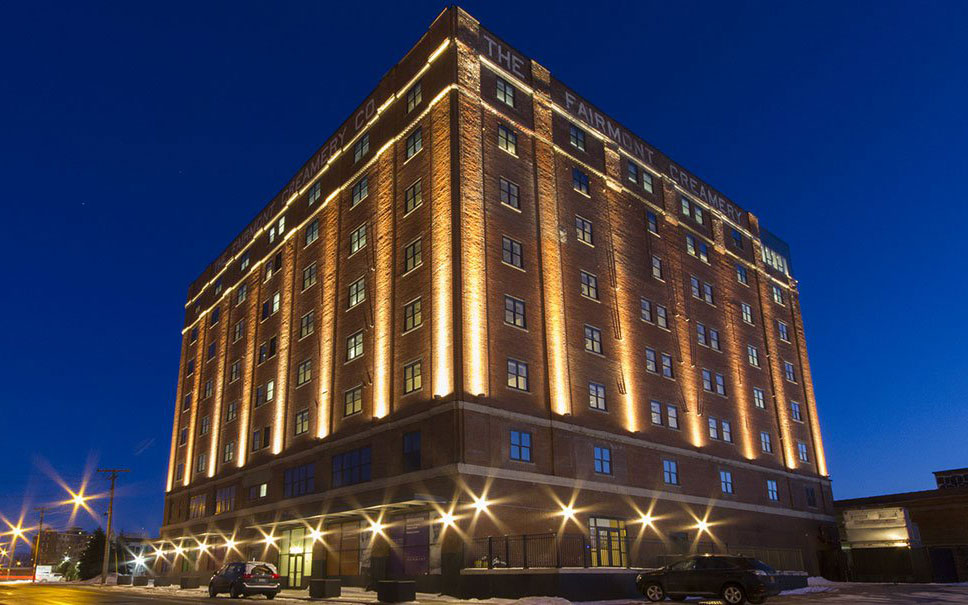 ELLICOTT DEVELOPMENT SEEKS TO BUY TWO MORE CITY STREETS:
Ellicott Development, which this years finished its conversion of Fairmont Creamery Company building at 199 Scott Street, is seeking to buy two nearby city streets and a Buffalo Sewer Authority storage building at a cost of $633,000. Previous to its renovation, the Fairmont was best known as the home of Ellicott chairman Carl Paladino's hectoring billboards, visible from the I-190 southbound.) East and West Market streets run one block between Scott and Perry; Ellicott Development plans to use the property for parking lots to support the Fairmont development.
There will be a public hearing on the proposed sale next Tuesday, December 8 in Buffalo Common Council chambers, conveniently slated for the working public at 2pm. If approved it will be the first sale of a public street since the controversial sale of two blocks of Fulton Street, just a few blocks away, to the Sececa Gaming Corporation in 2006. 
Ellicott Development is also seeking to purchase two other largely abandoned city streets, Saint Paul Mall North and Saint Paul Mall South, adjacent to Our Lady of Lourdes Church on Main Street, just north of the Buffalo Niagara Medical Campus. That sale was approved by the Buffalo Planning Board this week.
—GEOFF KELLY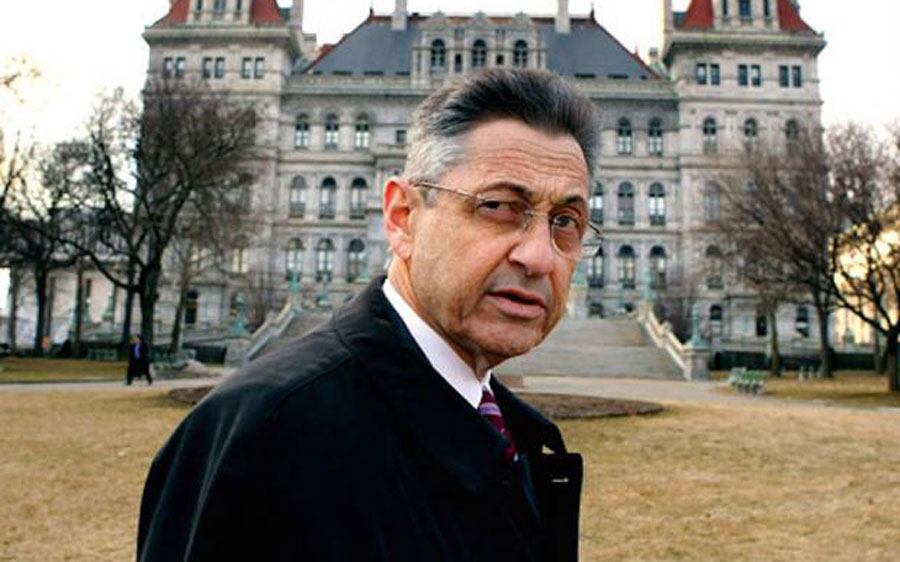 SHELDON SILVER GUILTY ON ALL COUNTS: Former Assembly Speaker Sheldon Silver, 71, was convicted on all seven counts against him in his high-profile federal corruption trial, bringing to an end a remarkable career in which he spent two decades as one of the state's most powerful political figures.
The verdict was handed down shortly after 4pm Monday, according to multiple news reports.
"Today, Sheldon Silver got justice, and at long last, so did the people of New York," said Preet Bharara, the US attorney for the Southern District of New York, who had brought the federal charges against Silver.
The charges were first made public in late January, one day after Silver had appeared next to Governor Andrew Cuomo and then-state Senate Majority Leader Dean Skelos at the State of the State address in Albany. Skelos was hit with separate corruption charges a few months later, and is now on trial along with his son.
Bharara, who has established a reputation for rooting out corruption in Albany, brought what was initially a five-count criminal complaint alleging that Silver pocketed $4 million in kickbacks since 2000 in the real estate and healthcare industries in return for favorable treatment in Albany.
By the time the case went to trial, Silver faced seven charges, including honest services fraud, money laundering and extortion.
One scheme involved the awarding of state funds to Dr. Robert Taub, a Columbia University medical researcher, to conduct mesothelioma research. In return, the doctor referred asbestos patients to Weitz & Luxenberg, which employed Silver as of counsel and paid him for the referrals.
The other scheme involved two real estate developers, Glenwood Management and the Witkoff Group, that used another law firm with ties to Silver at his behest. Silver also profited from the arrangements.
The trial was in its fifth week, and the jury began deliberations last week.
In February, a month after the charges Silver were announced, he was forced to relinquish the speakership, ultimately being replaced by Carl Heastie of the Bronx, but he stayed on as a rank-and-file assemblyman representing Lower Manhattan.
With the felony convictions, Silver was immediately removed from elected office. The Assembly's home page quickly removed his biography from its home page.
According to NY1, Silver faces up to 20 years in prison.
"A political earthquake has hit Albany," said Blair Horner of NYPIRG, a good government group. "This is a stinging rebuke to the 'Albany business as usual' defense and a clarion call to clean up state ethics. Hopefully this will be the tipping point at which New York's political leadership will gets its heads out of the sand. Governor Cuomo must now call a special session devoted to ethics reform." —JON LENTZ, CITY & STATE
IT'S CAMPAIGN FINANCE DISCLOSURE TIME!
Also known around here as Christmas-comes-early. Here are some notes gathered in haste:
—It will surprise no one that the squirrelly committee called the Right Democratic Team, focused on Cheektowaga races and run with all the rectitude of a Steve Pigeon outfit, still hasn't filed any record of its doings since an 11-day pre-primary filing in August. Nice job, criminals.
—Guy Marlette spent $84,000 to lose his race against incumbent Erie County Legislator Tom Loughran. Loughran's committee spent $25,000 between January 1 and election day. Deb Liegl spent $60,000 to lose to incumbent Erie County Legislator Ted Morton, whose committee has spent $34,000 since January 1. Among Legislature races, Liegl's campaign was the main focus of the Erie County Democratic Committee. Morton beat her handily.
—Former Assembly Speaker Sheldon Silver was found guilty Monday on all counts in his federal corruption trial. (See story above.) Silver's campaign committee spent $1.5 million on his attorneys between January and July of this year, leaving his campaign committee about $1.6 million—just enough to cover the last six months of legal work. (Silver, who forfeits his Assembly seat as a result of his conviction, needn't file again until January, so we won't know for sure until then.) He certainly will appeal his conviction, but most likely will have to pay those legal bills himself. —GEOFF KELLY