Film
Why you probably won't see Paranormal Activity or The Walk this weekend
by
/ Oct. 23, 2015 2pm EST
Notes on a few things I noticed while putting together the movie listings for this week:
If you're a horror fan and have seen every previous installment of the Paranormal Activity series, you're going to have to search a bit to find a theater to see the new Paranormal Activity: The Ghost Dimension this weekend. It has been boycotted by many national theater chains, including Regal Cinemas. Why? Because Paramount, the film's distributor, is using it as a test case for a new Video on Demand program under which movies will be available on a pay-per-view basis much earlier than they would otherwise. The usual window is three months, more than enough time for theaters to exhaust the box office potential of most movies. Under the new system, a movie could be available in your living room as early as three weeks after it debuted in theaters. The formula is a little complicated, and you can read more about it in this Forbes editorial. (Paranormal Activity: The Ghost Dimension is playing locally at the AMC Maple Ridge, Hamburg Palace and Transit Drive-In.)
If you've been planning to see The Walk, Robert Zemeckis' dizzying re-creation of tightrope artist Philippe Petit's 1973 high wire walk between the twin towers of the World Trade Center, you're too late. It's gone from theaters after barely three weeks. Even though the film drew respectably positive reactions from critics (70/100 on MetaCritic.com, 85% on Rotten Tomatoes) and audiences (7.8/10 on imdb.com), audiences have avoided it in droves: it's taken in less than $10 million. Even at that, it seem odd for the film to have disappeared so completely in so short a time.
If you've driven past the Amherst Theater and wondered why the only film on the marquee this week is Bridge of Spies, it's not because Steven Spielberg's latest is doing that much business.  It's because Dipson Theaters is renovating the three-screen theater with new reclining seats—you've seen them in the lobby if you've been there recently. The new seats have also been installed at Dipson's McKinley Mall theater, and they look to outdo even the local Regals for comfort and legroom (see below).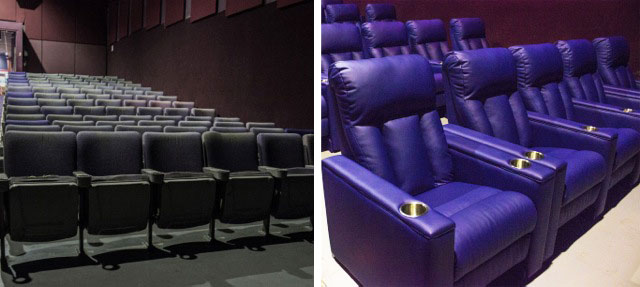 ​