Commentary
Patrick Kane and the Evidence Bag
by
/ Sep. 24, 2015 7am EST
I've been writing pretty regularly about the need for everyone involved with the Patrick Kane rape investigation—lawyers, cops, witnesses, and parties—to be quiet and stop feeding the media. If the underlying desire—regardless of whether you side with Kane's alleged victim, or with Kane—is to find justice, you won't find it by trying the case in the press. 
On that front, Wednesday September 24, 2015 was an absolute legal shitshow.
In fact, the whole week has been pretty horrible; remember Monday's stories about what sort of DNA was found in the rape kit? There's no reason for the general public to know that, at this point in the investigation. But Wednesday was something different; something special. 
If you haven't already heard, Thomas Eoannou, the criminal defense attorney advising Kane's alleged victim, held an extraordinary press conference. Eoannou alleged that someone had deposited a brown paper bag at the home of the complaining victim's mother. He went on to claim that the bag was absolutely, positively the one that once contained the rape kit administered in August at ECMC. The bag was ripped open and empty, and on it was a hospital label with the victim's personal details and other information. Here it is in its entirety: 
Pretty dramatic stuff, and if accurate—that someone had tampered with physical evidence of an alleged crime—beyond alarming. Never before had I heard of such an egregious mishandling of physical evidence of a crime, at least in an advanced first-world democracy. While Eoannou thanked the "good samaritan" who dropped the bag off, tipping the alleged victim's family off to this break in the chain of custody, my initial reaction was that this was some sort of intimidation. 
But not so fast. 
Hamburg Police had this to say about it: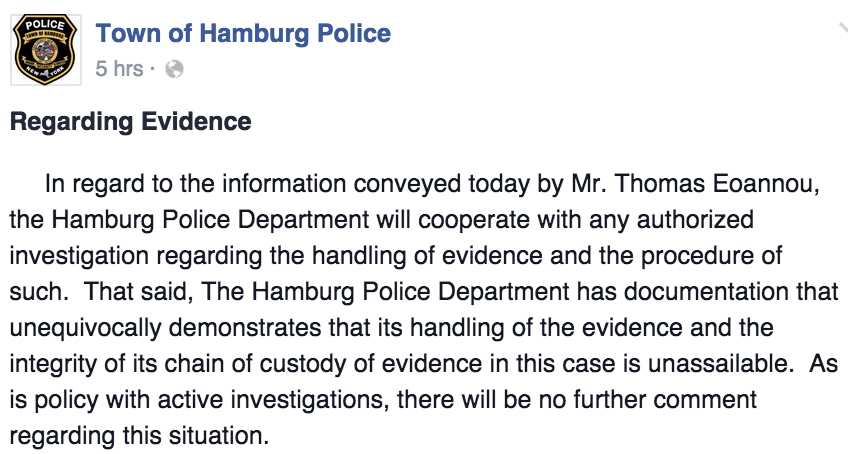 So, Hamburg's chain of custody is in order. What about Erie County, whose Central Police Services (CPS) handles and stores this sort of evidence?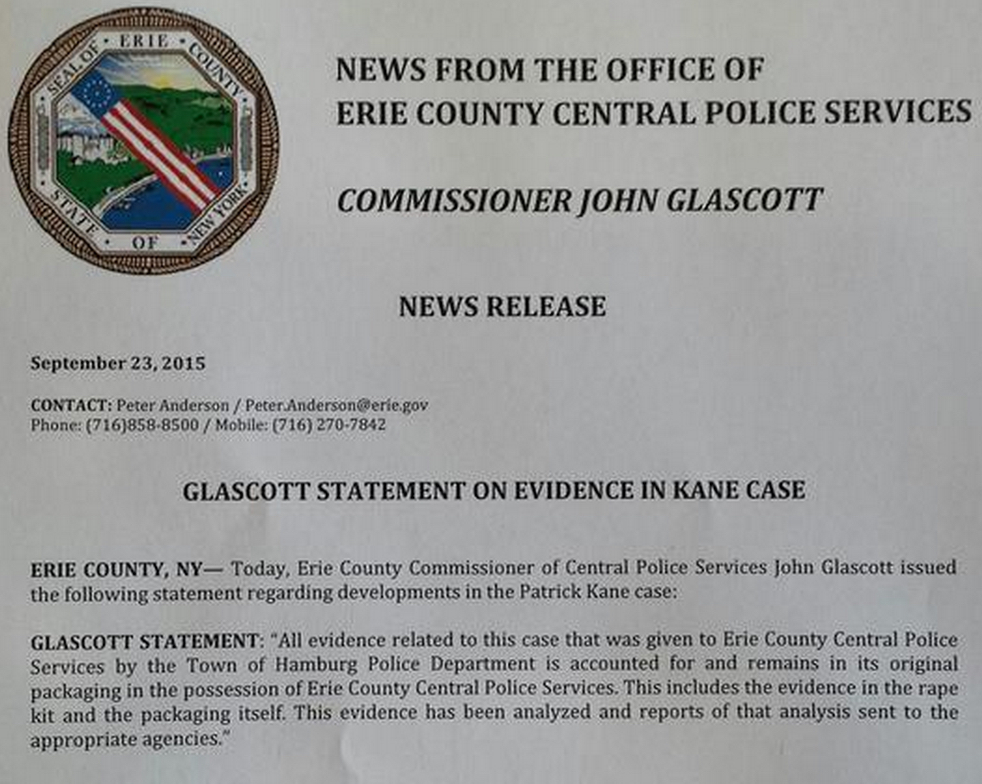 So, the county can also vouch for the state of the evidence, and that it is all present and accounted for. 
So what is Eoannou talking about, and what was in that bag? 
Shortly after Eoannou was done talking, all the press rushed down Delaware to the office of Patrick Kane's lawyer, Paul Cambria. There Cambria, who had not previously commented about the case, except on my personal Facebook page, sang like a canary. Patrick Kane is the real victim. Kane's DNA was not found "below" the alleged victim's "waist", but others' DNA was. Because the findings from the rape kit were helpful to Kane, his side had no motive to tamper with any evidence. Only someone unhappy with the results of the rape kit would do such a thing. 
People on Twitter commented on the "money soap" and Hustler 40th Anniversary mug on the bookshelf in Cambria's office. Paul's Hustler Mug is on Twitter. 
The spectacle grew more surreal with each passing moment. 
Here is a close-up of the redacted sticker on the bag Eoannou revealed: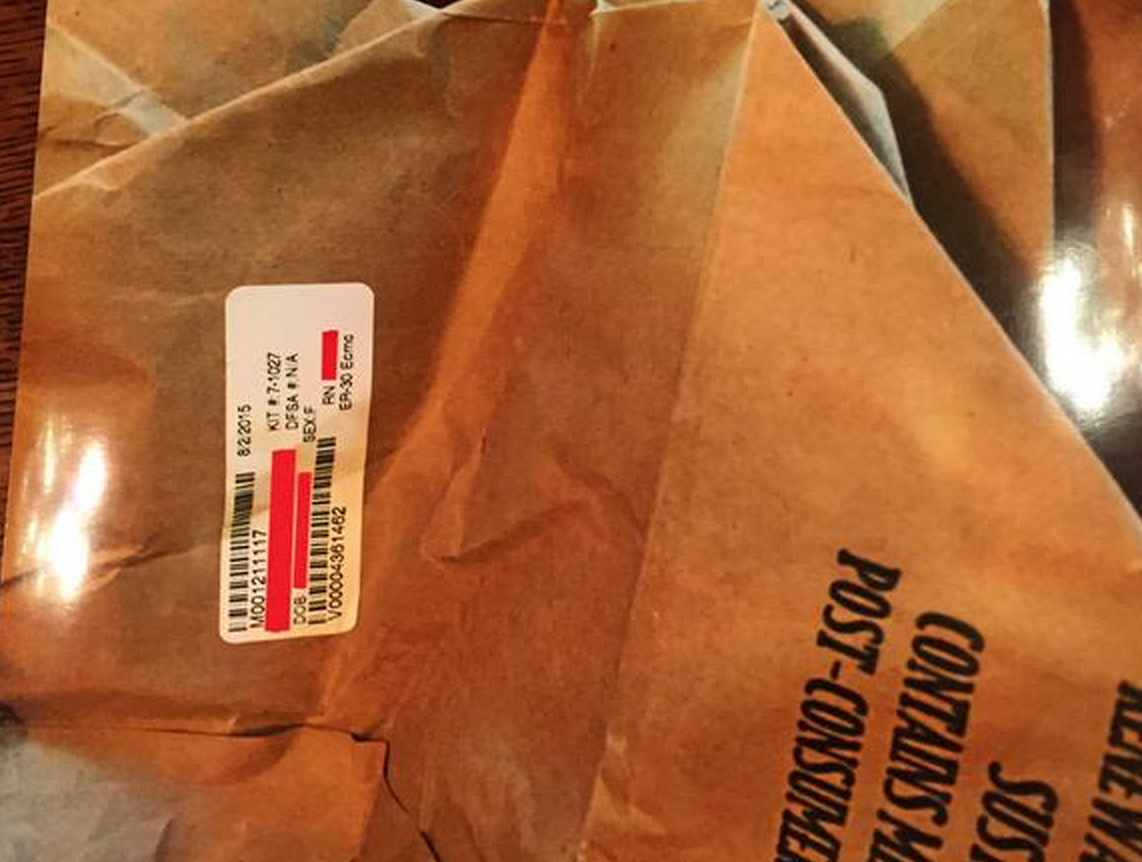 That's a regular grocery bag with a hospital sticker on it. Could Eoannou be incorrect? If Hamburg and Erie County confirm that all evidence and containers are present and accounted for—secure and unmolested—was this a mistake? Was it some PR stunt designed as a response to the persistent and constant pro-Kane leaks to the Buffalo News and other media outlets?  The pro-Kane PR juggernaut has been effective and well-funded up until now—not so much for the alleged victim. She is unknown and her side has been silent, until now. The information reported by some outlets had to come from either law enforcement or Kane's legal team. 
Also, let's parse Cambria: no Kane DNA below the waist. But what about bitemarks on shoulder? Other DNA, above the waist? What about under victim's nails? He limited his statement very strategically. The leaks about the absence of Kane's DNA was especially harmful because for some reason people think that you need ejaculate for there to have been a rape. You don't. 
Eoannou's bag almost certainly at one point contained some piece of evidence that was obtained at ECMC on the morning the rape kit was administered. It's feasible, for instance, that an item was stored in there but the police took it away in a different bag. What's clear is that everyone with no stake in the outcome of the underlying rape case agrees that the rape kit hasn't been tampered with. 
It's also quite clear that the delivery of that bag to the victim's mother's house means something. What? No one knows. No one is likely to know unless the person who dropped it off comes forward. Was it to be helpful? Intimidating? 
In the end, we learned that Buffalo lawyers and media are a bit clumsy when it comes to dealing with a super-high-profile criminal investigation. Hamburg and the county were quick to react to Eoannou's charges, and it quickly turned the matter from one type of WTF into a wholly different and distinct type of WTF. 
A lot of rumors flew around today, too. No one knows what's true and what's not. But one thing became crystal clear on a warm Wednesday afternoon in Buffalo: that the people involved in the Patrick Kane rape investigation really, really need to stop talking to the media. All of them—Cambria, Eoannou, law enforcement—everyone. We don't need odd press events about brown paper bags any more than we need bar owners engaging in some good old-fashioned victim-shaming. 
Justice is not being served by transforming a spectacle into a circus.