Commentary
by
/ Aug. 15, 2017 9am EST
Over the weekend, a large group consisting of neo-nazis, Klansmen, and other "alt-right" white nationalists converged on Charlottesville, Virginia ostensibly to protest the possible removal of a statue of Robert E. Lee. Lee was the general of an army fighting for a country that had betrayed and seceded from the United States to preserve the right to buy and sell black people as chattel. Query whether we should replace confederate statues with ones honoring the victims of its inhuman feudal ethos. (Note: I will not capitalize the word "nazi". It's not a mistake.)
As one might expect, people came to the college town to launch counter protests against the nazis. These weren't antifa black bloc rioters smashing Starbucks' windows because capitalism is at the root of racist fascism, and to smash one is to smash it all; but regular people who were disgusted that their town had become a magnet for nazis.
When it becomes wrong to protest nazis, then we'll know that political correctness has, indeed, run amok. 
It all culminated when a 20 year-old nazi from Ohio adopted the means and method popularized by ISIS-inspired jihadist terrorists in France and the UK — he rammed his Dodge Charger into a crowd of peaceful counterprotesters, then backed it up and rammed over some more. The nazi motorist murdered a woman — a 32 year-old paralegal named Heather Hayer, and injured over a dozen more. The nazi who murdered her stands charged with second-degree murder. This representative of the master race hasn't the means to afford his own lawyer, so he must rely on the state to fund one for him. The public defender's office was conflicted out because of personal ties to other victims of the nazi's ISIS-inspired attack. 
Charlottesville is home to the University of Virginia, a school that hipster nazi Richard Spencer attended. Spencer befriended Trump adviser Stephen Miller when they both attended Duke University about a decade ago. 
In the aftermath of what had transpired in Charlottesville, the Public and I reminded Buffalonians of our own white nationalists here in our region. 
My March 14th article discussed an email that local elected school board official Carl Paladino had sent, which contained this image: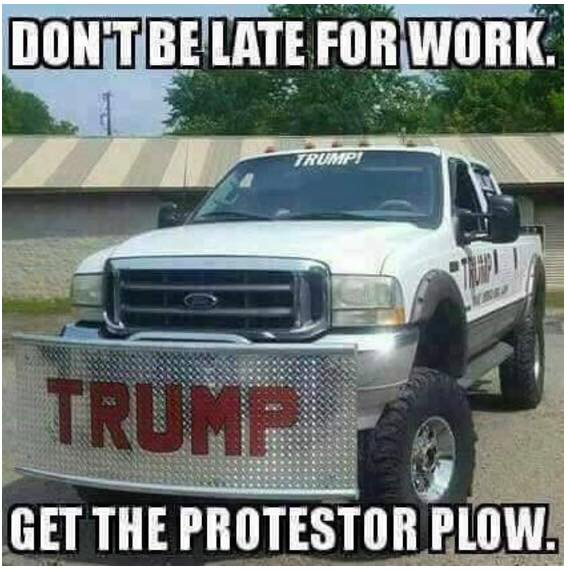 I wrote at the time, "Carl Paladino, an elected school official, thinks murder is funny."
In the wake of the murder of Heather Hayer, who was killed by a nazi plowing his vehicle through a group of protesters, I'd be wholly unsurprised to see Paladino express his white nationalist glee at the news. 
On Monday, Carl Paladino posted something to his public Facebook page. He likely thinks it's a funny joke and all us extreme leftists should lighten up and tolerate racist jokes like we tolerate things like immigration and multiculturalism, but in the wake of the fashy haircut hipster citronella fascists' march 'n murder in Charlottesville, it is unbelievably tone-deaf.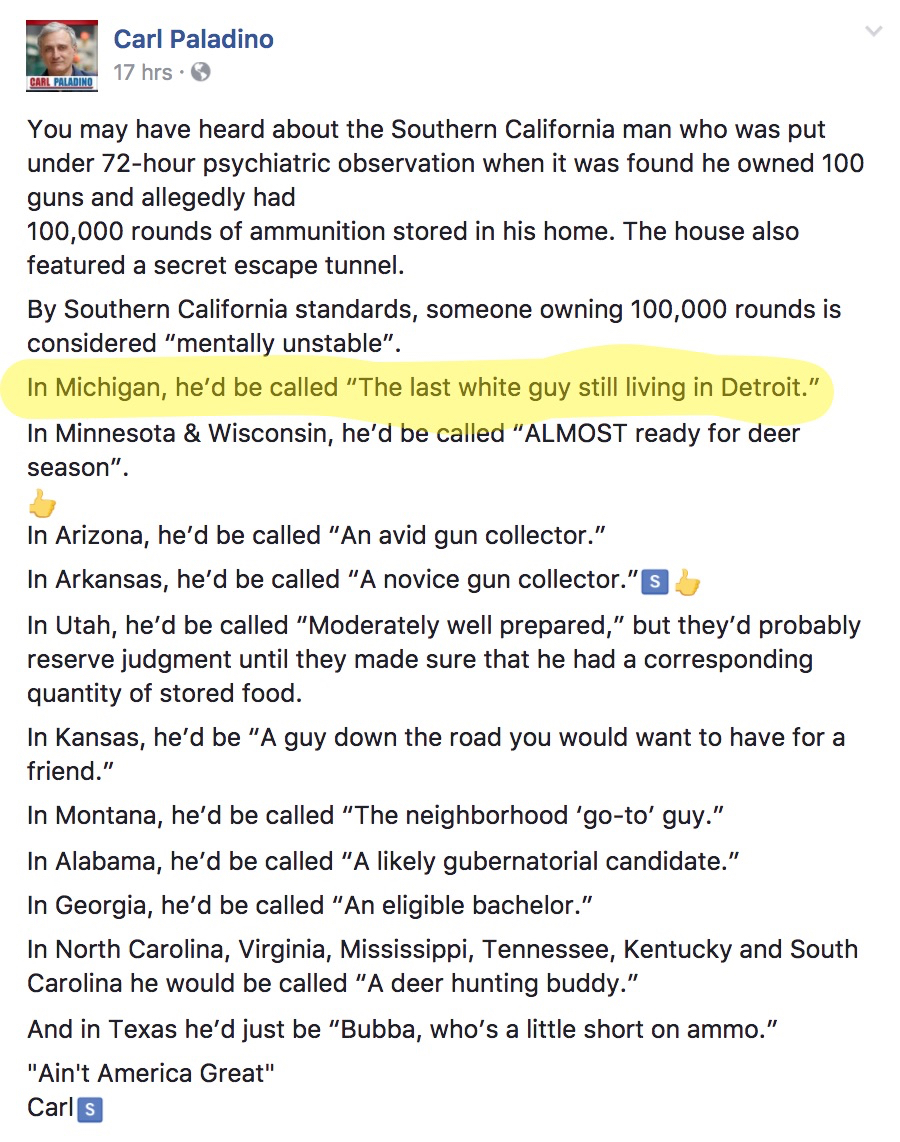 In Michigan, Carl quips, a guy with 100 guns and 100,000 rounds of ammunition would be called, "the last white guy still living in Detroit". Because Detroit, like the Buffalo school district Paladino oversees, is predominately African-American. That is the punch line to that part of the joke: a white guy in Detroit would need that much firepower because of all the blacks. We know this because of the use of the adjective, "white". 
It makes sense to pause here as a reminder that white nationalist "pride" is comically weak stuff. If you're white, it's nothing more than an accident of birth — it's not an achievement, or the result of any effort. If all you have to be proud of is your whiteness, maybe it's time to accomplish something meaningful with your life. If all you have to be proud of is your whiteness, you're not proud of anything at all. 
Carl Paladino swears up and down to all and sundry that he's not racist — you're racist. He controlled a majority on the Buffalo school board for two years, and his only achievement was to worsen the dysfunctional circus atmosphere there. Hey, at least he has "being white" to be proud of. He is part of a board that oversees a school district as diverse as, e.g., Detroit, and he jokes that this sort of ethnic or racial diversity is something against which white people need to arm themselves.
Carl Paladino has established time and again the myriad ways in which he disqualifies himself from — and is unfit to — oversee any school district, much less one whose kids overwhelmingly don't look like his own. His racism, veiled thinly if at all, is something that rational, fair-minded people need to reject and shun. If anyone needs to see Paladino's attitudes towards black Americans, it's Mary Ellen Elia, who is now deliberating what to do with Paladino vis-a-vis the Buffalo school board. 
None of this is new. 
March 2010: Paladino's racist and pornographic emails
October 2012: Paladino denies he's a birther, but is birther. 
August 2014: Paladino's homophobic reaction to a 419 scam letter
February 2015: Paladino rejects civil rights assessment of Buffalo schools. 
March 2015: Paladino threatens school board "sisterhood" with libel suit (which never came)
July 2015: Paladino demeans "damn Asians" at UB. 
July 2015: Paladino offers fake apology to "damn Asians"
July 2015: Paladino's supporters: hey, he could have said, "damn Ukrainians". 
July 2015: Paladino defends Joe Mascia's n-word outburst
July 2015: Sandy Beach calls Paladino out on Joe Mascia
August 2015: Paladino digs a deeper hole on Shredd & Ragan. 
August 2016: Paladino claims Obama is Muslim. 
December 2016: Paladino wishes President Obama dead, likens the First Lady to a Zimbabwean gorilla. 
Paladino says he wants to run for governor again. His 2010 effort was torpedoed, in part, by the revelation of private racist and pornographic emails that he had sent to friends of his. Any potential future effort must be thwarted by his own public pronouncements.