Commentary
Michele Brown Campaign: Update
by
/ Jul. 29, 2015 5am EST
It bears repeating that the endorsed Democratic candidate for Family Court is Kelly Brinkworth, and she's not able to self-fund to the degree that her Democratic rival, Michele Brown, can and has. 
On Tuesday, I spoke with Joseph Makowski, who is legal counsel to the Michele Brown campaign. He wanted to clarify some of what I wrote here, relying in part on Ken Kruly's analysis of Brown's financial disclosures at the NYS BOE website. Makowski says that Kruly has it, "all wrong" and "made it up." Because Brown is running a judicial race, Makowski is adamant that the "financials are all fine", characterizing them as "meticulous". Indeed, there doesn't seem to be anything facially wrong with them, as such. 
Although Makowski didn't go so far as to say that the numbers Kruly extracted from the disclosures were faulty, he alleges that the issues surrounding payments made to the David Hartzell for Clarence Supervisor and Christina Bove for West Seneca Council campaigns were not contributions, but payments to vendors. Indeed, they are listed as expenses for petitioning. 
As I wrote yesterday, judges are limited to buying tickets to — and attending — other candidates' events, up to $250 per ticket during the time they are actively campaigning. They are not allowed to otherwise make contributions to campaigns, so if payment was made to the Hartzell campaign of over $5,000 as a "contribution" it would be completely illegal, but Brown's campaign is within its rights to hire Hartzell's crew to circulate Republican petitions in Clarence on Brown's behalf to secure for her that line.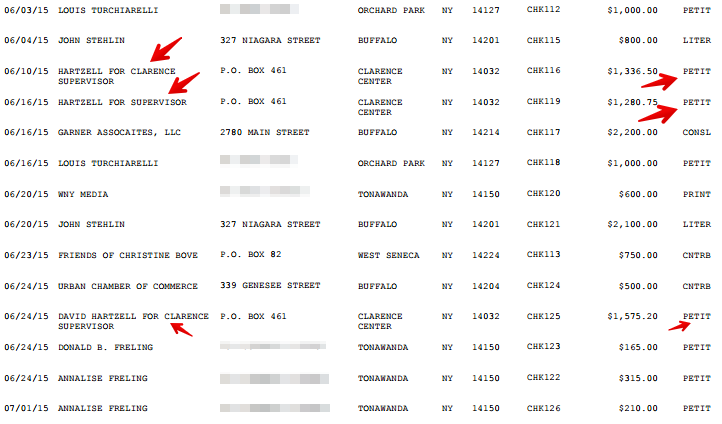 (Observant readers may recall that Annalise Freling was the first of several women to come forward and accuse former Assemblyman Dennis Gabryszak of sexual misconduct). 
Makowski acknowledges that this is a "highly unusual practice", but when you're concerned about ballot access, you have to think outside the box. He maintains that Brown's campaign only bought a small handful of $200 tickets to Byron Brown events — well within the legal bounds of what's permissible. Makowski also notes that Brown decided to use Steve Casey's LSA Strategies before the Preetsmas raids of late May, and they girded themselves for the inevitable controversy. 
Finally, Makowski acknowledged that the campaign would likely have to issue 1099s to the vendors who were paid for petition labor, as I reported they would have to.