Commentary
Hey, It Could Have Been "Damn Ukrainians"
by
/ Jul. 23, 2015 7am EST
They held the "Yay Carl" rally on the steps of City Hall Wednesday afternoon, and it was sparsely attended. I drove by at around 5:15—Carl was waiting to speak and looking upon his creation—and most of the crowd was made up of reporters and curious passersby.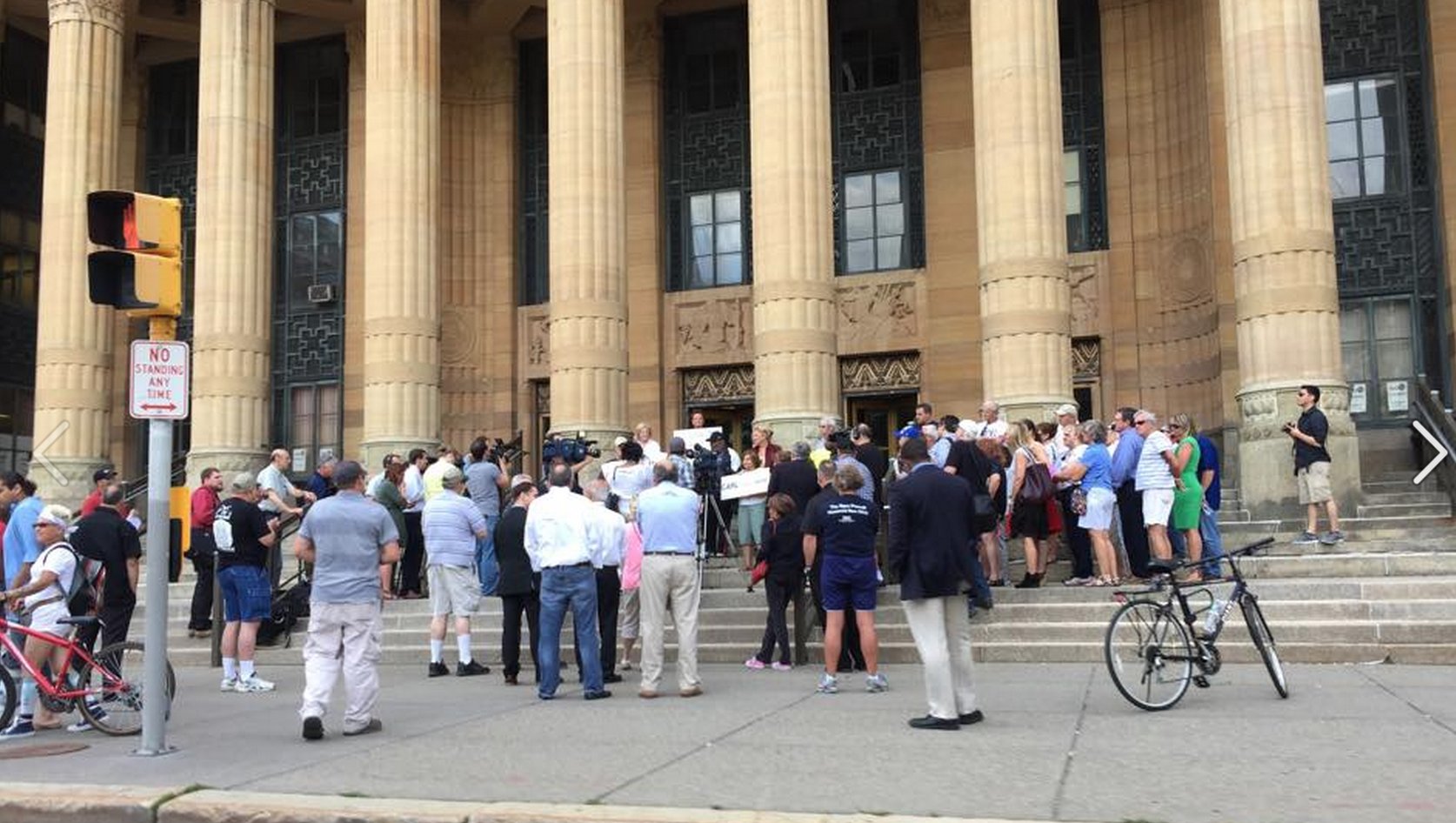 Carl, of course, went out of his way to promote this rally, sending out two emails to his followers about it in the past week. The Buffalo News reports that there were about 50 Carl supporters, but I question that number—there were about 50 people there altogether. 
It was organized by a tea partier from Clarence whom I had to deal with as she worked from January—May to fail the Clarence school budget and elect two wholly unelectable school board candidates. She has no stake in the Buffalo Public Schools, except insofar as she wanted to defend the guy who sent out these emails to prominent western New Yorkers. There is no doubt that some of those emails were racist, many more were hardcore pornography, and all of them were unbecoming a public official, much less one who oversees Buffalo's educational system. 
Her co-organizer is tea partier Jul Thompson, the wife of perennial candidate Rus Thompson. Sources say they're living in Niagara County now, so query what their stake is in Buffalo city schools, as well. She recently decided that she wanted to re-litigate the authenticity of the aforementioned Carl Paladino emails, and that would be great fun indeed. She also recently addressed the Buffalo School Board and opined on the "insightful" comments of racist white supremacist mass murderer Dylann Roof. Here's video of it: 
That's pretty amazing to hear. 
So, yesterday, she gave a speech to sort of in her own special way explain away Paladino's "Damn Asians" commentary regarding UB's International Students. 
Hey, everybody! It could have been "damn Ukrainians" that Carl was talking about when he made false accusations against the International students at UB. 
But you'll recall Carl didn't use Ukrainians because they're Caucasians—he admittedly had to use a group that looked different. What do we call that again? 
There goes that lib'rl media again, askin' questions and transcribin' answers!
All of this is a grotesque sideshow of white suburbanites coming to Buffalo to defend the indefensible, especially to tell black people that they really need to STFU about our Carl. You want to like and defend Carl Paladino and the things he writes and says, knock yourself out, but don't pretend it's not what it is.
"All of a sudden, I had a brainstorm: Why don't we have a Pro-Carl Rally and show people in Buffalo how much support Carl really has," 
At most about 50 people, using the Buffalo News' figure. Then again, most people who work are just leaving at 5. 
These people have bought into the Paladino cult of personality, and they don't so much follow an ideology or type of politics as they do one man. Cults of personality are unseemly; rare in the American body politic, and the easiest gateway to totalitarianism. Ironically—or perhaps just hypocritically—since 2007 these very people have aggressively accused libr'lz of being in the thrall of an Obama personality cult. Now, they organize "spontaneous" rallies of support for their dear leaders and some now back "The Donald" Trump. 
All I want to know is, when will they be holding the rally in support of Joe Mascia? After all, Mascia is Carl's guy. Mascia also owes the Buffalo News over $4,000 for lit they printed for him and he didn't pay for.