Music
Spotlight: The Get Money Squad
by
/ Jul. 20, 2016 2am EST
On the patio of Caffe Aroma at the corner of Elmwood and Bidwell Parkway, a man in a floppy hat quietly plays a lute as folks drink coffee and beers, and Jon Bap and Quinton Brock of The Get Money Squad tell me about their carefree approach to music.  
I ask Bap about how he and Brock write music together and he starts laughing.
"The only reason I'm laughing like that is because our approach to writing music is so like…" 
Quinton interrupts, "Such a joke! The motto was just kind of, like, fuck it," says Brock in between sips of a dark stout.
On The Get Money Squad's new demo, Nothing's Wrong, out now on the Portland, Oregon record label Fresh Selects, Bap and Brock synthesize that carefree attitude into simple yet intriguing surfy indie rock tunes that fall somewhere between Broken Social Scene and Mac DeMarco. 
Without knowing about this casual approach, one might be able to discern it from listening to the group's music. The music is carefree yet it's also incredibly thoughtful. Guitars chords slink about in beautiful, uninhibited patterns—sometimes just slipping through Bap's fingers like sand—drums just kind of happen, and Brock's sailing vocals bring it all together in a way that seems almost improvised, but can't possibly be.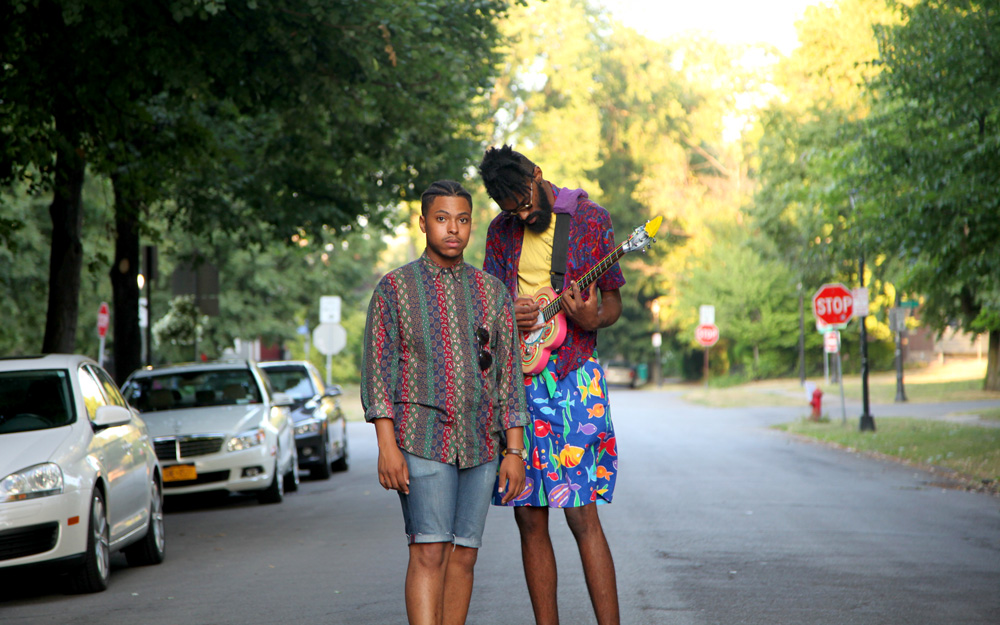 The Get Money Squad are now preparing to play their demo release show at Nietzsche's on Thursday, July 21 as part of The Public Presents, a monthly concert series. They'll be joined by pop-punk band Super American and indie-rock band Fever Box—Griffin Smith, Nico Kelly, and Josh Little—who also serve as The Get Money Squad's backing band, and who helped them record their demo.
As a pair, Bap and Brock haven't always been so carefree about their music. Both musicians have studied music in school and have had other musical projects—notably Brock's hip hop project Network and Bap's solo work, some of which—his Let It Happen EP—has been recently released by Fresh Selects. But if there was a problem with those previous projects, it was that they were taking the music way too seriously. They over-analyzed. They over-thought it. Brock even fesses up that he once paid to open for Wale and Pusha-T at a concert in Rochester. Wale ended up refusing to play for some reason that night, and, although Brock felt good about his performance, things weren't right.
"I needed to realize that I was taking music too seriously. I needed a way to not care about something and just have fun," says Brock. Bap nods in agreement.
How do you do it—make music— but not over-do it? It seems counterintuitive, but for them, essentially having no goals kind of made it so that there was no pressure and allowed their creativity to flow freely.
"Everything was a joke. We didn't think this would become a real thing. Now it's become a real project," says Bap. "There's no pressure. Once we started liking the songs, and there were a couple of songs where we were still trying too hard—but it was, like, 'Oh shit, this is actually something.'"
From the sounds of it, their songwriting sessions were more like bull sessions. They'd spend about 20 minutes writing a song and the whole thing would be done in an hour, Bap tells me.
"We'd do everything on the first take. We still do," says Bap laughing.  "We'd just be laughing and joking about busting out a hit."
Right now Bap is a guitarist. He started off playing the drums but then moved to the trumpet. In high school he played the piano, even skipping classes to sneak away and get some practice in. He also sings. He doesn't consider himself a drummer or a guitarist, but just a music producer in general. He talks about learning the guitar in terms of recording, not live performance. He'd learn how to play a chord and then capture it. Then he'd figure out the next chord and piece a recording together from there. Bap, who is also a talented painter, studied animation and illustration at Fredonia and recording engineering at Full Sail University before dropping out in part to concentrate on music.
"A lot of times when I make a song, I can't actually play the part [live] until I learn it," Bap says, kind of giggling. 
Brock is similarly talented. He's a vocalist first—he realized this when he sang "Twinkle Twinkle Little Star" in front of his family as a child. He played some stand-up bass and piano in high school. But like Bap, he considers himself a songwriter and producer. He graduated with a double major in English and media with a law focus at UB.
The lute player sitting at the table behind us is still fiddling, only audible in between sentences, still staring down his lute underneath his floppy hat. 
And then there is the Brock and Bap's friendship, if you can call it that. 
"How did we meet?" Brock repeats. "Our parents got married." Both erupt in laughter.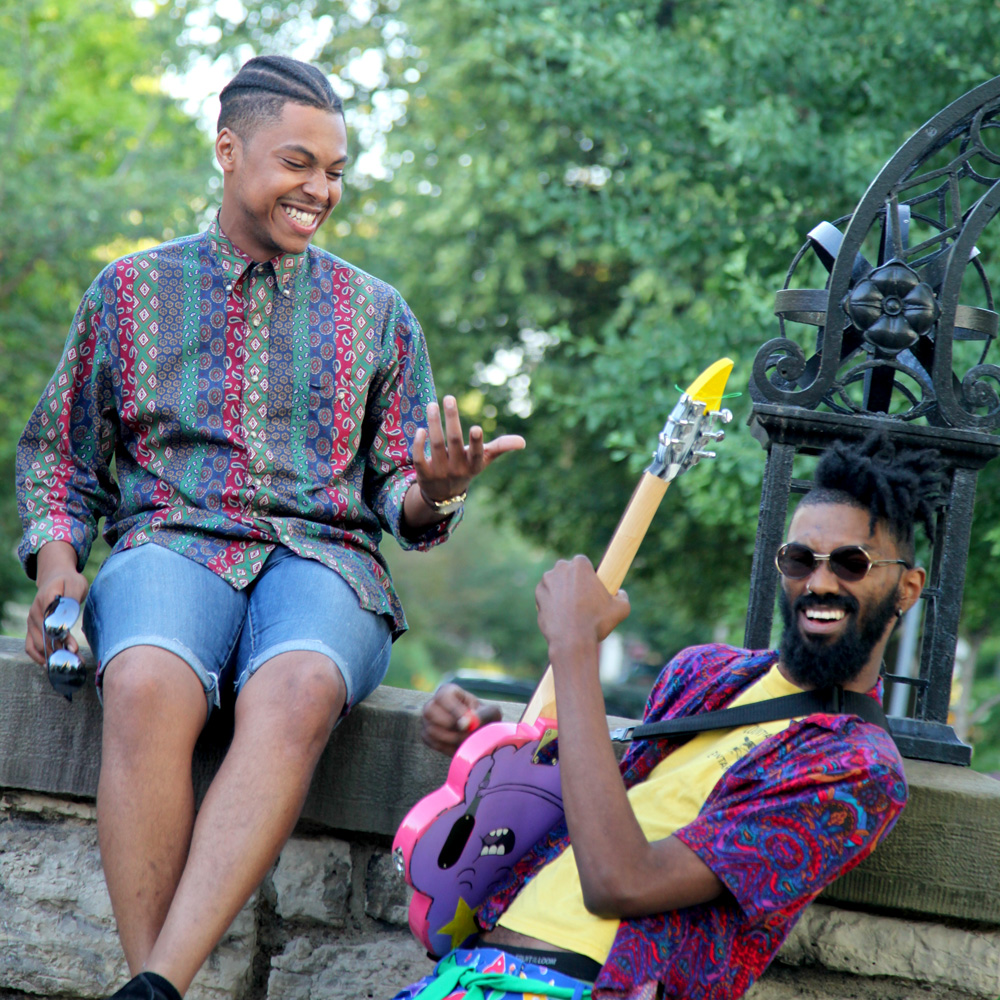 As kids, Bap and Brock met through a friend at church. 
"The second day I went to chill with him, his mom is in the kitchen and I'm, like, 'Oh, hey, what are you doing? And she's, like, 'Just signing some divorce papers,'" says Bap. 
The two laugh about it now. At the same time, Bap's parent's were getting divorced. In a kind of reverse Step Brothers fashion, Bap's father married Brock's mother and best friends became brothers.
"Our parents got together somehow, going to the same church," says Bap. "We moved into his mom's house, and we'd be chilling in his room watching anime and drawing. Then it turned into making up our own stories and drawing comic books."
It was like the ultimate sleepover. Although their parents are now divorced, they're still best friends and are most certainly still brothers.
"He's killing the game!" Brock quietly blurts out, looking side-eyed at the lute player still strumming away at his instrument. "He's killing it. He's been playing this whole time! I'm trying to be like him."
Like many artists, Brock and Bap make their artwork in between their day jobs. Bap works at a restaurant and Brock is a certified life coach. 
A group of motorcyclists pull up to the corner near us.
"Oh man, he's reppin' hard, bro," says Bap, referring to the Confederate flag insignia on the jacket of one of the bikers.
"Oh, fuck him. That's what's wrong with America…" Brock begins to say before changing his tone. "Actually that's what's right with America. Because you're allowed to do that type of shit. But I don't have to speak to him."
But then Brock tells a story about how recently in Allentown, he was with a group of friends and he was asked to lift up his shirt before he entered a bar. He was somewhat embarrassed but not exactly surprised.
"Racial profiling. That's actually what's super important about The Get Money Squad. People are going to see me and Jon's picture, they're going to see two black kids called The Get Money Squad. They're going to automatically assume it's just some ratchet shitty rap music that they don't want to listen to and they're going to click on it to laugh and then they're going to hear some weird indie rock music…" 
And maybe they'll remember that, because it's not exactly what they expected.
Though the lute player was not deterred by the roaring motorcycle crew, we kind of are. So we wrap things up, but not before Brock expresses some genuine gratitude to everyone who has helped them along the way.  
"From our parents, who afforded us the opportunity to have a real childhood and explore our own ideas, to each person we meet in passing who push our artistic development simply by living and sharing their stories, we're just growing to be the best artists we possibly can be."
---
The Get Money Squad
facebook / twitter

The Public Presents: The Get Money Squad Demo Release Party
8:30pm / Nietzsche's 248 Allen St, Buffalo / $5