Drink
Dram Box: A Drink for the Road
by
/ Jul. 20, 2016 3am EST
When I lived abroad people commented that eating while walking was one of the most American things they could think of. Being an American, I considered this a natural thing to do with food. Mobility is prized. In Buffalo, we have mobile restaurants—food trucks—that we drive our cars to. Adding to this national obsession is Dram Box, a mobile bar from Ballyhoo's Morgan and Tim Stevens.
The attention to detail is top-notch: There is space for up to four bartenders, six taps, a station for washing, rinsing, and sanitizing, as well as space for more than 50 bottles of wine and liquor. They even have a custom-made wheel-well cover that functions as a bar top. "It was never going to be an ice-well and a cooler. We wanted it to be designed," said Morgan Stevens when I caught up with her on Ballyhoo's deck. "We purposely choose a clean palette. It's classy, and you want to look at it, but it isn't the star of the show. The star is our cocktail program and your guests' experience." 
If it sounds like I'm impressed, it's because I am. While every business tries to build a better mousetrap, it appears that the Stevenses may have worked out the kinks, which is even more amazing considering that this the first mobile bar in New York State.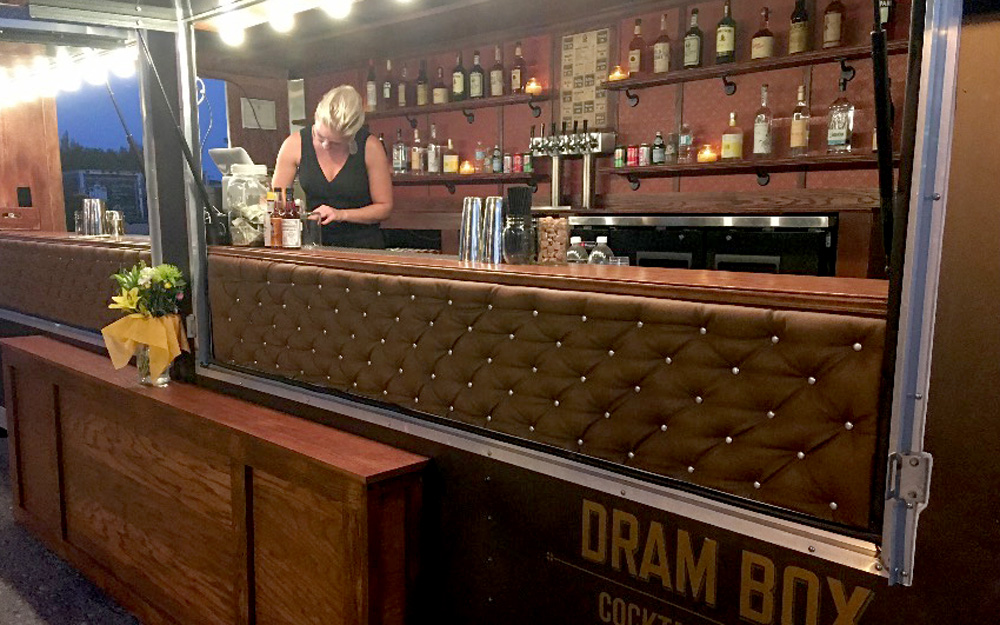 Dram Box was an idea that Tim had since they lived in San Diego (for more of their back story, see Ballyhoo: Fine Beer & Spirits), and once Ballyhoo was set up and successful it was time to move on to the next idea. "We built out Ballyhoo with our own hands, so customizing a trailer was a much quicker undertaking," Morgan said. Dram Box premiered at the 2016 Echo Art Fair in May at the private preview party, which I didn't attend. However, it was there the following day and that's when I learned the legalities that they have to consider when I tried to order a cocktail. "For a private, ticketed event we can serve liquor, and we take care of the permits," explained Stevens. "However, if it is open to the public, we can only serve beer and wine."
They have a few August bookings since officially launching three weeks ago and have some weddings already under contract for next year. "Tim and I are most excited about how flexible the Dram Box can be. It was made to be what you want it to be for your event," Morgan said. 
I have a feeling that you better book now and then plan your event around it.