Commentary
by
/ Jul. 10, 2015 6am EST
Chances are pretty good that Preetsmas has at least temporarily put the kibosh on any potential Pigeoning of Democratic races for the county legislature. So, the Republicans have to come up with a different way to futz with Erie County's Democrats. But it's not just the Republicans — Democrats in myriad races have also decided to try and add a party line because ¯\_(ツ)_/¯
The way to run without a party's imprimatur is through an "opportunity to ballot". 
So it is that Lynette Batt, an 87 year-old Green Party member filed nominating petitions Thursday with the Erie County Board of Elections for the 5th legislative district, the seat currently occupied by Democrat Tom Loughran. The Green Party is unique among New York's minor parties in that it never issues Wilson Pakulas; that is to say, it won't play the electoral fusion cross-endorsement game that enriches and empowers the Independence, Conservative, and Working Families Parties. The only way for a non-Green Party member to get on the "G" ballot is via OTB. For their part, the Republicans are running Guy Marlette, so running Batt would be a handy way for the GOP to hurt Loughran and split the left-of-center vote.
Green Party State Committee Co-Chair Gloria Mattera doesn't know who Batt is, and says the party had nothing whatsoever to do with it. She explained that, "I heard that several people in Erie County were circulating 'opportunity to ballot' petitions, and the state committee sent out an email blast asking members to not sign any blank nominating petitions." Erie County Green Party Committee Chairman Eric Jones, who filed petitions to run for County Executive against Mark Poloncarz, confirms that his committee knew nothing about Ms. Batt or her candidacy, and that he first heard about her "candidacy" on Monday.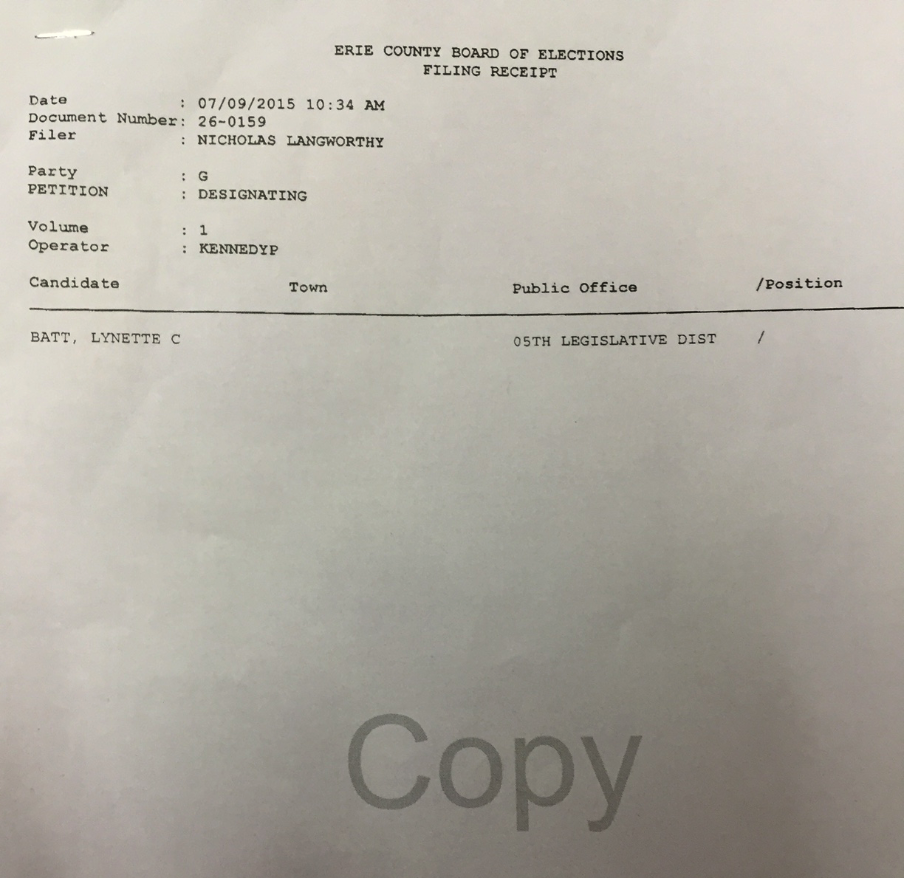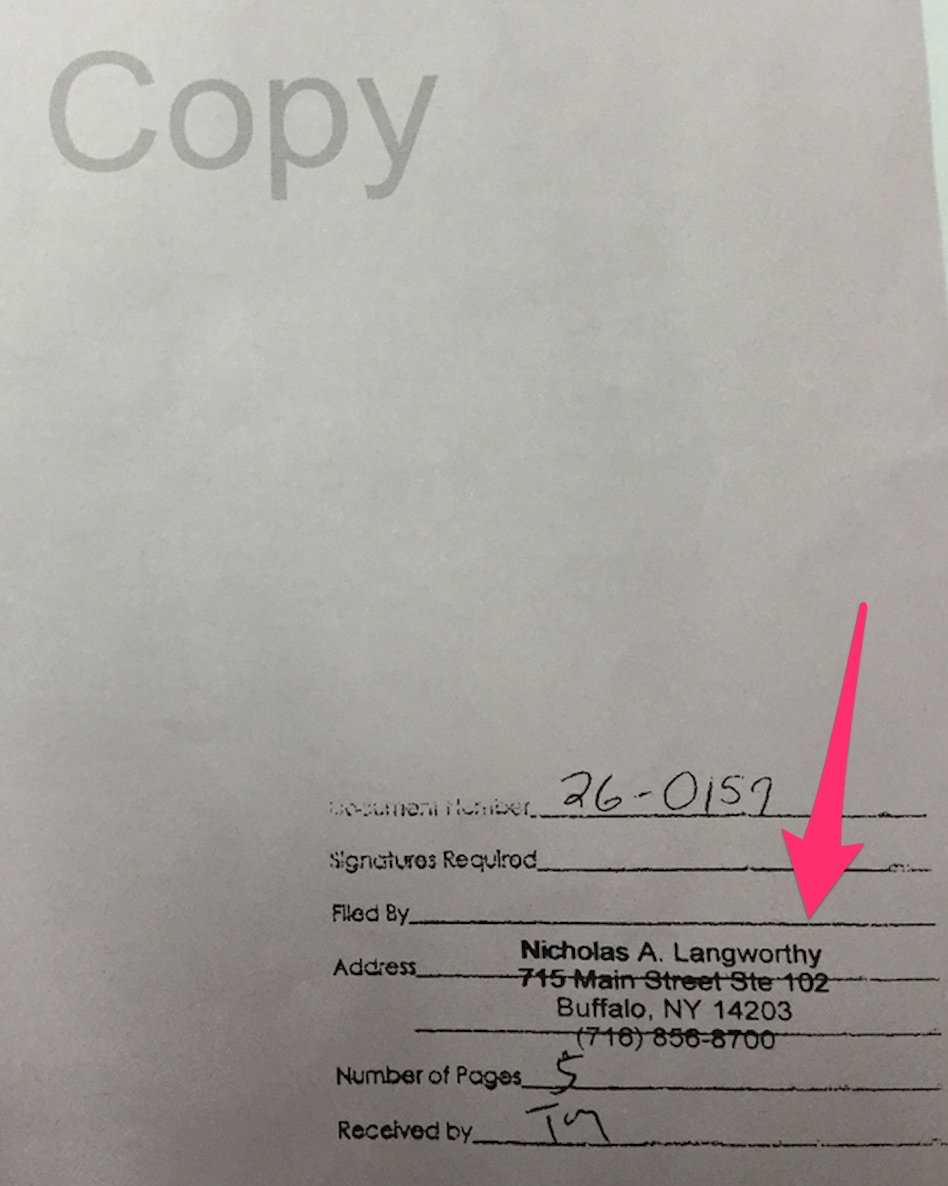 Republican Committee Chairman Nick Langworthy personally delivered the 5 pages of petitions to the Erie County BOE on Batt's behalf. 
According to Jones, the only legitimate Green Party candidates are Jones himself, Charles Tarr, who is running for the Niagara District Council seat in Buffalo, and Anthony Baney, running in LD-3 for the Peter Savage seat. Anyone else — DiTullio, Bargnesi, Freedman, Brinkworth, Batt, JaHarr Pridgen, and other judicial candidates (for whom the rules are different), filed an opportunity to ballot, a particularly arcane piece of New York Election Law that the Green Party would actually like to see abolished, according to Mattera. The Greens don't just not like all this — they think it's unconstitutional. 
The Green Party pointed out that Cuomo's proposal is similar to the existing opportunity to ballot law, which the Greens and other ballot law experts contend is unconstitutional. The existing law allows non-party members to force a primary with the opportunity for party members to write in any candidate they want by collecting signatures. 
Under the opportunity to ballot, the board of elections says, "Party members may also circulate petitions to create the opportunity to write in the name of an unspecified person for an office in which there is no contest for the party endorsement." Batt is a Green Party member, and the process is described as follows, 
We have had experience with local Republican judge candidates tricking local Green Party enrollees into signing their Opportunity to Ballot petitions (method 2) to get onto the Green Party ballot line. The Republican candidate never explained what their party registration was or what the petition was for. The Green Party members just assumed that anyone bringing them petitions must be Green Party members also. When the Green Party members found out they had been deceived they worked, successfully, to keep the Republican from getting the Green Party line.
To be clear — both Democrats and Republicans have circulated Green petitions in judicial races this cycle. The party has such a small enrollment — 1,551 in Erie County — that the number of petition signatures needed to get on a ballot (especially in a place like Clarence or Alden) is microscopic. It's an easy way for a candidate to get his name on an extra line with little effort. 
What all of this amounts to is a further illustration of just how ridiculous New York's electoral system has become. It's a free-for-all where Republicans circulate Green Party petitions. It's one thing for a candidate to circulate them to get an additional line — stupid as it is, that's how the state system works. But in LD-5, the Republicans didn't circulate OTB petitions for Marlette to get the G line — they are running an actual G candidate to divert a small handful of votes away from the Democratic incumbent.